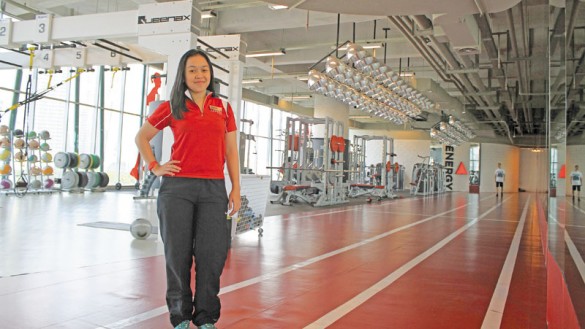 Living in Jakarta, it can be a challenge to stay healthy. Pollution, traffic, unpredictable weather and a lack of sidewalks combine to make outdoor exercise difficult at best, and while oily, salty food is seemingly available on every street corner, more nutritious fare can be harder to come by.
Ironically I'm writing this after stepping out for a meal of oily nasi goreng from a street vendor, getting caught in a torrential downpour and having to catch a cab the 200 meters home, then towelling off and sitting down at my laptop still damp from the rain.
Despite times like this, though, I've been trying my best. I've bought a blender and have actually been using it to make juices and smoothies, I've started taking a somewhat healthy packed lunch to work and I go to the gym a few times a week. But I'm still regularly on the move, very busy with work and facing the challenges of trying to look after my health under the pressure of living in a difficult city.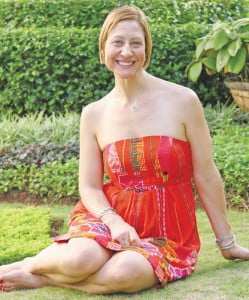 One woman in Jakarta who has really worked out how to take care of health and wellbeing is Simone Samuels at The Wellness Warung. Running raw food classes and specialising in plantbased food coaching, Simone says she's well aware of how hard it can be to eat healthily in Jakarta.
"Dealing with the air pollution aside, it can be tricky to exercise outdoors due to the lack of open spaces and bad footpaths. Local restaurants and warungs are easy to come by, and provide inexpensive food, but it is not always the healthiest due to being fried in unhealthy oils, and it seems that extra sugar is added to everything," Simone says.
When Simone arrived in Jakarta in 2009, she started exploring a healthier lifestyle. She went from being "a party girl to a health nerd," practicing yoga and completing qualifications in nutrition, raw food and coaching.
"I came to understand the profound role that not just food can play in our lives, but also how our relationships, career, spirituality and movement have an important role to play in our overall happiness and health," she says.
In Jakarta, there are precious few restaurants and cafes that cater to eating healthy, vegetarian or raw food, delicatessens and health food stores are few and far between, and even getting to the shops can cause headaches due to traffic, congestion and getting in and out of malls. There are a few Indonesian staples that could count as healthy, and while a wide range of vegetables and fruits can be found at supermarkets and traditional markets, they can be expensive. So how do people do it?
"Living somewhere like Jakarta where it isn't always easy, you have to get more creative with how you incorporate healthy lifestyle patterns into your life," says Simone.
Simone recommends the Mediterranean Shop at Pasar Festival, saying the "nondescript" store on Jalan Rasuna Said is "a god-send."
"This is where I buy just about every pantry item that I use regularly. It is the best source I have found in Jakarta to buy raw almonds, pickles, olives, delicious dates and figs, dried apricots, tahini, raisins, walnuts, dried coconut, pistachios and spices," she says.
At Jatomi Fitness, a gym in new mall Kuningan City, I've connected with personal trainer Annisya (Nisya) Yulianti. She also has her own weight loss and fitness story, having been inspired by her own journey to dedicate her career to fitness. Previously working for a fitness magazine company, she found she wanted to share her knowledge with others, and chose to move into working one-on-one to help people achieve results.
"Almost every food in Jakarta is unhealthy, making it really hard to make positive food choices," Nisya says.
She recommends making juices and smoothies, but also likes the healthy options at Daily Food Hall, who offer salads, fruit salads and on-the-go meals of grilled fish and vegetables, which can be both affordable and delicious.
"To achieve fitness goals, consuming less fat, sugar and carbohydrates, as well as complete nutrients should be combined with an active lifestyle," says Nisya.
"I always tell my clients that just exercising regularly is not enough, eating well and clean eating is also essential to achieving their goals," she says.
According to a January 2012 study by Amadeus, the number of female business and leisure travellers is expected to rise sharply over the next two decades. The survey of more than 1,500 business and leisure travellers estimates that in 2011, roughly 4.5 million international business trips were made by women from Australia, Singapore, South Korea, India, China and Indonesia.
Indonesian award-winning mid-range hotel chain Harris Hotels in May launched its Women's Touch campaign, which includes access on request for female guests to hair straighteners, yoga mats and an emphasis on healthy lifestyle.
"We wish to extend a personal recognition to women, who today represent a growing number of our guests and are increasingly becoming part of many key decision processes," says Christophe Glass, Brand Director of Harris Hotels.
While the tourism and travel industry is starting to cater more to female travellers, the health-conscious still need to exercise a lot of self-control when on the move. But there are options – if you can steer clear of the croissants and noodles – breakfast buffets often feature a decent range of healthy choices.
As for me, chained to the desk most of the day, I don't think I've quite managed to crack it yet. But I've found a great "superhero workout" to do at home, doing squats and lunges whenever the opportunity presents itself and I've been preparing my own food whenever possible. I would still love to find some more healthy places to eat out (looking for places like Yogyakarta's Milas restaurant) and I could probably stand to cut down on the Bintang a little, but I feel like I'm making progress, if only one baby step at a time.
Continue the conversation – what creative ways have you found to stay healthy? What tips do you have to share with other women in Jakarta? What are your favourite healthy Jakarta restaurants and places to buy food? Share your tips and recommendations.