I recently have been having an affair with raw food. This type of food may not be everyone's favourite, but has become a rising trend lately, especially in Ubud.
Raw foodies believe that consuming uncooked food regularly is the best way to maintain health. Unlike food made from animal products, raw food leaves no side effects that can harm the body in the long term, and believed can enhance the detoxification process in the body, especially if combined with nutritious juices.
My food affair this time lands me at a new raw food restaurant in Ubud, Living Food Lab, located only a few metres away from the famous Monkey Forest. This is actually their second outlet; the first one, which also has the same name, has been serving nutritious cuisines to school students at Green School for about one and a half years.
When I step up on the second floor, I am drawn to a cosy open-space restaurant, beautifully made from bamboo with a view of rolling rice fields on the other side of the building. Some busy staff working at the bar greet me with their warmest smile and a glass of watermelon limeade to refresh me on this very hot day. Right away I fall in love with this chic restaurant that provides a relaxing atmosphere, and of course, delicious healthy cuisines.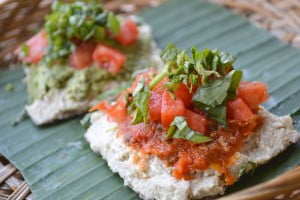 Food with a purpose
The business started with Avara Yaron selling raw food at Green School's warung. Yaron has been a raw food chef for the last five years, and started a living-food catering company in the States, right before she permanently moved to Bali about three years ago.
The idea to bring it to a higher level happened when Yaron met her co-founder, Steve Munroe, an ex-UN staff who fell in love with Ubud. Munroe's interest in raw food started after having survived consuming miserable foods for years when he was sent to conflict areas across the world.
When Green School then agreed to partner with them, Living Food Lab was born.
"We were very excited about the green school community, and about the idea of basically getting kids to eat the healthy stuff and the educational experience for them," said Munroe.
Living Food Lab also sources ninety percent of their ingredients locally, supported by local suppliers that partner up with local farmers. One of their suppliers is East Bali Cashews, which empowers cashew farmers and educates them how to process their cashews locally, where before they sent it to India and Vietnam for processing.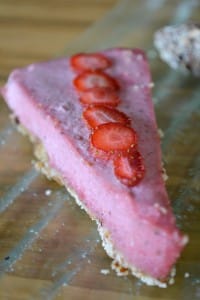 Healthy temptations
Proponents of raw food lifestyle believe that vegetables can lose its important nutrition when cooked or heated. And with the absence of animal products or ingredients that must undergo cooking/heating process, a handful of creativity is absolute in the making of raw food, especially to substitute those ingredients.
Living Food Lab has many creative ideas when it comes to delicious, healthy raw foods. One of the examples is the pizza. I am quite surprised when a plate of pizza is served on my table. Instead of getting slices of baked dough with tomato sauces, melted mozzarella and different toppings, I sample two beautiful gluten-free crusts made from sunflower and flux seeds, topped with cashew paté and dressing choices of pesto or sundried tomato.
I have to admit, I love the taste. The combination of tomato salsa and basil leaves sprinkled on top of the pizza gives a refreshing sensation that blend well with the soft texture of the cashew paté and its tasty dressing – I almost forget it is raw. Not only delicious, it also cools and pleases my belly.
To boost the energy of their customers in the morning – both adults and children – Living Food Lab offers granola bars. Different topping choices such as cashews, sesame seeds, goji berries, flax seeds, cacao nibs, sunflower seeds, almonds, oats, dates, mixed with different liquids, such as cashew milk for vegans or cow's milk and yogurt, really sound perfect to nourish the day.
For lunch, the granola bar is replaced with mixed green lettuces, along with 12 different toppings, such as a variety of seeds or vegetables, and five different dressings, which are changed regularly, for only Rp.35,000. Mango wrap is another favourite, combining mango paté, baby romaine, zucchini and other vegetables, drizzled with sesame garlic dressing.
Choices of raw chocolates – children's most favourite nibble – are displayed to opt for perfect desserts, along with raw cakes, such as raw apple cake or delicious strawberry cheesecake, that taste as delicious as cooked cakes. Another temptation is the Protein Bar. This bar full of good protein from different nuts, answers the question of where raw foodies get their protein; sweet and chewy, perfect for a healthy afternoon snack.
Raw food may be a new thing, but why not try to tuck on this healthy, unique, but delicious temptation for your diet? Although it might not give you a flavour kick like a succulent steak or fat patty in a cheeseburger, raw food is uniquely delicious when it comes to flavour, very interesting to try, and gives nothing but good to your body.

Living Food Lab
Green School, Abiansemal, Bali, Indonesia
Jalan Monkey Forest 88x, Ubud
www.livingfoodlab.com