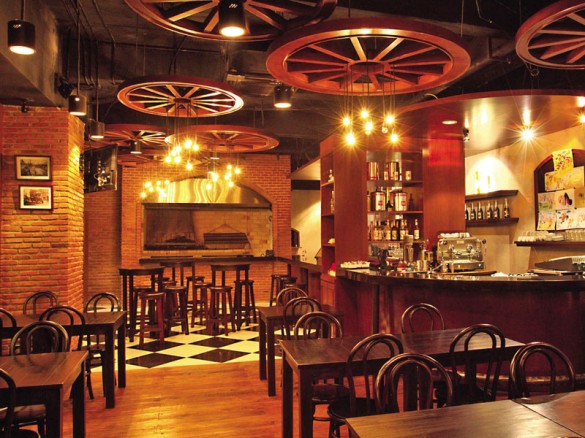 A lively South American restaurant in Kemang serving high quality, authentically cooked South American food. Open for just seven months, El Asador is already drawing crowds and it's not just the meat lovers and salsa dancers!
El Asador literally means "the barbecuer". Parilla is the name of this style of barbecue, a woodfire grill, which apparently in Uruguay can get up to sizes of 3×2 metres! The grill in El Asador is not quite that size, but you can't miss the roaring flames at the far end of the restaurant.
This was not my first visit, more like the seventh or eighth (but who's counting!) and for a good reason. As well as fantastic food and service, El Asador serves up fun! Eugenio Doldan, the charismatic owner of El Asador, is the life and soul of the restaurant. Originally from Uruguay, Eugenio has worked in and owned restaurants in Argentina, Brazil, Spain and more recently, lived in Melbourne for seven years before making the move to Jakarta. Eugenio's passion for service is evident within seconds of walking in the door. You will always receive the warmest of welcomes from Eugenio and his staff, who are all lovely and attentive.
El Asador has a warm brick and wood interior with interesting pictures of all things South America covering the walls, and suspended wagon wheels on the ceiling. It feels casual and friendly, just like the service, and is not too over the top to a concept.
El Asador has live music most nights, sometimes Latin American, sometimes a cover band; we've always enjoyed the entertainment and had a great night out. Groups and large bookings are common, attracted by the live music and easy shared dining experience. Wednesday night is "Salsa Night" complete with a live eight-piece band and, not surprisingly it gets packed, so book ahead and bring your dancing shoes! Last Friday night they also had a gorgeous Cuban salsa dancer who was definitely a big hit with the guests.
The band is set up in the heart of the restaurant, but the terrace out front is another nice area with high tables for those who want to sit and watch the Kemang action go by. There is also a non-smoking section at the front of the restaurant.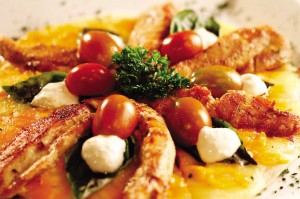 The menu is full of mouth-watering options. There's a nice range of sharing/starting options including quesadillas, a South American take on chilli fries, as well as bruschetta. We had a beef empanada to start, which was very tasty, made with good quality minced beef in a perfect empanada pastry crust. We all agreed the meat could have been a touch more saucy, but a yummy start to the meal. And matched particularly well with a cold Heineken!
At Eugene's recommendation we also tried the Lengua a la Vinagreta Con Ensalada Rusa. I'm told this is a popular starter at South American barbeques. The plate held a generous amount of sliced boiled beef tongue, served cold with a delicious topping of parsley, olive oil, egg, garlic and spices. Accompanied by Russian salad (potatoes, carrots, peas and corn in creamy mayonnaise) this is a thoroughly enjoyable dish. The cold beef was melt-in-your-mouth tender and the topping added a great texture. I recommend sharing this between two as it is a generous serving.
For the main event we went with the El Asador signature, the parillas sharing meal, truly a feast of beautifully barbecued meat. The parillas includes asado (beef ribs), chorizo (beef sausage), entranas (inside skirt steak), and pollo el Asador (whole chicken leg). The meat is well marinated before it even meets the wood grill, and as a result it is superbly tender and full of flavour. The parillas is served at the table on a hot grill stand, which keeps it piping hot. The meal is also served with a green salad, plus your choice of a side dish and a sauce. Our favourite sauces are the homemade chimichurri salsas, which, in my opinion, go well with pretty much everything.
Whilst meat is the heart of the menu, there are options for those accompanying meat lovers, who themselves are not so inclined. We especially enjoyed the special Caprese Salad. El Asador only uses the best quality imported mozzarella, with lovely fresh tomatoes and olive oil. I've also had the Spaghetti Aglio Olio, cooked with good quality olive oil and the right amount of chilli, is an enjoyable meal. There are also a good range of salads and chicken options. Another favourite of mine is the Chicken Pamplonas (a boneless chicken leg filled with mozzarella, capsicum, olives and spice).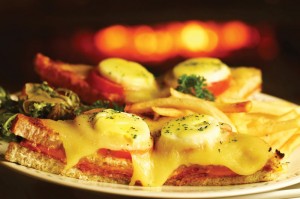 For dessert we had a beautiful Flan Caramel. A South American dessert staple, similar to the French Creme Caramel, and what the Peruvians call Crema Volteada, which literally means upside down cream. Seriously, this is too good to share, with anyone!
All of the meals are very well-priced, especially considering the quality of ingredients and serving sizes. You won't leave hungry, that's for sure.
I also have to mention the excellent coffee. Eugene is passionate about good espresso and swears by his Fema coffee machine and Illy beans. The coffee is really good and the espresso martinis are the best we've had in Jakarta. In fact, all of the cocktails here are made particularly well, and I can also highly recommend getting a jug of red wine sangria.
So, for a mouth-wateringly good barbecue, great cocktails and a fun night out, you really can't go past El Asador. You'll probably see me in there! Hats off to you, Eugenio and your wonderful staff.
El Asador is open 11am 'til late, six days a week (closed Mondays). El Asador is well located in Kemang, just a few doors before Murphy's Irish Pub at Jl. Kemang Raya No. 3 (ground floor of the Kemang Point Building). Ph. 0217182206 or make a reservation online at www.elasador.co.id