Bali's weekend market scene has really taken off over the past few years with boutique bazaars popping up all over the island.
Whether you're after the latest fashion and top-quality organic produce, or merely wishing to soak up the welcoming community vibe, here are four markets bound to make your end of the week a little bit brighter.
Samadi Sunday Organic Market
Samadi Sunday Organic Market in Canggu is all about supporting local producers and artisans, while fostering a sense of camaraderie in the community. From vegetables, fruit, spices, nuts, bread, seafood, jamu and cheese to natural beauty products, jewellry and vintage clothes, Samadi is all about promoting handmade goods and sustainable practices.
"All products sold, if edible and grown, are organic. Crafted products must contain at least 80 percent organic ingredients, and all items must be made by the vendors themselves," says Andrea Drottholm, the co-owner of Samadi Bali, a wellness centre behind the colourful bazaar.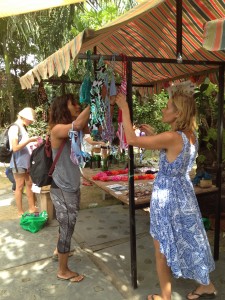 The market, which runs from 9 am to 2 pm on Sundays, attracts around 20 vendors each week. The venture has been growing steadily since first opening to the public two and a half years ago.
"We started off begging the farmers to join. It was a risk for them to do so, as the market took a while to get going," says Drottholm. "We now have a waiting list of people wanting to join us, and the vendors who have been with us from the very beginning have stood by us and seen the market grow alongside their own ventures."
The Samadi experience is about a lot more than just filling one's bags. The centre is a spot where the Canggu community can gather over a healthy brunch at Samadi Bali Cafe, listen to live music, take part in a yoga class or simply chat with like-minded people. This sense of community also extends to the vendors.
"Many of the smaller farmers who can't make it to the market have started collaborating with each other," says Drottholm. "For instance, some vendors usually bring not only their produce along but also the produce grown by other farmers, making it possible for everyone to make a living from what they grow."
While Drottholm says that the vendors themselves hold a responsibility to follow the rules of the market, this is currently largely based on the honour system. "It would be great if there was an actual organization that could give a certification to the farmers who grow produce organically. This would give the 'real' organic farmers a stronger voice, and they would not have to compete with others whose produce is not organic," she says. "It's the right of the consumers to know that the produce they are purchasing has been grown organically, and the right of the farmers, who grow their produce in a sustainable way, to have their hard work acknowledged."
According to Andrea, Bali's Sunday market scene has become so popular over the past few years because people are becoming increasingly more interested in the origins of what they consume.
"At the beginning, it was like a lottery every Sunday to see if we had enough customers to ensure that the vendors were happy. It has been such a pleasure to see the farmers bring more and more produce to the market as the demand grows," she says. "We need to stand by organic farmers and keep buying local in order to preserve Bali from overdevelopment. We cannot afford to keep buying food covered in pesticides and grown from GMO seeds."
Saturday Farmers' Market at Moksa Restaurant
I Made Janur Yasa, the co-founder of Moksa Restaurant, and the attached Saturday Farmers' Market, which only opened its doors in September of 2016, says that his vision behind the venture has been not only to provide a space for local growers to market their produce but to teach the community about permaculture – the development of a sustainable agricultural ecosystem.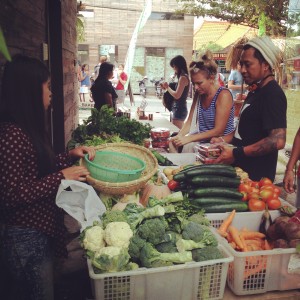 The market takes place each Saturday from 10 am to 2 pm, currently with just around eight vendors. Some of the goods on offer include seasonal fruit and vegetables, jamu (traditional herbal tonic), nuts, honey, coconut products and coffee. And while the market is still in its infancy, Yasa is optimistic about the future. "We intend to keep growing and cultivating our farmers' market with things like live music, specialty foods and children's activities."
The market is an extension of the Moksa Restaurant, just outside Ubud, which specializes in raw and plant-based organic cuisine. Best of all, the restaurant sources all its produce from an adjacent permaculture garden. Just like the restaurateurs, Yasa says that all the market's vendors are committed to following organic and sustainable practices when it comes to growing their produce, which, of course, benefits market goers.
"It is a wonderful thing to be able to buy directly from farmers. Selecting ripe fruit and vegetables on a lawn under tree canopies, next to a big garden, is a world away from your typical supermarket experience."
Those wishing to learn more about permaculture and sustainable living can also join one of Moksa's plant-based cooking classes.
Love Anchor
Love Anchor comes alive each Saturday and Sunday at 11 am and keeps food and bargain lovers entertained until sundown. If it is fresh and trendy, you will probably find it here – Love Anchor specializes in hip clothing, handcrafted jewellry, handmade organic cosmetics and vintage trinkets. Better still, after shopping up a storm, market goers can feast on delicious local treats or a slice of pizza, before grabbing a cold beer while they listen to top tunes from resident and guest DJs.
Joseph Askins, who set up Love Anchor with his wife Erni in February of 2016, says that the idea for the boutique market was born after a visit to the Chatuchack Weekend Market in Bangkok.
"Erni had been involved in retail and fashion for more than a decade in Bali so had great contacts and respect of some really strong Bali based brands," Askins says, adding that the duo based Love Anchor on the bazaars that were all the rage at the Glastonbury Festival, Brick Lane and Brixton in the early 2000s.
Set around an open-air joglo complex in the centre of Canggu's popular Batu Bolong Street, the flea market includes around 50 retailers and food outlets, as well as a bar complete with pool tables.
"Small markets, such as ours, are great for hanging out with friends and shopping outdoors in an intimate, ever-changing environment," Askins says. "For example, we have new vendors every week, so the food and shopping never gets boring, and you don't need to walk for miles in the heat to find that special item."
For more information please visit www.loveanchorcanggu.com
Sanur Sunday Market
Sri Obrien, the organizer of the Sanur Sunday Market, sees the growing popularity of bazaars on the island as a backlash against commercialism. "I think more than anything, people enjoy the social aspect of the markets, a chance to relax on the grass or beach with friends and family and also the opportunity to support small artisans and producers rather than large retail brands," she says. "We try to support and encourage homemade, small family businesses and eco-conscious products as much as possible."
The market, which is held at the Mercure Resort Sanur on the last Sunday of each month from 10 am until 6 pm, features around 60 stalls, about 20 of which focus on Indonesian and Western cuisine (think nasi goreng alongside German wurst). The kiosks stock a variety of goodies including fashion, crafts, homewares, bags and children's clothing. To sweeten the deal, there is also live music from 3 pm to 5 pm.
The market is a community-oriented affair, meaning that residents of the area are likely to bump into familiar faces. Located on a grassy area, just metres from the beach, the market is also a perfect spot for a family day out. Parents can rest easy as their little ones are entertained by a range of activities from bouncy castles and face painting to arts and crafts.
"The idea was to create a regular community event in Sanur, somewhere families and friends could get together and hang out for the day," Obrien says. "The market offers a safe space where kids can run around, and we have activities to keep them occupied, and parents can relax, eat, listen to music and, of course, shop."
In addition, market-goers can join a yoga class at the nearby Power of Now Oasis or use the Sahadewa Swimming Pool and Mercure Resort Kids Club facilities for Rp.50,000 per family.
The market supports a different charity each month, such as the Bali Life Foundation or Bali Pink Ribbon, in order to give back to the less fortunate in the community.
Sanur Sunday Market is currently closed for the rainy season and will reopen in March.
For more information please visit www.facebook.com/SanurSundayMarket