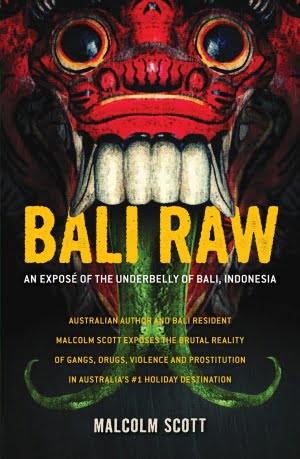 This is a strange book, and I have to wonder why it was written, let alone published.
Malcolm Scott went to Bali some ten years ago to escape the fallout of a broken marriage. His three brothers owned and ran a construction-real estate company in Bali and offered him a refuge from the emotional turmoil, but in so doing gave him an entrée into another. By his account, and through the many anecdotes he relates with much gusto but little sophistication, his brothers are hard men as are most of the Indonesian milieu – police, gangsters, 'working girls' – they mix with.
"Bali is a rough place You don't see it in the brochures, and the Indonesian press is very careful about what it prints, but the truth is there is always something going down. Tourists get robbed, raped and murdered and Westerners get in fights amongst themselves and with Indonesians on a regular basis."
That is the opening to the second chapter of Malcolm Scott's anecdotal account of his ten years living in Bali. The first chapter is devoted to a serious fight which took place before he'd accepted the job offer.
The setting is Kuta and Legian, the southern strip of beaches close to the international airport, an area lined with bars, discos, cheap 'boutiques' selling mass-produced 'handicrafts and clothes. In other words, it caters for low budget tourists seeking sun, sea and sex as an escape from whatever constitutes daily life.
That's this reviewer's impression based on just a couple of visits. I first visited Bali in 1988 with my English son, then aged 11. We stayed in Kuta for our first couple of nights before setting off to explore much of the rest of the island. On our first day, we went for an early morning dip; the beach was empty so we hid, or so we thought, the few belongings we'd taken with us under a bush.
When we got back after our body surfing, we discovered that my spare glasses, his Swatch watch, our towels and flip-flops had all been taken. As Tony Wheeler had written in one of his Lonely Planet guides, "Most people who lose things at Kuta are idiots who leave things on the beach."
We made our escape and have never lost anything since.
My other visits to Kuta have been rare and have only been in order to accompany 'Er Indoors who likes to shop. Well, I don't so always arranged to meet her in a restaurant where I'd have a cold Bintang and read whatever novel I'd found in one of the many second-hand book shops in Ubud where we generally stayed. And I'd make sure that wherever I chose for my quiet solitary hours was not on the well-advertised 'pub crawl' route frequented by single male who, to again quote Tony Wheeler, are "loud-mouthed drunkards who get plastered every afternoon."
What Scott's book adds to the Lonely Planet guide to Bali and where this exposé rings true is the accounts of the higher 'bule' prices and land scams. A number of expat characters are familiar too, such as those with bi-polar disorder, drunkards and poverty-stricken pensioners avoiding the immigration authorities.
Then there are the 'hookers' and 'working girls'. Yes, there's a lot of sex in Scott's land. He does have a respect for most of the bar girls, many of whom he counts as friends and, without being judgmental, he carefully explains why they do what they do. Some are sold into prostitution by their families, some are saving up to pay for a university education while others, a fairly high percentage, are single parents supporting themselves and their children.
A web search produces a number of Bali-based Malcolm Scotts, none of whom fit my perceived image of the seedy habitués of the island's underbelly. One can be fairly certain that these publicly upright expats are similarly aware of, even if not part, the goings on in seedy Kuta. They could probably also provide anecdotes embellished with "fothermuckers" about violent incidents leading to "broken noses" and hospital visits, all of which are described at too great a length. And that is where for this reviewer, Bali Raw gets tiresome.
In its favour, but somewhat minimised, is Scott's advice that casual sexual encounters require condoms because of the high risk of being infected with HIV/AIDS. I'd also like to have read a few more survival pointers for the short-term visitors the book is intended for. The prevalence of buying one's way out of trouble is covered, but there is also the notion that it's best to know someone who knows someone who…
I am left with the impression that Kuta is a lot like Jakarta, except it has a cleaner beach and a lot more alcohol.
As for rough and tough hard drinking brothers, if you'd like to read about the Irish lads I once knew here in Jakarta, you'll have to wait for Jakarta Raw – my exposé of the underbelly of the Big Durian.
Malcolm Scott has recently opened a blog called, what else but, Bali Raw (http://baliraw.blogspot.com/). As well as including short excerpts from the book, it's good to see that he has commented on Schapelle Corby's incarceration in Kerobokan Prison, again without being judgmental.
Bali Raw: An Exposé of the Underbelly of Bali, Indonesia
Malcolm Scott
Monsoon Books, Singapore. 2012
ISBN (e-book): 978-981-4358-72-9
ISBN (paperback) 978-981-4358-71-2