From giant animals to a giant camera, Kenneth Yeung observes some of Indonesia's most unique buildings.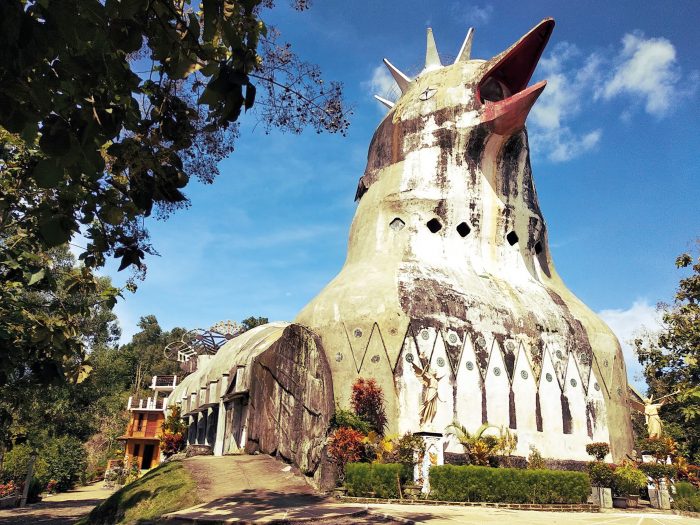 1. Chicken Church
Local names: Bukit Rhema, Gereja Ayam
Built: 1992-2000, 2016-ongoing
Location: Gombong Kembanglimus village, Magelang, Central Java
In 1988, Daniel Alamsjah (76), a Christian who worked for a German chemical company in Jakarta, had a dream about a dove resting atop a hill. He claimed a voice asked him to build a house of worship for all religions. On a trip to Magelang in Central Java province, he visited Rhema Hill and believed it was the hill in his dream. He paid Rp3.5 million for 1.5 hectares of land and then spent the next four years obtaining permits to build a church. In 1992, he assembled a construction team. The resulting dove-shaped building resembled a chicken when a crown was added to its head. In 2000, construction work was halted due to financial problems. By 2015, the curious church was falling into disrepair when it was visited by foreign journalists. Suddenly, it became a viral news story and began attracting thousands of tourists and photographers. Using money from entrance fees, Daniel was able to start finishing the interiors and finally saw his dream come true. The church is just a 15 minute drive from the ancient Borobudur temple.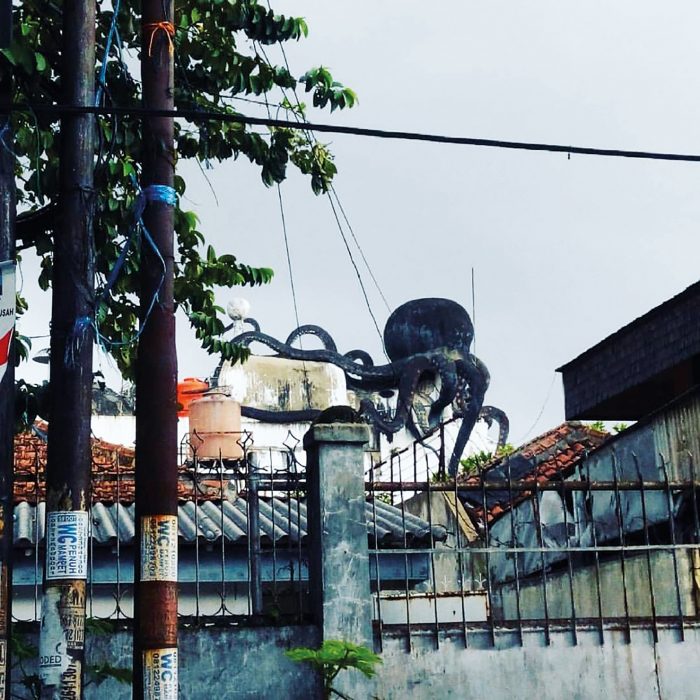 2. Octopus House
Local names: Rumah Gurita, Rumah Cumi
Built: 1980s
Location: Bandung, West Java
This large house has a giant octopus statue perched atop a corner of the roof, draping and dangling its tentacles around the walls. Some local media reports claim the house is a temple of satanic worship. Others assert it is used by a sex cult. Some insist that to enter the "satanic free-sex church", visitors must first venture through a building with the street number 666. The satanic stuff is nonsense, but that didn't stop police from investigating the "free sex" cult claims.
The owner of the house is Frans Halimawan (72), a sailor, who was a fan of modern art and statues. He built the house to symbolize the struggles he overcame to achieve success. In the 1980s, a student from Bandung Technology Institute made the octopus statue. In recent years, the house's exterior has become slightly shabby, adding to its spooky appearance. The octopus statue simply shades the house's dining area. Frans at one stage threatened to sue those claiming his residence was a sex cult centre. The house inspired a boring 2014 horror movie called Rumah Gurita.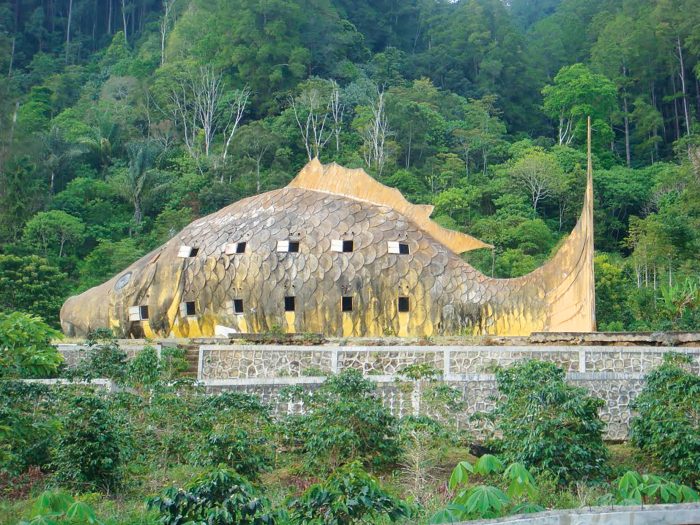 3. Abandoned Fish Restaurant
Local name: Rumah Ikan Mas
Built: 1997
Location: Near Sipolha Hill, Lake Toba, North Sumatra
Remember the 2012 award-winning documentary film The Act of Killing? In case you haven't seen it (because it was banned in Indonesia), it's about an aging gangster re-enacting his role in Indonesia's mass killings of 1965-66. The vivid opening scene features dancing girls emerging from the mouth of a giant fish alongside Lake Toba. The enormous carp was a two-storey restaurant, built in 1997 and located about 18 km from the town of Parapat. Rumoured to be partly funded by the local government, the restaurant failed to attract enough customers and soon closed amid the 1997-98 Asian financial crisis. For rookie documentary maker Joshua Oppenheimer, it was an ideal shooting location for his "movie within a movie". The fish, which measures 20 by 10 meters, is becoming dilapidated and has graffiti scrawled over its interiors. It deserves to be fixed up and made into an Instagrammable location for tourists.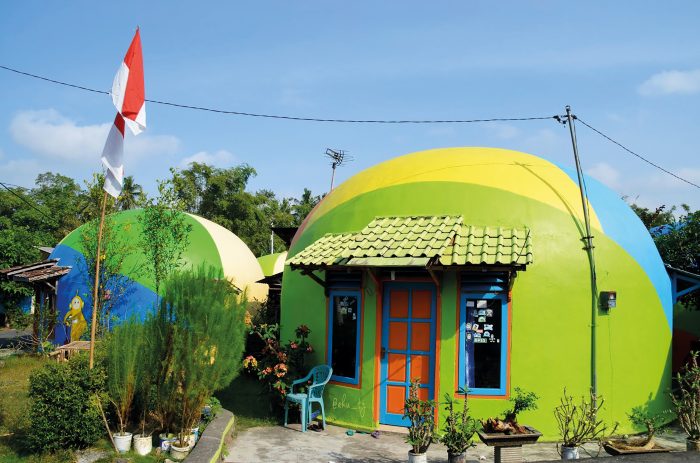 4. New Ngelepen Village
Nickname: Teletubbies Village
Built: 2006-07
Location: Sumberharjo, Sleman, Yogyakarta
At first glance, it looks like a bunch of igloos has sprouted in Indonesia. These domed houses were constructed following an earthquake that struck Yogyakarta and part of Central Java on May 26, 2006, killing over 5,700 people and destroying over 150,000 houses. The village of Ngelepen was among those flattened. A US-based non-government organization, Domes for the World Foundation, provided guidance and assistance for constructing 71 EcoShell houses and nine other domed buildings across 2.5 hectares to create the village of New Ngelepen. The houses are resistant to earthquakes, cyclones, fire, rust and termites. They are made from bamboo, wood, concrete and expanded polystyrene. Each house has a diameter of 7 meters, a height of 4.6 meters, two stories and five rooms, and cost about Rp35 million to make. Designers say the houses, which have natural ventilation, should last for centuries.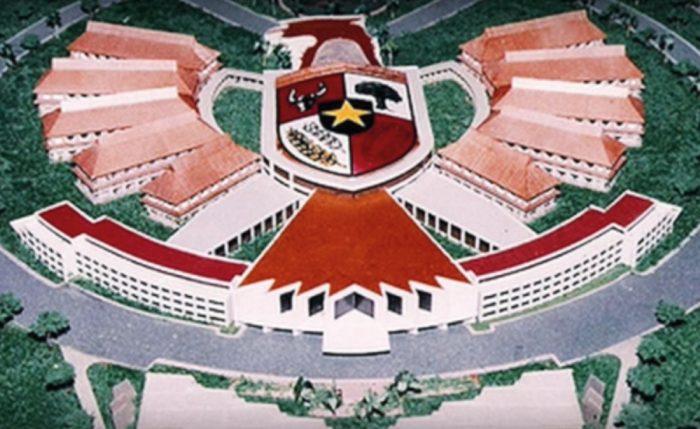 5. The Vanished Garuda
Local name: Graha Garuda Tiara Indonesia
Built: 1995-98
Location: Jalan Narogong KM 23, Cileungsi, West Java
In February 1995, a foundation chaired by then-president Suharto's eldest daughter Siti Hardiyanti 'Tutut' Rukmana began construction of a grand sports centre in the shape of a giant Garuda – the mythical bird that is the national symbol of Indonesia. Graha Garuda Tiara Indonesia (GGTI) was situated about 30 km south of Jakarta on a former rubber plantation, not far from the huge Mekarsari Fruit and Recreation Park opened in 1995 by Suharto's wife, Ibu Tien. GGTI was to have rivalled founding president Sukarno's Senayan Stadium (now called Bung Karno Stadium). Hundreds of workers were mobilized for the project and the quality of the buildings was first class. GGTI reportedly cost Rp75 billion (US$34 million) when the exchange rate was Rp2,194 to the dollar. The wings comprised 3-storey guesthouses with 456 rooms, each able to accommodate 4 to 8 people. The head and torso were a lobby and convention centre that could accommodate 3,000 people. The tail was a 196-room hotel. The project was 80% complete by May 1998 when Suharto was forced to resign after more than 30 years in power. Work ceased and GGTI became overgrown by weeds, while security guards kept scavengers away. In December 2013 and early 2014, the entire complex was dismantled for scrap.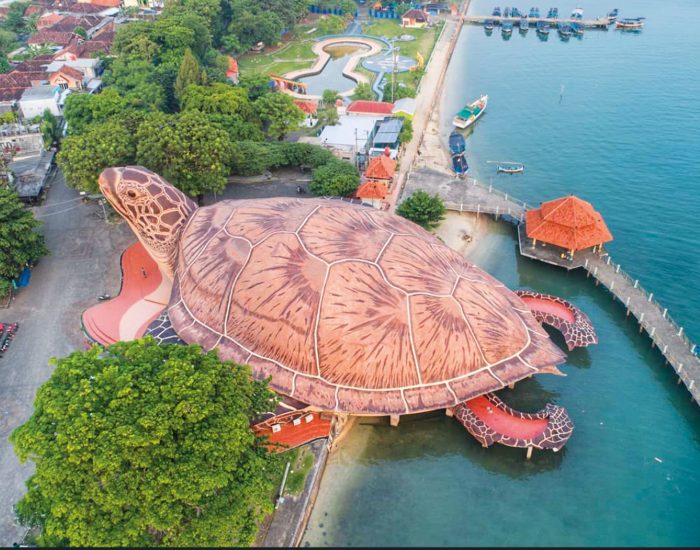 6. Giant Turtle
Local name: Kura-Kura Ocean Park
Built: 2010-2011
Location: Kartini Beach, Jepara, Central Java
Jepara is famous for its teak industry, but it also has this massive turtle building, which is the centrepiece of Kura-Kura Ocean Park at Kartini Beach. Kura-kura means turtles, while Kartini was an Indonesian feminist heroine from the colonial era. The giant turtle has two floors. The first has aquariums with stingrays, sharks, turtles, puffer fish and much more. The second floor houses a 3D theatre and a children's play area. The park is open daily from 8am to 6pm. Entry costs Rp20,000 for adults and Rp15,000 for children. The huge turtle is popular with photographers and looks best when photographed by a drone.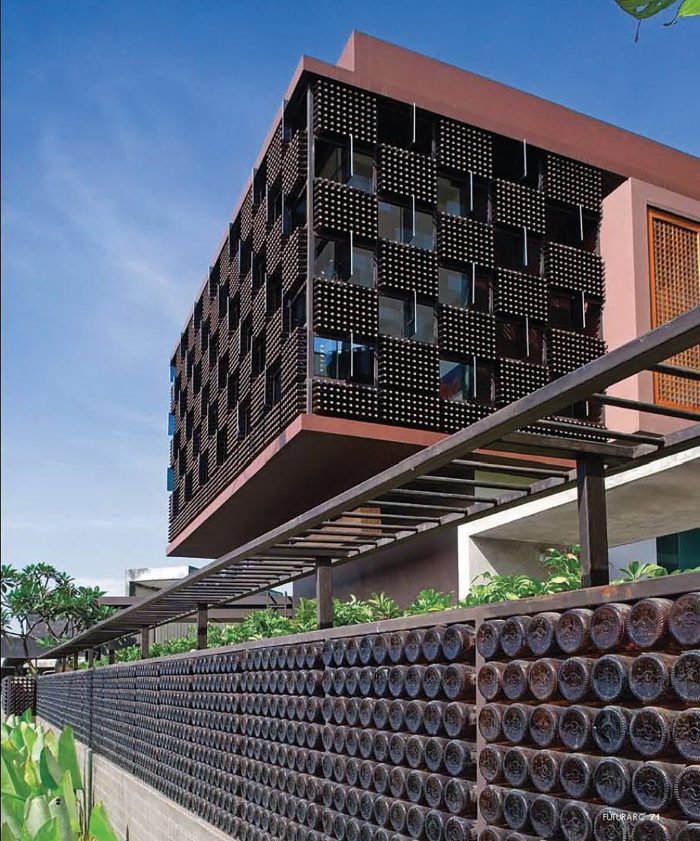 7. Bottle House
Local names: Rumah Botol
Built: 2005-07
Location: Jalan Cigadung Selatan, Bandung.
Ridwan Kamil is the governor of West Java and the former mayor of Bandung, and he's been touted as a contender for the presidency in 2024. But before all that, he was an architect and one of his many unique designs was his personal residence, partly made from 30,000 old bottles of Red Bull energy drink. The story goes that he noticed that Bandung was littered with empty brown bottles of Red Bull, so he decided to recycle them into a house. His contractor's team spent six months sourcing the bottles from rubbish dumps in Bandung, Jakarta and surrounding cities. Each bottle then needed a wooden top. The bottles allow sunlight to enter the house but also act as insulation against the heat, so that air conditioners are not required. The house won the 2009 Green Design Award from Building Construction Indonesia.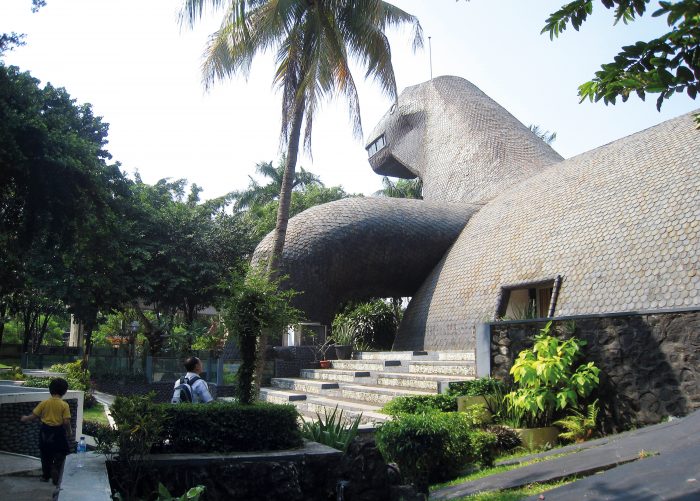 8. Giant Komodo and Golden Snail
Local names: Museum Komodo, Keong Emas
Built: 1975-78 & 1983-84
Location: Taman Mini, East Jakarta
Taman Mini Indonesia Indah (Beautiful Indonesia in Miniature Park), located on Jakarta's eastern outskirts, showcases the nation's diverse architectural styles. Among its other attractions are the Komodo Indonesian Fauna Museum and Reptile Park (shaped like a komodo dragon) and Keong Emas theatre (shaped like a golden snail). The Komodo building contains various types of reptiles and amphibians, living and stuffed. Construction commenced in 1975 and was completed in 1978. Admission is Rp10,000 per person.
Keong Emas was inspired by an Indonesian fairytale in which a woman is transformed into a golden snail, either by a vengeful witch or by a god saving her from an evil king. The theatre opened in 1984 as Indonesia's first IMAX cinema. Keong Emas tends to screen educational movies about Indonesian culture and history, as well as nature films. Some patrons feel the cinema should upgrade to 4D with moving chairs and other immersive effects. Tickets are Rp35,000 for the cheap seats and Rp60,000 for balcony seats.
9. House of Creativity
Local name: Rempah Rumah Karya
Built: 2010-11
Location: Colomadu, Solo, Central Java
Civil engineer Paulus Mintarga is passionate about recycling. In 2010, he decided to find a use for the waste generated by the furniture and construction industries in the Central Java city of Solo. He ended up designing Rempah Rumah Karya, which is 90% made from recycled materials, including old cement bags and furniture offcuts. Rempah is the Indonesian word for spice, but in this case it stands for remukan sampah (crushed trash). Consisting of four unique buildings, it functions as an exhibition centre and a creative workshop for designers, architects and students. The aim is to produce quality furniture and buildings which are affordable and have a low impact on the environment.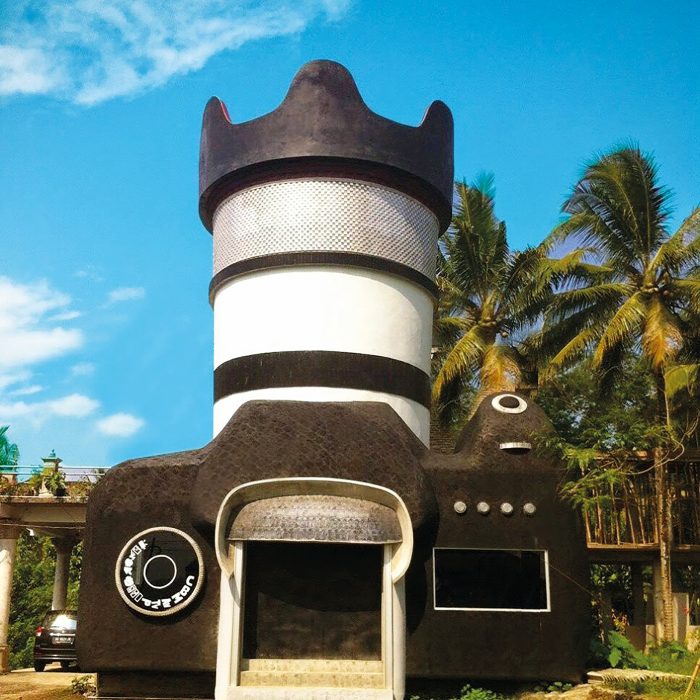 10. Camera House
Local name: Rumah Kamera
Location: Jalan Majaksingi, Magelang, Central Java
Built: 2013-14
Scraping the barrel at Number 10? Certainly not! An artist named Tanggol Angien Jatikusumo in 2013 decided to build a combined house and gallery in the shape of a camera at Magelang, not far from Borobudur. His four-storey house serves as a reminder of the days before powerful cameras in our smartphones. The flash is the main door, the LCD display is a window, while the lens is a tower offering views of surrounding mountains. It is reputed to be the largest camera house in the world. The gallery is open to tourists from 8am to 7pm. Entry costs Rp15,000 and includes access to 3D art rooms.