Ladies, ladies, ladies. Forget about your work drama, love karma, or whatever drama has been drowning your thoughts.
Instead, straighten your crown, get your confidence on point, slick on your favorite lipstick, and rock out your best outfit of the night – it's time to hit Jakarta with your girlfriends because it's ladies' night! Some bars and clubs offer major discounts, free cover charge, and even free flow sweet cocktails on ladies' night. Sounds interesting? Here are the top 10 ladies' night hotspots in Jakarta: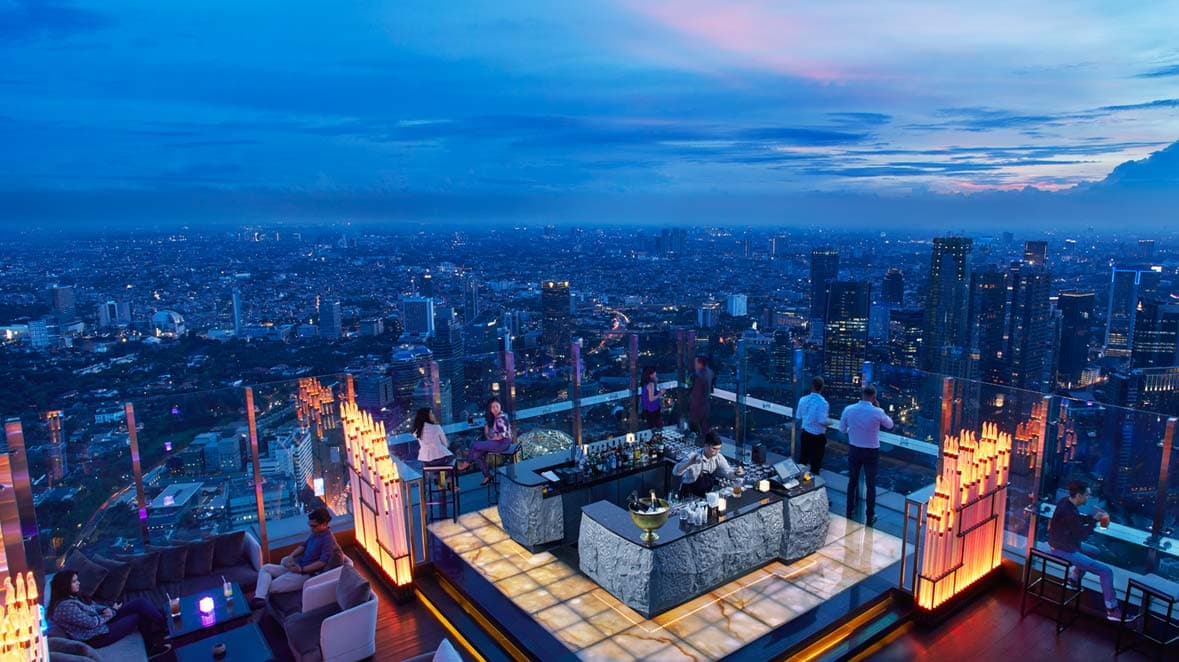 1. Henshin, The Westin
Get a special price for Grey Goose and get 2 for 1 on selected cocktails and wines while you hit the dance floor to R'n'B classics with Danti Hanoum.
Day and time: Wednesdays, all night long
Address: Level 67-69, The Westin Jakarta, Jl. HR Rasuna Said Kav C-22 Jakarta.
For more details: RSVP to 0878-0002-8008 or email [email protected].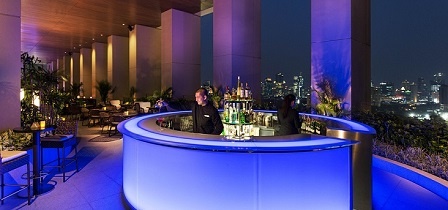 2. K22 Bar, Fairmont Hotel
Light bites such as a mini burgers or sliders, chicken wings, french fries etc. can accompany your drinking, along free flow cocktails for Rp250,000 per person.
Day and time: Thursdays 7:00pm – 10:00pm
Address: Jl. Asia Afrika No.8, Gelora Bung Karno, Jakarta
For more details: RSVP to (021) 29703333 or email [email protected]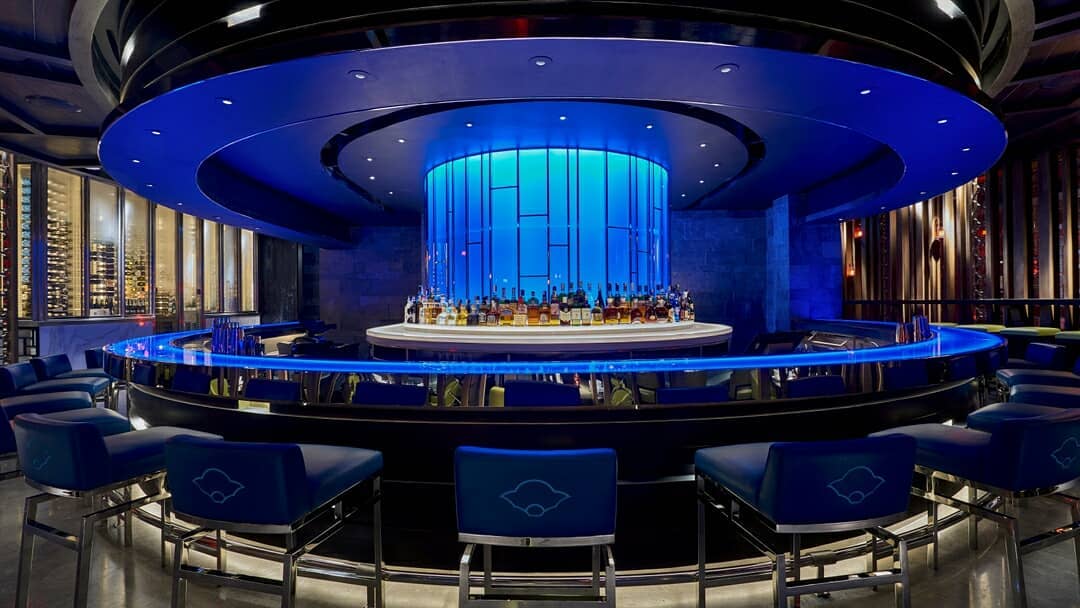 3. Hakkasan
Hakkasan's very own Hakkatini Nights features 6 signature cocktails specially served for ladies who need to wind down. Ladies can enjoy a complimentary snack after ordering 3 cocktails.
Day and time: Wednesdays, at 7:30pm onwards
Address: Hakkasan Jakarta, Hotel Alila SCBD lt. 25-26, Jakarta Selatan.
Contact: RSVP to (021) 5080 8766 or visit Instagram @hakkasanjakarta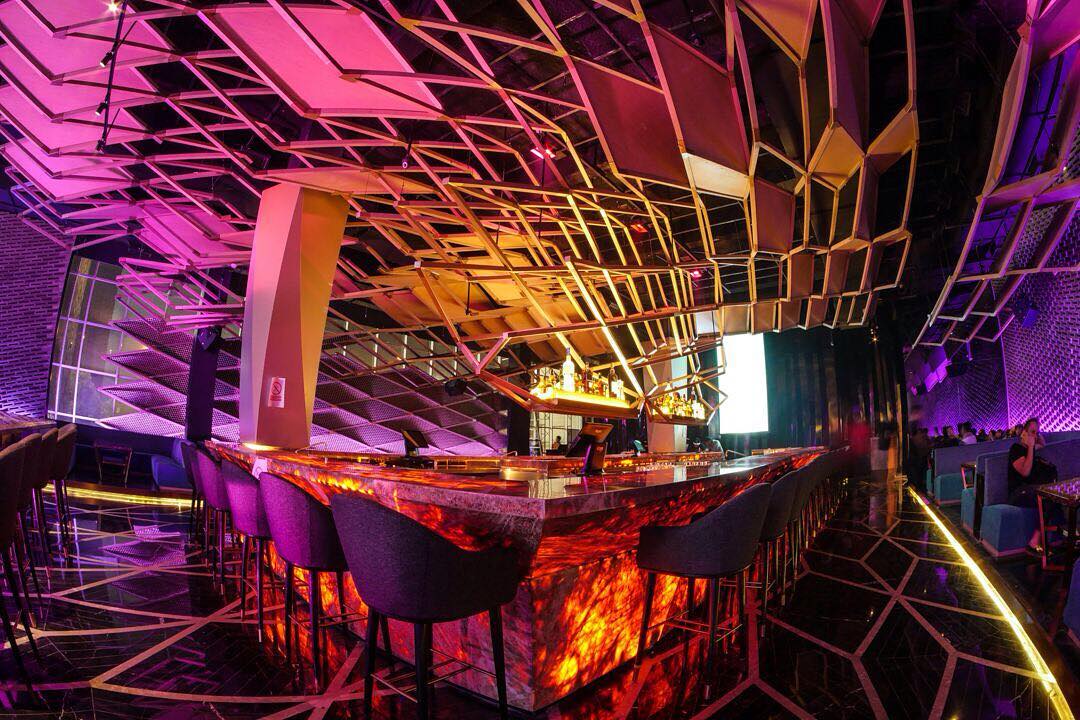 4. Jenja
On three out of four days of the week, Jenja welcomes ladies with free entry that comes with free flow vodka and a chosen mixer.
Day and time: Wednesdays & Weekends from 10:00pm – 12:00am
Address: Cilandak Town Square 1st Floor, Jl. T.B. Simatupang, Jakarta.
Contact: 0822-1181-3383 or visit Instagram @jenjajkt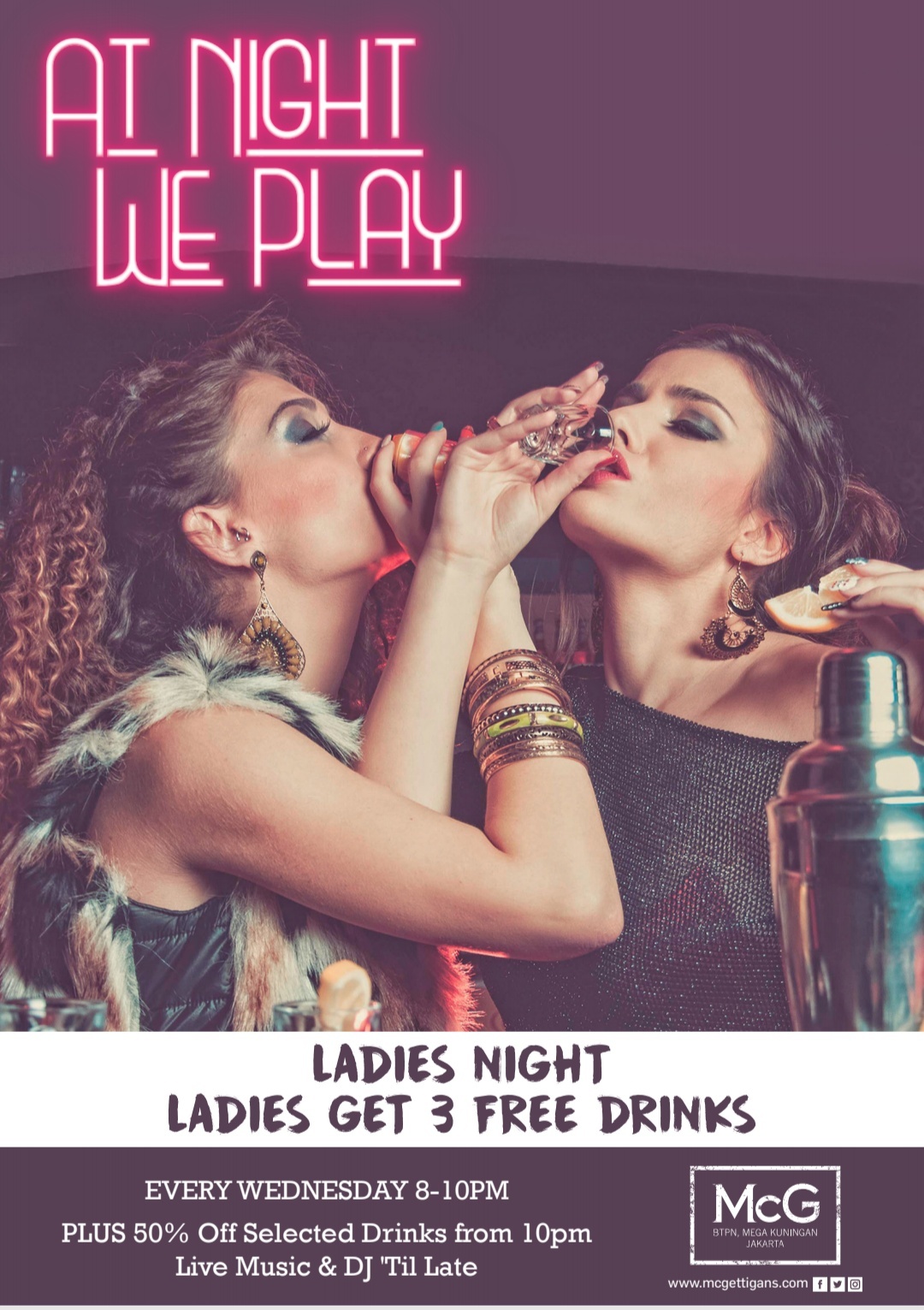 5. McGettigan's
The band Morning Coffee starts performing at 9:00pm, while ladies can order 3 free drinks and receive 50% off.
Day and time: Wednesdays, from 10:00pm onwards
Address: Menara BTPN Basement 1 (Sunken Plaza), Jl. Dr. Ide Anak Agung Gde Agung, Mega Kuningan, Jakarta.
For more details: RSVP to 0812-8412-1985 or visit Instagram @mcgettigansmegakuningan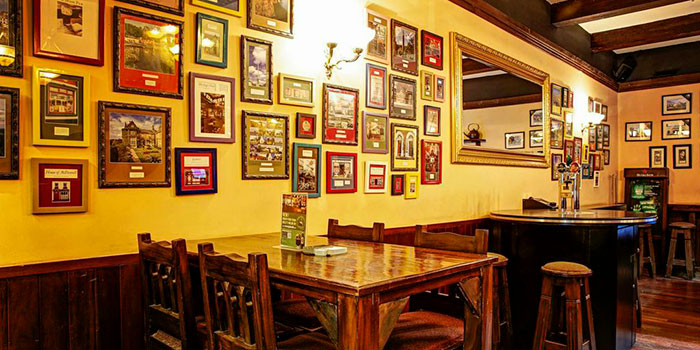 6. Molly Malone's
This one is a spectacular deal. Ladies can enjoy 50% off all cocktails, get a free bottle of wine for groups of 5 women, and a free shot on arrival.
Day and time: Wednesdays, from 8:00pm onwards
Address: Molly Malone's Irish Pub, Arcadia, Plaza Senayan Jakarta.
Contact:  RSVP to (021) 579 01433 or visit Instagram @mollymalonesjkt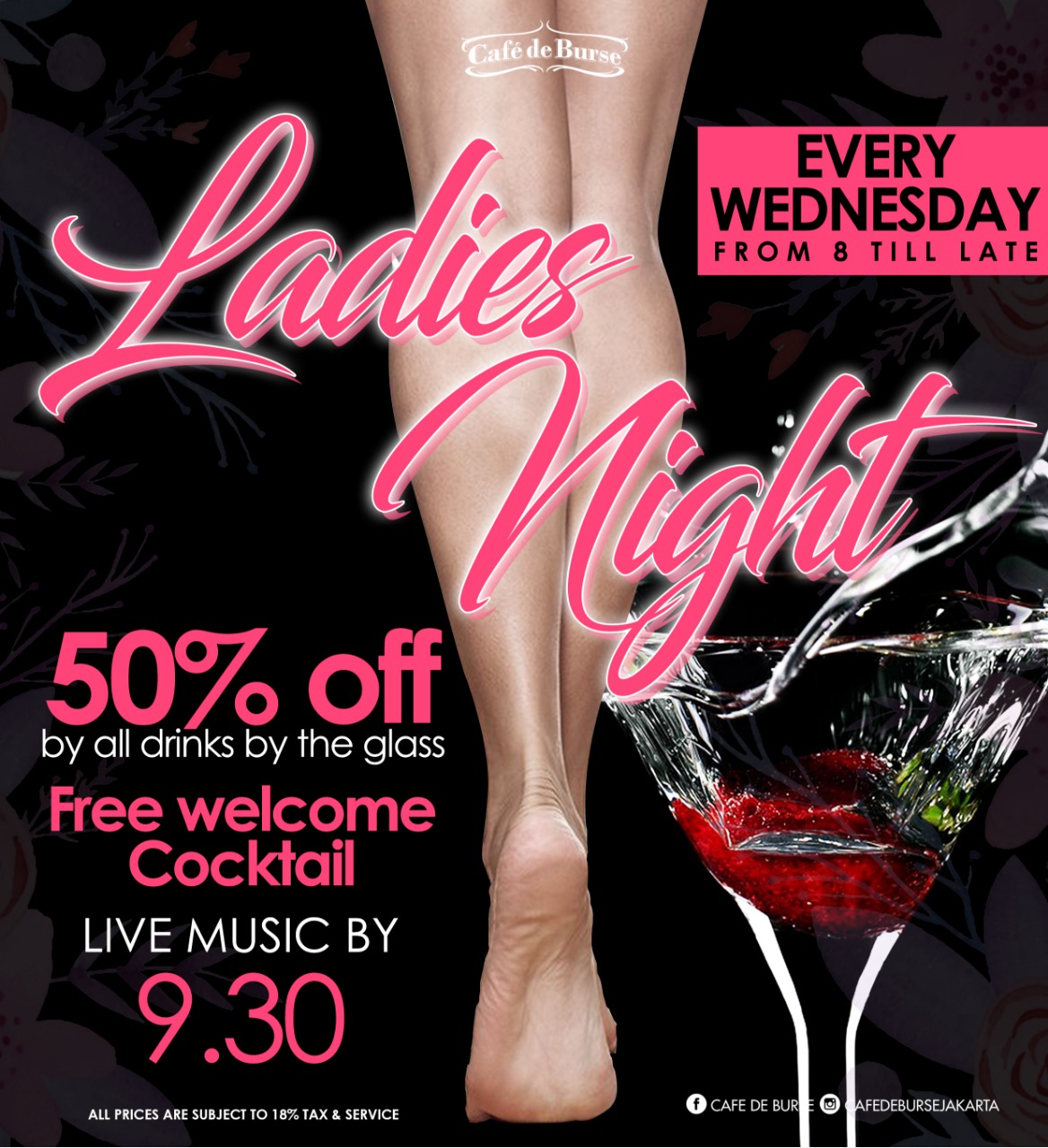 7. De Burse
Enjoy a discount of 50% off all drinks by the glass, free welcome cocktails, and live music starting at 9:30pm.
Day and time: Wednesdays, from 8:00pm onwards
Address: Equity Tower Lower Ground, Jl. Jenderal Sudirman, Senayan, Jakarta.
Contact: RSVP to (021) 29035451 or visit Instagram @cafedebursejakarta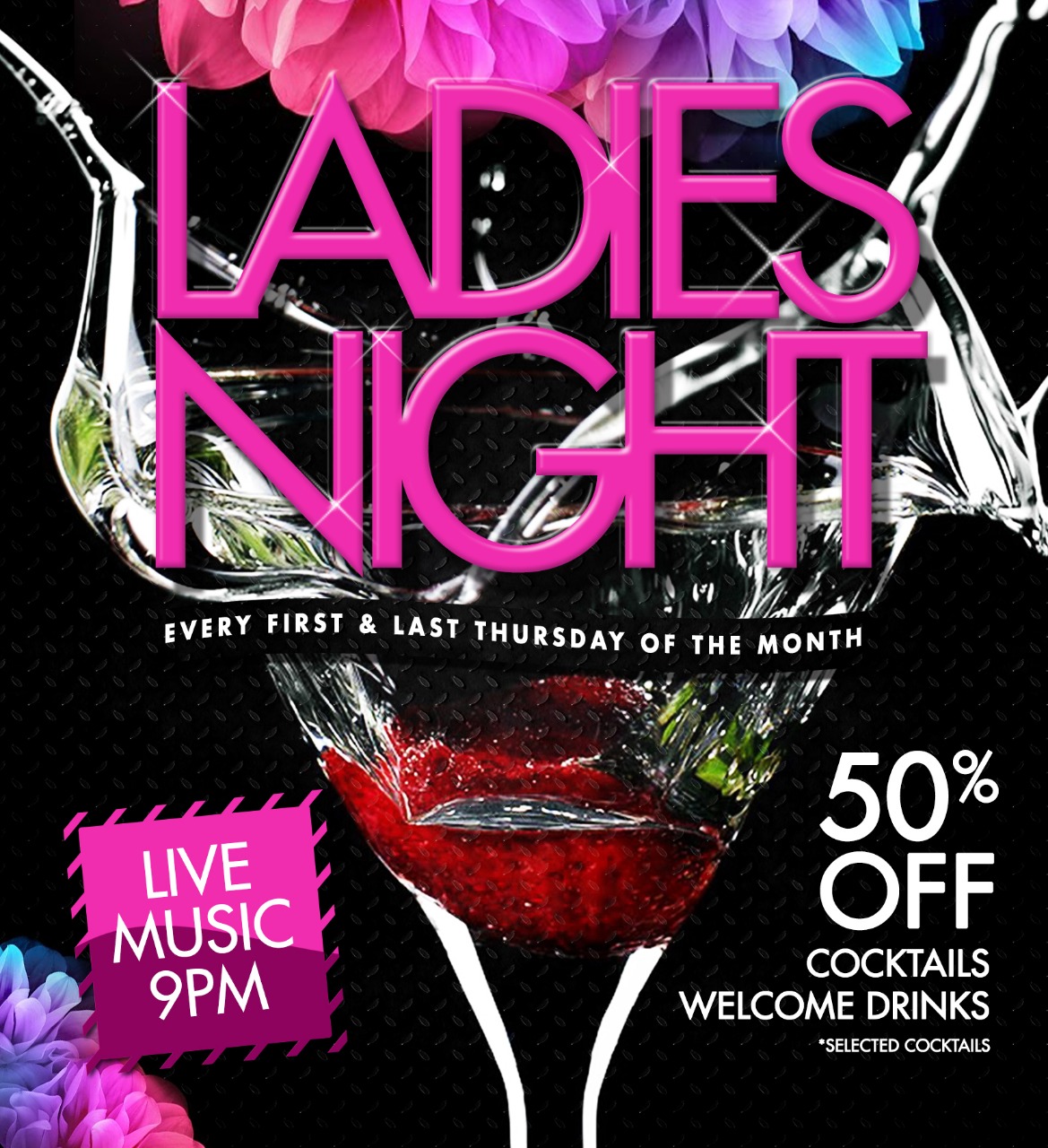 8. Cazbar
Ladies can also get a 50% discount at Cazbar on selected cocktails and jam out to live music starting at 9:00pm.
Day and time: Every first and last Thursdays of the month, all night long
Address: Menara Anugrah, Ground Floor, Jl. Lingkar Mega Kuningan, Kuningan, Jakarta
Contact: RSVP to (021) 5764582 or visit Instagram @cazbar.jakarta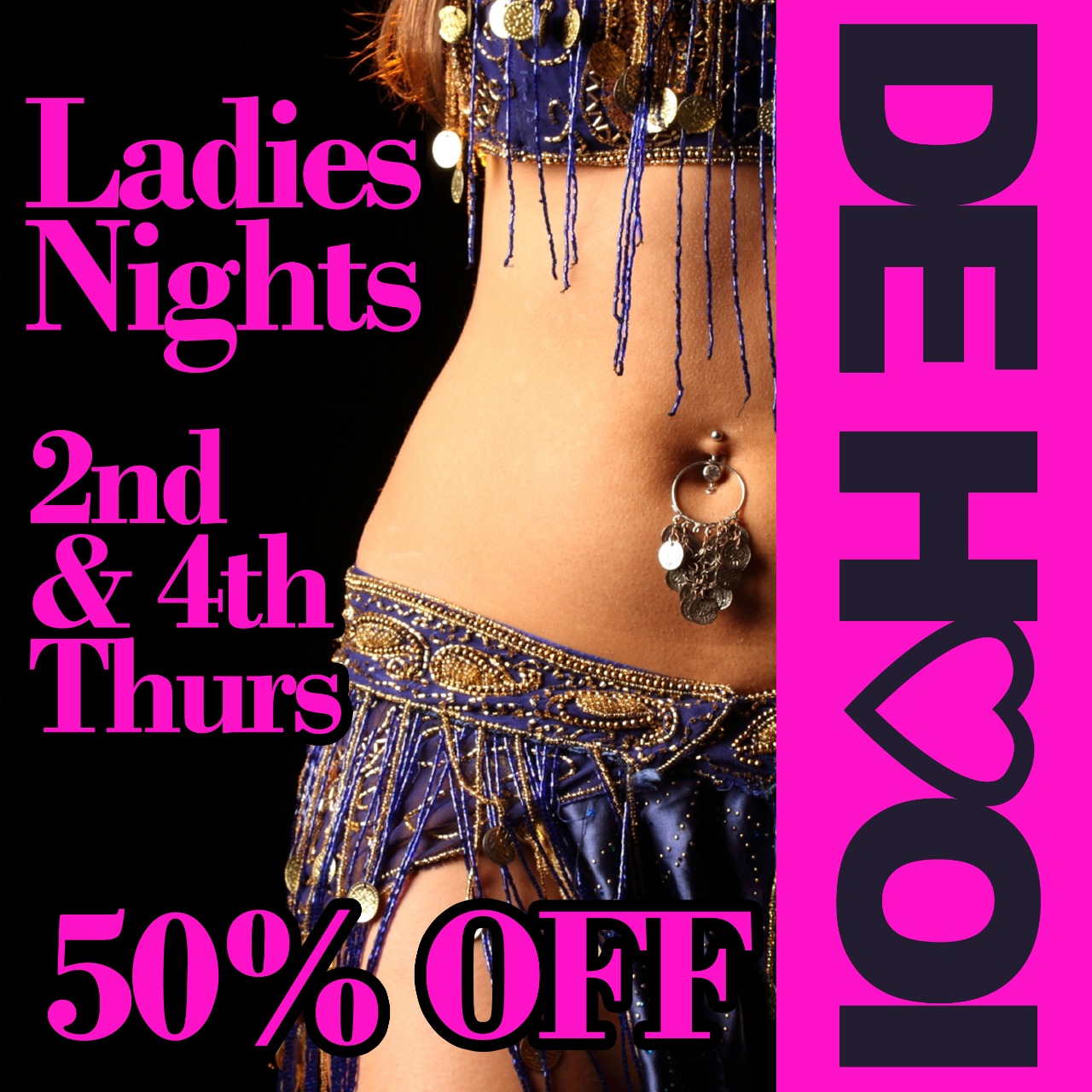 9. De Hooi
Located a little further south of Jakarta, this Pondok Indah friendly pub has live music seven nights a week. As a bonus, ladies get a discount of 50% off all drinks on ladies' night.
Day and time: second, fourth and fifth Thursdays of the month, all night long
Address: Pondok Indah Plaza 2, Jl. Metro Pondok Indah, Pondok Indah, Jakarta
Contact: RSVP to (021) 7500742 or visit Instagram @dehooikeren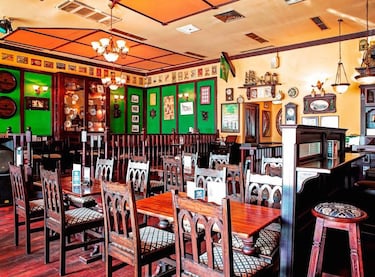 10. Murphy's Irish Pub
Ladies get half-price cocktails, but both ladies and gents are offered buy 1 get 1 free San Miguel beers.
Day and time: Sundays from 9:00pm-11:00pm
Address: Kemang Raya No.11, Kemang, Jakarta Selatan
Contact: RSVP to (021)71791471or visit Instagram @murphysjakarta