With endless delicious drinks in Bali, you might be tempted to consume more calories than usual while relaxing on the beach. Although most resorts have gyms, you can find other enticing ways to stay fit on your tropical holiday. From free yoga to Brazilian Butt Workouts and Downhill Cycling, we look at seven fun ways to stay fit on the Island of the Gods.
Stand Up Paddle Boarding (Rip Curl Surf School, Sanur)
What better way to enjoy Bali than frolicking in the Indian Ocean? Also shortened to SUP, this sport has gained a lot of prominence in recent years. The paddle boarding itself is quite tricky, but you'll be in safe hands at RC Surf School, and it's a pretty decent workout, with crystal clear water, and beautiful landscapes surrounding you everywhere. SUP teaches you how to balance on the board, develop core strength and stability, work on your arm strength, all as you paddle away. The endless supply of water in Bali means that you're spoilt for choice in terms of SUP locations.
Brazilian Butt Workout – Brazil Boom / Fit Ball (Seminyak)
Most people really enjoy a Brazilian Bootyfit class. The music is very energising and the instructor keeps the class pace just high enough that you feel all your muscles working, while not over exerting. Brazilian Butt works all the areas around your hips, booty and legs with an assortment of exercises. This specific class is a combination of Brazil Boom (30 min) and Fit Ball (30 min). Brazil Boom melts and shapes your rear end to perfection, concentrating intensely on your glutes and hamstrings, whereas Fit Ball is a non-aerobic class, which uses a large air-filled ball for strength, flexibility and coordinative challenging exercises to quickly tighten, tone, and lift.
Downhill Mountain Biking (Gianyar)
If you want to sample fresh air and stunning scenery, there are a number of companies offering downhill cycling trips in and around Bali. Check out several trip options for all levels at Infinity Mountain Biking. Bali Rides has downhill tracks for intermediate to advanced mountain bikers, and if you are looking for a more leisurely ride, Bali Bike Baik Cycling Tours takes you on an off-the-beaten-path downhill bicycle ride around the countryside. Downhill bike riding may feel less of an exercise than uphill bike riding, but it still burns calories. And Bali has many volcanoes and beaches, all of which offer epic views from the top and an awesome starting point for your downhill bike ride.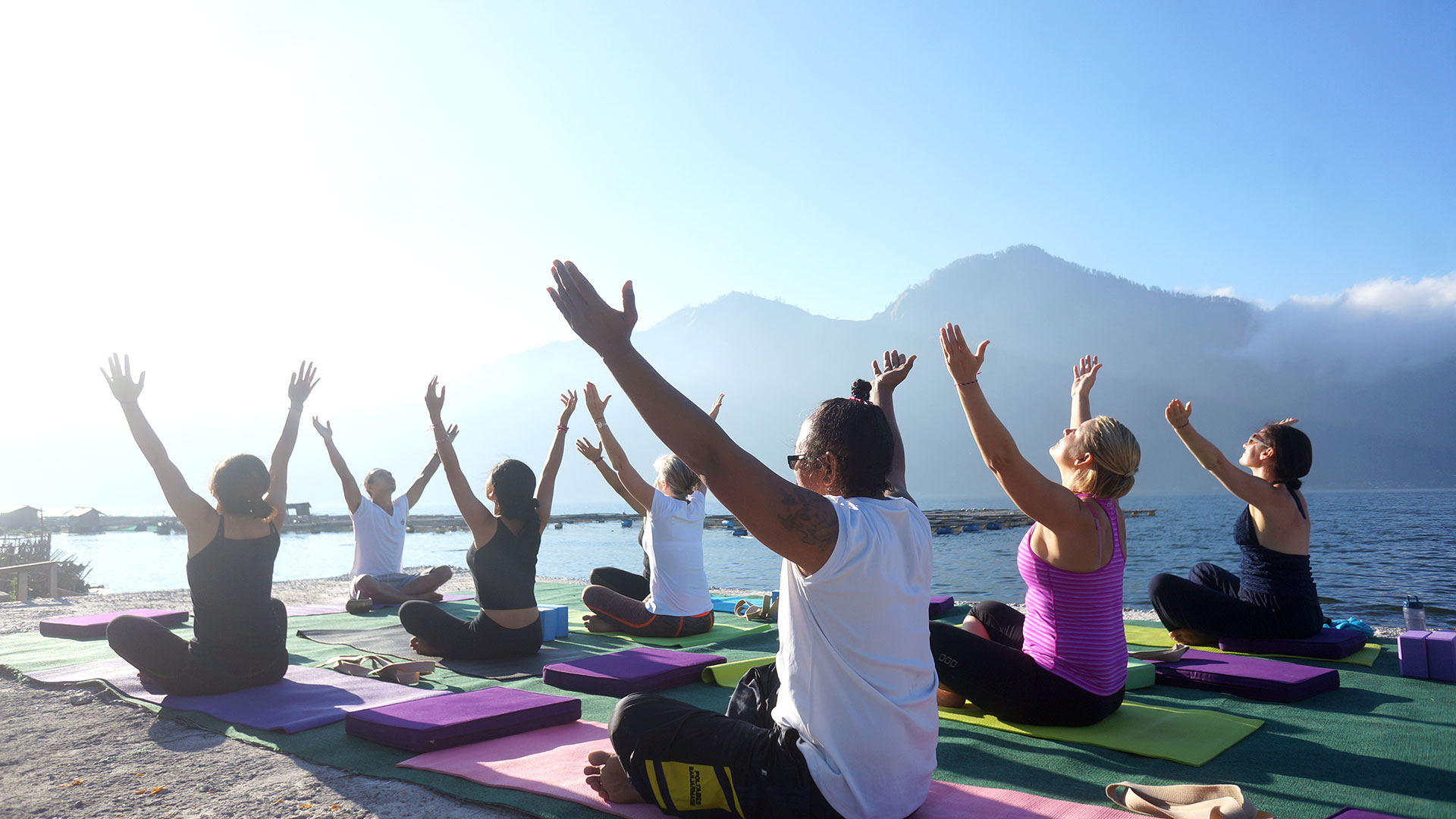 Yoga – Udara Bali (Seseh)
Only a 15-minute walk away from surf hotspot Echo Beach, Udara Yoga community has unique yoga shalas with a breathtaking view of the ocean. You can really feel this place has a soul and everything that is created here contains love and style. Furthermore, a free event happens every Sunday, with an Aerial Yoga Class at 9.30am, a Yoga Class at 10am and Ecstatic Dance at 11.30am. Join their team of highly experienced teachers for daily classes of Vinyasa, Hatha, Yin restorative and Aerial Yoga. Udara also offers five different detox programs of various lengths between three and 30 days, including fasting and detox food, various treatments for body, mind and soul with a beautiful Spa, water healing pool, Finnish sauna, herbal steam room, hot Jacuzzi and ice water plunge: the perfect escape from busy life.
CrossFit Wanderlust (Canggu)
At Wanderlust you can watch trainers effortlessly work out with their six-packs and toned tummies. Open seven days a week, join group classes, private training sessions, or use rowers, spin bikes, and weight lifting equipment. The largest and best-equipped CrossFit gym in the whole of Bali, naturally this place brings in the big guns. The Workouts of the Day (WODs) are intense and the groups are large (spread across almost 4000sqm of space). Not to mention the certified CrossFit trainers with their motto of "Building Better Humans." You will leave here with a spring in your step (if you can still walk). After completing an intense CrossFit session, as part of a communal group, check out the attached kitchen where you can get some awesome post-workout food and coffee.
Pole Dancing – Pole Studio Bali (Kerobokan)
Pole Dancing is a fantastic core workout and proves that toning your body can be fun and sexy. It's great cardio exercise, tones up the body, helps lose weight, and strengthens your back. Not to mention improves coordination, balance and flexibility. Pole dancing involves a full-on all over body workout combining strength-training and isometric muscular contractions. It is said to burn as many as 250 calories in a single session. And pole dancing is way more fun than doing bicep curls and press-ups to improve your body confidence. There are various pole dancing fitness classes on offer every day from Monday to Saturday at Pole Studio Bali.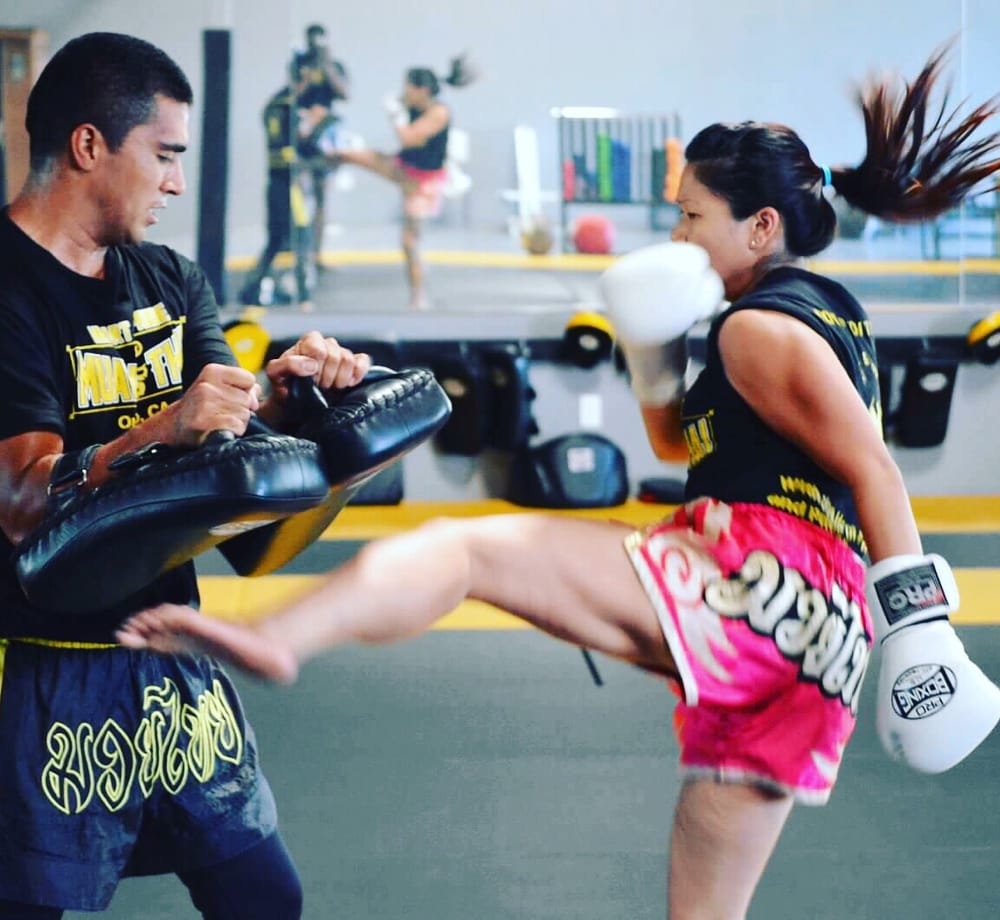 Muay Thai – Bali Training Centre (Bingin Beach)
Close to some of the best surf spots on the island, surrounded by a peaceful yet thriving community of like-minded people, BTC offers HIIT, Muay Thai and Kettle Bell classes at a fun, inspiring atmosphere and location. A mixture of cardio, strength and boxing makes the training so much more diverse and exciting. Trainers Jake and Dodge will make you train as hard as you can within your limit and still make it fun. The group classes are full of locals and travellers looking for a great workout or to learn a new skill. The staff and instructors are helpful and able to scale the session for pretty much anyone, regardless of fitness level or experience. Packed with tanned surfer dudes and beach babes, stay for the post-workout feeds at The Cashew Tree next door. Exactly what you need after a few days of too many Bintangs!