President Joko Widodo met with business and economic leaders in his visit to Hangzhou, China for the G20 Summit. Here's what you missed.
On September 2, President Joko Widodo arrived in Hangzhou, Zhejiang, the venue for the 2016 G20 Summit, the first meeting of the 'Group of 20' to be hosted by China. The President's entourage included Indonesian Secretary of State, Minister of Finance, Minister of Trade, and other high-profile government officials.
Widodo kicked off his visit with a trip to Alibaba Group's headquarters, one of the world's largest e-commerce companies. Indonesia's tech minister Rudiantara explained how these visits are integral to the government's effort to strengthen the Indonesia–China economic collaboration, particularly the export of local products to China.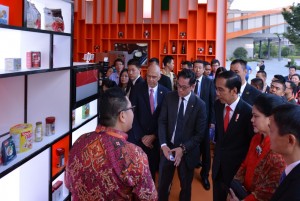 With this in mind, the government invited Alibaba founder Jack Ma to be part of a special advisory group focused on Indonesia's e-commerce development. The invitation was meant to encourage Indonesian presence in the international market; its purpose clarified by Rudiantara when he explained how the nomination will help "Indonesia grab greater attention from the international market when they see that even Jack Ma is willing to advise us."
On the second day of his visit, Jokowi graced a business forum held at the Shangri-La Jing'an with a keynote address that revealed his optimistic views on the archipelago's economic growth. He promised easier permit regulations to leverage his appeal with Chinese investors looking to set up more businesses in Indonesia. Chinese business groups welcomed this with enthusiasm.
Jokowi also visited the research and development office of Huawei where he met with chairwoman Sun Yafang to further discuss tech plans between Indonesia and the company.
"We hope Huawei can join us in digitalizing Indonesia by providing the latest communication technology. We also hope that Huawei can help us in nurturing Indonesian talent," the president said.
In a statement, Huawei confirmed it would support Indonesia in its goal of optimizing information and communication tech development. Yafang herself said, "Huawei will utilize its global experience and tailor it to  fulfill Indonesia's needs […]"
On September 4 and 5, Hangzhou became the meeting ground for the G20 Summit. Representatives included Jokowi and Chinese President Xi Jinping. The meeting between the two presidents was meant to generate more business opportunities between China and the archipelago.
One of the topics that came up between the leaders was the Jakarta-Bandung high-speed railway. Jinping urged Widodo to ensure the US$5.1 million joint-venture project would roll smoothly. The success of this project will benefit both countries, experts say. It will likely strengthen Indonesia's infrastructure at large and prove China's engineering capability.
Dai Fan, an international affairs expert from Jinan University stated, "China is doing more projects overseas, some of which have encountered massive problems. China now needs a model that runs smoothly and develops well. President Xi wants the high-speed rail project to serve as this model."
From Widodo's visits to China, we can likely predict more economic cooperation between 'The Red Dragon' and 'The Emerald of The Equator'.
In the second quarter of 2016, China's total investment in Indonesia reached US$549 million. With that much money and more at the stake, China and Indonesia would do well to keep up appearances. We will probably see an influx of Chinese expats in Indonesia.
Does Indonesia need China more than other foreign players if it hopes to develop faster?
Featured image via Sekretariat Kabinet RI; post image via Sekretariat Kabinet RI; video via CCTV News.