China won the bid over Japan to build the first high-speed rail line in West Java. The Government hopes for an economics boost. Experts weigh in on the project.
President Joko 'Jokowi' Widodo's ambitious plan to improve Indonesia's infrastructure could boost manufacturing and create hundreds of thousands of new jobs in the archipelago. Now, Indonesia is embarking on a new path for infrastructure development by signing an agreement with China last month to build the nation's first high-speed railway.
The Chairman of state-owned China Railway International, Yang Zhongmin, inked the deal with the President Director of a consortium of Indonesian state companies, PT Pilar Sinergi, to form a joint venture and get construction underway. The joint venture consists of local construction company PT Wijaya Karya, railway operator PT Kereta Api Indonesia, toll road builder PT Jasa Marga, and plantation company PT Perkebunan Nusantara VIII.
Ground is scheduled to break on November 9. The high-speed train is set to reach eight stations across 150 kilometres between Jakarta and Bandung. The train will travel at 250 kilometres per hour, and the ticket fare will be around Rp.200,000 (US$16) when the project is complete in 2019.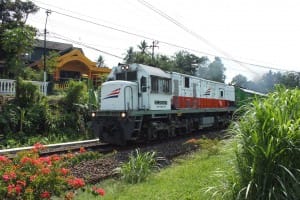 A regular trip by train from Jakarta to Bandung costs around US$8, and takes more than three hours. The railway is set to be part of 750 kilometres of new rail planned tracks in Jokowi's infrastructure plan.
"The train will be the first of its kind, not just in Indonesia, but in all of Southeast Asia. It will help ease the traffic congestion, advance commercial development and socio-economic growth, as well as facilitate the formation of a Jakarta-Bandung economic corridor," says Chinese Ambassador to Indonesia, Xie Feng. "As for China, this is its first overseas high-speed railway project that uses Chinese technology, standards, and equipment. It is the first project to be jointly designed, built, operated, and managed by China and its partners."
Indonesia holds a 60 percent stake in the project, while China holds the other 40 percent. State-owned China Development Bank will provide 75 percent of the funding at an estimated cost of US$5.5 billion, with the rest coming from the Chinese railway company and the Indonesian consortium.
The rail line will not need any financing from the Indonesian Government, nor a government guarantee. One reason Indonesian officials gave for rejecting Japan's bid was that it would require government funding.
"The Government will not give any guarantee for the project. We don't think this agreement [will] go to default, but if it happens, the bank will take the mitigation action, not the Government," says PT Pilar Sinergi BUMN Indonesia Chairman, Sahala Lumban Gaol.
The consortium will exist for 40 years so that China's corporation will not depart, even if the project defaults before the due date. "China will not leave before all debts are paid. We haven't put any collateral in this project," says Gaol.
During the construction phase, the joint venture will use as many Indonesian materials, machines, and equipment as possible. It will also hire as many local managers, technicians, and workers as possible.
"Furthermore, the two sides have signed cooperation agreements on personnel training, local production, and technology transfer. Both of us have agreed to jointly explore other markets, especially in Southeast Asia. Now, in this golden autumn of October, they can finally harvest the fruits of their hard labour," says Ambassador Xie.
To get more specific, the project will use up to 50 percent local materials, says consortium Minister Rini Soemarno. She adds, "The project will also hire 39,000 new local workers, while most of the aluminium will be from local production."
With heavy involvement of Indonesia's state-owned companies, the project will be able to buy land for the route using a new law that sets timeframes for land acquisition. Until now, land acquisition has been a major obstacle for most infrastructure projects in the country, and has scuppered previous plans to build railways on the islands of Sumatra and Borneo. The project can also use land from an existing toll road to Bandung.
For Indonesia, projects like this are much-needed as the country suffers from a lack of adequate infrastructure – both in quantity and quality – often causing logistics spending to rise steeply. As Indonesia requires about US$416.5 billion worth of funds for infrastructure development over the next four years, the Government will rely heavily on private sector involvement.
According to PT Wijaya Karya president director Bintang Perbowo, development of the high-speed railway could create new residences around transit areas with a plan that would integrate with the railway. "With these new areas being opened, people will choose to live there. There will also be development of new cities, such as Walini," Perbowo says, adding that towns situated near the train should be reachable in a more timely manner after it opens.
Walini is a hillside town near Bandung, and used to be a tea-producing area. However, in recent years it has become unproductive. The area is expected to be utilised as a business centre and residential area in the future. Some parts of Walini implicated in the project belong to PT Perkebunan Nusantara VIII. The state-owned enterprise also pins hopes on accelerated development in Karawang, which is already known as an industrial area.
While the Government believes that the planned fast train will bring much benefit to the public, some experts have expressed concerns and doubts about the project.
Nico Harjanto, Executive Director of Jakarta-based pollster Populi Center, says the project clearly stands against Jokowi's promise to focus on developing much-needed infrastructure in regions outside Java, an island which already has railways from east to west.
"Where will this high-speed train be built? From the Gambir Station in Jakarta? Why does the project still focus on the capital? In fact, this project is needed for political reasons so that for the next election in 2019, there's something new [from Jokowi]," says Harjanto.
Ilham Malik, a public policy expert from the University of Bandar Lampung's centre for regional policy studies, meanwhile, expresses scepticism on the effectiveness of the railway due to a lack of public transport in both Jakarta and Bandung.
"Perhaps this railway will only attract tourists. Today, people wanting to travel from Jakarta to Bandung and vice versa are served by airplanes, trains, […] buses, and private vehicles," he says. "If Indonesia wants to build this high-speed train, the administration has to build interconnected public transportation [also]. If the train only depends on private vehicles, it won't thrive."