Hijabs of different designs took centerstage in the recently concluded Fashion Week, further cementing its growing popularity in modest-wear fashion industry.
Indonesia Fashion Week, which ran from February 1 to 5, stayed true to its theme, which is to highlight the culture and heritage of the predominantly Muslim country. From casual wear to dresses and gowns, most of the pieces featured locally sourced materials.
But one of the highlights of the week-long well-attended fashion show was the hijab. Fashion designers played with its style and color and paired it with tunics, gowns, loose pants and dresses to showcase its versatility.
Anniesa Hasibuan was one of the designers to feature exquisite, classy hijabs in her fashion show, adorning them with pearls and pairing them with flowy or serpentine-cut long-sleeved gowns. A native of Jakarta, Hasibuan caught the attention of the international fashion scene when the Muslim designer became the first woman to use hijabs in the New York Fashion Week catwalk.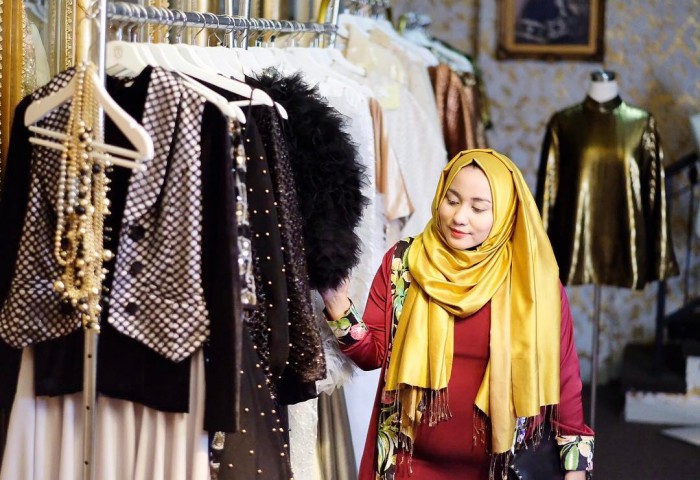 Unlike most Muslim-majority countries, Indonesia is more lenient toward wearing hijabs. However, several factors including family pressure, growing Muslim sentiment and religion, booming Muslim population and a more modern and urban take on Muslim pieces have made hijabs and modest wear a billion-dollar industry.
Further, "I have noticed that there is that kind of revival in modest clothing," said Australian designer Jaimie Sortino whose collection opened the fashion week. After all, women can now already embrace trends while still keeping in touch with their religion that requires modesty.
The increased demand for modest wear is also forcing giant fashion retailers to include it in their lines. Uniqlo has partnered with fashion blogger Hana Tajima while Spanish brand Mango launched a Ramadan collection. Although H&M still has to come up with its modest-wear collection, it already started featuring models wearing hijabs.
As for Indonesia, the country sees a huge market potential and opportunity for high-end hijabs here and in foreign countries such as the United States, China, Australia, Canada, UAE, Japan and Germany. However, it also needs to beat challenges in areas of financing, scalability, and efficiency to be truly competitive.
Image Credits: Indonesia Fashion Week Official, Anniesa Hasibuan