Locals in Northern Sumatra's Hatorangan village killed and disemboweled a Sumatran tiger after it apparently attacked locals. The villagers reportedly put the endangered tiger on display by hanging it from a ceiling.
A conservation official told the Agence France-Presse (AFP) news agency on Monday, March 5, that the tiger had been spotted roaming around the village since February and villagers initially thought it was a supernatural creature. The villagers followed the tiger back to its lair where it eventually attacked two people, leaving them seriously injured.
The conservation official advised the locals not to kill the endangered animal but was ignored and prevented from intervening.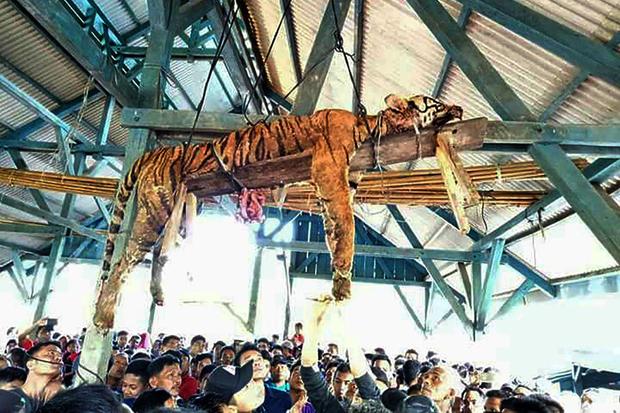 "Unfortunately they would not listen. They insisted on killing the tiger," Hotmauli Sianturi, the head of Indonesia's Natural Resources Conservation Agency, told AFP. "After killing the animal, the locals hung up its body for display. It's very regrettable."
Sianturi also told press that the villagers tried to use a trap to catch the tiger, and said her agency would "prove that its body parts are being traded."
An investigation showed the remains were missing canine teeth, claws and skin from its face and tail.
Source: CBS News
Photos courtesy of Getty Images