What's the most serious health risk in Indonesia in 2017? If you're going to ask the health ministry, it will be avian or bird flu.
Director General for Disease Control Muhammad Subuh considers the bird flu to be the biggest health threat in the country following an outbreak in China recently.
Avian flu is a viral disease that affects many countries, although the strains present can differ. Some have low pathogenicity they spread only among birds. However, those that are high are more likely to affect humans.
The first avian strain to have affected humans called H5N1 was documented in 1997 in China. In 2013, another strain, H7N9, was discovered. The infection led to an outbreak in China where at least 7 people were confirmed sick in December this year alone. Five of these cases were found in Anhui Province, and two of the patients had already died.
The strain has also spread to China's administrative regions such as Macau and Hong Kong with 2 and 1 confirmed cases, respectively. One of the patients in Hong Kong also died.
In Indonesia, the H5N1 virus caused an avian flu outbreak in 2005, and it peaked a year after with more than 40 deaths. In 2011, the death count reached 149.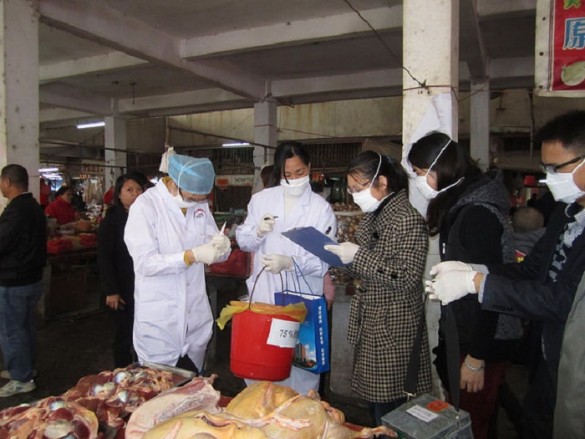 Although there's already a vaccine for bird flu, it works only against the H5N1 strain, and availability is limited. Further, the virus may have the ability to mutate quickly, spreading easily among humans and making them more difficult to treat.
Currently, the World Health Organization (WHO) is closely monitoring the cases and spread through its Global Influenza Surveillance and Response System (GISRS), as well as coordinating with various animal health agencies.
On the other hand, the Indonesian government is planning to open an epidemiologist operation center (EOC) by January 2017. It will run 24 hours a day, 7 days a week, to monitor or surveil any flu or flu-like illnesses.
The public may also pay attention to some of the common symptoms of the illness like a sudden increase in temperature, gastrointestinal problems, loss of appetite, sleeping difficulty, heaviness of the chest, muscle and joint pain, sore throat, runny nose, malaise, dry cough and chills. These symptoms appear following an incubation period between three and seven days. Prompt treatment is necessary to avoid fatal complications such as pneumonia and organ failure.
Image Credits: Pixabay, CDC Global