A survey conducted after the first gubernatorial debate held on Friday evening, January 13, showed that many undecided voters have declared they will most likely vote for the Ahok-Djarot tandem in next month's election.
A researcher at Saiful Mujani Research and Consulting (SMRC), Sirojudin Abbas told reporters that Jakarta voters are rational and critical, judging their future leaders by their competency and capacity to manage relevant issues affecting the region.
The SMRC researcher explained that the first public gubernatorial debate helped convince voters who were initially undecided to ultimately favour the Ahok-Djarot team. They saw the tandem as having the competence, capability and capacity "to understand and provide solutions for Jakarta's problems."
Abbas added that the debate made it clear the Ahok-Djarot tandem is ahead of the competitors Anies Baswedan-Sandiaga Uno and Yudhoyono-Sylviana Murni. The incumbent pair has the first-hand experience with Jakarta's problems and will, therefore, be able to readily strategize programmes that can resolve pressing issues, the researcher commented.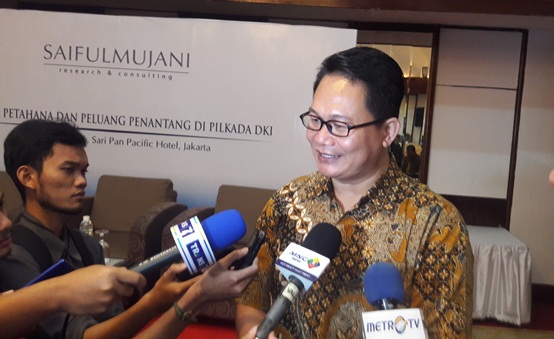 The researcher, however, criticized how one of the rival pairs copied Ahok-Djarot's policies, as they failed to come up with alternative solutions for the socioeconomic problems raised during the debate. Abbas noticed that, as opposed to their rival pairs, both Ahok and Djarot showed integrity in the debate.
Abbas stated that Ahok emphasized the need to take firm action against anybody who breaks the law to achieve a better, more humane Jakarta. He added that it helped the incumbent governor win more votes for not avoiding any legal issues during the debate but instead being consistent with his proposition to enforce regulations that will help the Jakarta administration.
Aside from winning swing voters over to the Ahok camp, the first gubernatorial public debate likewise affected the hesitant voters – people who may have already decided whom to vote for but who may still be convinced to change their minds – among the counted support base for the candidate pairs.
These hesitant voters, Abbas explained, are normally eager to find new evidence, facts and information. The majority of these hesitant voters came from the Anies-Sandiaga and Agus-Sylvi supporters, and many will most likely swing their votes to the Ahok-Djarot tandem, Abbas concluded.
Image credits: BeritaEnam, Kriminalitas