Colourful Re.juve juice bars are popping up all over the capital, introducing healthy cold-pressed juices with no added sugar to the local market – and customers are lapping it up. We meet the brand business and development head Romie Johanes, who has been involved with Re.juve from the research and development phase to having opened 14 stores across Jakarta and Tangerang since launching in 2015.
When was the Re.juve founded and how was the concept born?
Re.juve is part of the Gunung Sewu Group and was born as a sustainable company linked with Gunung Sewu's fresh produce plantation. Gunung Sewu group owns the plantation, runs a chilled logistical operation, so we thought, why not launch a juicer?
We also started Re.juve as a genuine and honest juice brand for our customers. A lot of juices in Jakarta were questionable in terms of hygiene and quality and we want to serve Jakarta with 100 percent pure and fresh juices, where we add nothing to the ingredients besides freshly squeezed fruit and vegetables. This means we don't add sugar, water, artificial sweeteners, preservatives and concentrate to our juices.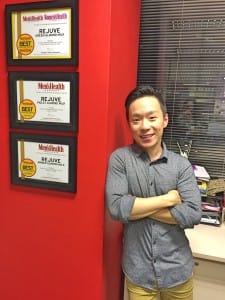 Tell us about your role in the company.
I am in charge of Re.juve's expansion, store operations, branding and marketing, and I was assigned to the brand from scratch. My managing director, Richard Anthony, and I carried out extensive research for one year, visiting every single juicer in San Francisco, Los Angeles and New York. We then underwent concept development, business formats, recipe creation and everything else needed to create a premium juicer.
Tell us about cold pressed juices. What are the health benefits?
Cold-pressed juicers (the technology that we use) do not create oxidation and do not create heat during the process of juicing. Because antioxidants, enzymes and nutrients are easily destroyed by heat and oxidation, cold-pressed juicing makes sure of optimal nutrition in each bottle.
After the 'fast food' fad was seen to take over the country, Indonesia seems to be entering a health food revolution. Has it been easy entering the market when you did? What challenges did you face?
The 'Indohealthvolution' is definitely starting! Re.juve had been planned long before the trend started and Gunung Sewu had the vision that this health industry will be sustainable, feasible and promising. It aimed to launch Re.juve as a business that is meaningful through genuine products that promote health and wellness.
The challenge has been bringing customers to our stores; customers who have the option to spend their money on sugary treats or other indulgent beverages. We needed to convince them to spend their money at our stores on healthy options instead. Once they are in our stores, endless education is needed to convince first-timers that our cold-pressed juices are honest, genuine and worth their money.
We passionately spent endless hours on education about how premium our products are. We did this one customer, one community, one day at a time. It was, and still is, a challenge to get new customers to try our products, but it's very satisfying to see new customers quickly turn into regulars.
Re.juve outlets seem to be located nearby or directly outside of gyms. Can you tell us more about your business strategy?
We have a lot of stores in malls, residential areas, at offices and close to gyms. We really like to be the destination and preferred brand for customers looking for healthier options. Our focus is on delivering 'good for you F&B options' and 'convenience'. We aim to provide cold-pressed juices, nourishing smoothies and healthy bites for before and after the gym or work, during your afternoon break, before commuting home, and during leisure time.
What is Rejuve's vision and mission?
I read this every morning and I see the passion in my managing director when he says this before every meeting: "To promote healthier and happier days through delicious and healthier food and beverage selections."
I always tell my team that our vision in Re.juve is to passionately promote healthier and happier days to customers and communities. We are not in food and beverage industry; we are in the health and wellness industry, driven by passion.
Where do you source your ingredients from and how have you had to adapt to the local market taste?
We source our ingredients from local fresh produce vendors that work with local farmers. A few ingredients such as orange navel and apples are imported. Our premium golden pineapples are sourced from Gunung Sewu plantations and are exclusively available for Re.juve.
We source the finest, grade 1 ingredients and ship back a lot of fresh produce that we think is not first grade. We have random lab tests of our fresh produce to make sure they are free from pesticides and wax, and hold regular QC and hygiene audits in-stores to make sure the ingredients are stored and processed properly. In terms of operational handling, fresh fruit and vegetables are definitely much more complicated – but it's a good thing, as it keeps us very alert and with very high operational standards.
When we launched Re.juve, we invited Lora Krulak, a juice chef from the US, to help us with the recipes. From there and through a lot of customer insight sessions, we adapted to suit local tastes. Indonesians still prefer a sweeter fruit juice.
Can you share with us a lesser-known fact about Rejuve products?
The Classic line is our customers' all time favourite. This best seller line is famous because it consists of more fruit and is therefore sweeter.
Little do customers know that our office team prefers our Signature line because it is more advanced, where the juice consists of more varieties of fruit, vegetables and spices. The Signature line doesn't use pineapple and therefore is less sweet. I think most advanced juicers would appreciate the Signature line, but this line is hardly known.
Do you have plans to expand further in 2016?
We recently just operated and launched the first cold-pressed juice factory in Asia! It's such a milestone for Re.juve to be the authority of cold-pressed juices in Indonesia.
The factory boasts a digitally-controlled environment (including 10 Celsius temperature, 2 Celsius filtered water, etc.) to make sure the juices are produced in a hygienic environment. This also means more automation by machines, minimal human contact from product washing, drying, recipes weighing, juicing, bottling and labelling.
In 2016, we plan to open 12 more stores in the Greater Jakarta area. A lot of our customers ask us to open closer to them and we like to listen. We already have a lot of requests to open in Bandung and Surabaya.
A lot of exciting projects in 2016, including our Re.juve reward programme, a mobile application, online orderings and many more.
Does Rejuve have any special events coming up?
If customers would like to hold a juice talk or juice school, please contact me. We open our doors to anyone who is passionate about juicing or health and wellness. Let me know and we could hold an a-z about juicing in one of our stores.
What aspect of your job do you enjoy most?
Firstly, I love and I enjoy our cold-pressed juices. The more we sell, the more I feel that I have been genuinely and honestly promoting health and wellness to customers. Our cold-pressed juices are that good! I've never been so proud or passionate about a product before.
Secondly, I love our customers. I have met hundreds of them through many events or during store visits. They are more passionate about Re.juve products than I am! They share the same value of health and wellness, of having happier and healthier days – healthy that is still enjoyable.
Thank you, Romie. To get in touch, please contact: [email protected]