Bali's nickname 'Island of the Gods' is no exotic coincidence. Long before this island attracted tourists, Bali has been home to grand kingdoms with cultural and spiritual ties to Mother India.
During the two-hour ride along the eastern coastal road, the hustle and bustle of Denpasar fades into rice fields and rural neighbourhoods. Many villages have ornate Hindu temples where locals present their offerings.
Karangasem in East Bali is a breezy coastal town at the foot of Mount Agung. Tracing its origins to a 17th century kingdom formerly subject to the Java-based Majapahit Empire, Karangasem's original name Karang Semadi means 'rock of meditative prayer'. In the early 20th century, Karangasem lost the colonial war and was invaded as part of the Dutch East Indies. Today, Karangasem's atmosphere is a mélange of Amlapura's royal Hindu-Balinese heritage and Candidasa-Padangbai's commercial touristic hub – a coexistence of the sacred and the profane.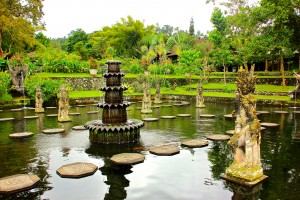 An understatedly delightful site, Taman Ujung Sukasada is a palace that belongs to the Karangasem Royal Family. Its name means 'gardens of eternal happiness on the edge [of Bali]'. Established in 1909 by King I Gusti Bagus Djelantik, the palace was collaboratively designed by Dutch, Chinese, and traditional Balinese architects.
Known as Waterpaleis in the Dutch colonial days, it floats over the pre-existing Dirah pool, which some sources say was built to drown alleged black magicians, and others say served recreational and spiritual purposes.
Twice destroyed by the eruptions of Mount Agung in 1963 and 1975, the Waterpaleis today has been beautifully restored into a lush park, flaunting manicured gardens, elegant sculptures of Hindu deities, fat chickens and pheasants, long pleasant walks on stately bridges and geese swimming in tranquil pools. Inside the palace are sculpted panels of scenes from revered Hindu epics under Dutch stained glass, old photographs of the Royal Family, a Chinese altar and preserved bedrooms and sitting rooms reminiscent of the Kingdom's days.
East of the palace, there are ruins of a great theatre on the hilltop. A panoramic view of the Waterpaleis' complex is visible on one side, and the Strait of Lombok on the other. There, the Indian Ocean whispers for those who meditate in stillness.
I Gusti Bagus Djelantik, also known by his title Anak Agung Anglurah Ketut Karangasem, was the Last Raja of Karangasem. Ruling 1908–1967, he was a little man with big power and a Renaissance appeal, fondly remembered as a leader that advanced Balinese culture with modern technology and artistry. Today, the nearby Puri Agung Karangasem in Amlapura is still considered the living centre of the Karangasem civilisation Djelantik laid foundations for. It preserves important artefacts that belong to the Last Raja, such as his heirloom keris and the Pusaka Lontar genealogy.
Another royal water garden built by the Last Raja is the Tirta Gangga. Before its construction in 1948, Tirta Gangga was originally a wellspring concealed beneath teak trees, surrounded by fertile hills. With his artistic ingenuity, the Raja turned these wetlands into an aquatic labyrinth which expresses his yearning for the holy waters
of the River Ganges.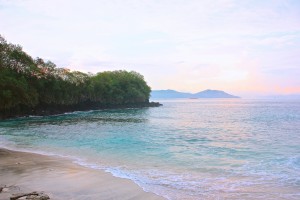 A walk through Tirta Gangga is a meditative exercise in itself. Just over the surface of the waters are barely-there stepping stones and long paths around Balinese fountains. The water is so clear you can see big koi fish swimming around as you walk. Rows of gods and goddesses smile, posing so daintily as if frozen in a photoshoot in the middle of a delicate dance. Animals and mythical creatures like demonic boars and garuda keep the pool flowing with water.
On land, the gardens are a blanket of rich green with bursts of red, fuchsia, and gold. A host of dreadlocked demons keep watch over the footpath. In a corner, a human-footed barong – the red-faced, lion-like benevolent King of Spirits – brightens up the garden with his cheerful laughter. Two fierce pairs of dragons intertwine over a sturdy bridge, as if guarding those who cross it.
The Hindus of Bali consider water from Tirta Gangga holy. This water is used for prayer rituals in nearby temples. Additionally, Tirta Gangga supplies municipal potable water to Amlapura, as well as irrigation to nearby rice fields.
After the royal tour, I visited Candidasa. A contrast to the meaning of its name – ten temples' – Candidasa today reflects the heavy reinvention of Bali as everyone else's 'ultimate tropical getaway'. Its shores are burgeoning with cocktail bars, restaurants, surf clubs, dive operators and tourists with an insatiable demand for privacy and service. Known for rocky beaches and crashing currents, Candidasa is gaining in popularity among surfers looking for lesser crowded waves to ride than Kuta and Uluwatu. Teluk Amuk – the islet-studded bay where Candidasa is situated – also boasts lively underwater coral reefs for eager divers.
I finished the day at Blue Lagoon. My attempt at practicing yoga proved flimsy as my feet kept sinking under the sand beneath trembling knees. As I challenged myself to the one-legged 'tree pose', Vriksasana, I thought of its inventor King Bhagiratha. According to Hindu teachings, the Vriksasana was the king's expression of his longing for Ganges' return to Earth. Before this, Bhagiratha's 60,000 uncles had been cursed into ashes for attacking a sage. Only the holy waters of the Ganges could undo the curse, but praises from other deities have lifted her up to the heavens and flawed penance meditations from previous kings have pushed her even further away. It took Bhagiratha 1,000 years meditating the Vriksasana in the Himalayas to make Ganges fall – bringing life back to Earth's highest point all the way to the seas.
Giving up on the Vriksasana after several falls, I decided to embrace the waters and swim. Staring into the soft turquoise waters and blue hills on the horizon under the misty sky, I wondered what thoughts were brimming in the heart of the Last Raja as he fashioned his beautiful water palaces in longing for the Ganges.
Just then, an hourglass-bodied bikini girl showed up and flaunted a long, flawless rendition of the much harder Standing Head-to-Knee pose. I knew that was my cue to put on some dry clothes and head back to Denpasar.
Country: Indonesia
Province: Bali
Land area: Karangasem Regency – 893.5 km2 , Bali – 5,780 km2
Largest city: Denpasar
Population: Karangasem Regency – 40,870,000 (2015)
How to get there: Daily flights to Denpasar from pretty much anywhere followed by a 2-3 hour drive from Denpasar to Karangasem
What to bring:  Hat, sunglasses, sunscreen lotion, camera, sarong, cash for admission and donations to preserve royal heritage sites