Located on the East Javanese island of Madura, Gili Labak is a rather small island surrounded by white sands and clear blue water. Although the site itself is separate from the main Madura Island, it is a perfect destination for travelers who seek a picturesque and tranquil atmosphere, far from the crowded metropolis of Surabaya.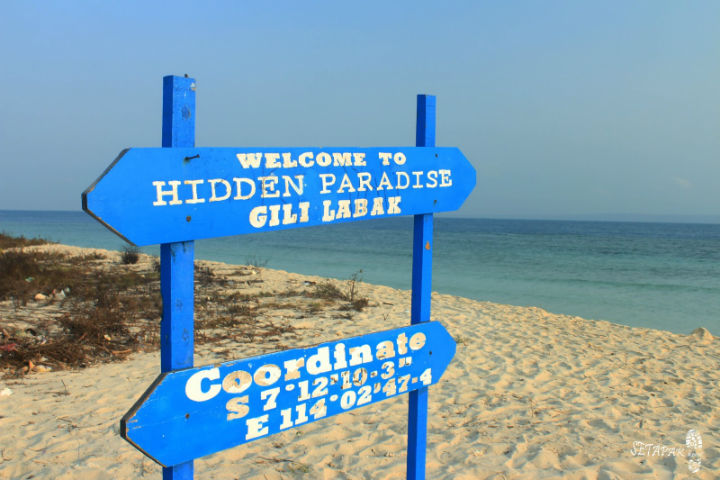 Gili Labak is situated in Madura's Sumenep Regency and is actually a secret paradise that most expats would flock to if they knew about it. The island's existence is not known by many. That said, it has stunning scenery to soothe your soul, and the beach remains unpolluted. If adventurous expats have it in them to find this off-the-beaten-path beach, it truly is a must-see.
One of the strong points of Gili Labak is its clear blue water that allows visitors to see various kinds of reef fish dancing in the water. Because of this, it's nice to enjoy diving and snorkeling near the reef, as you'll get the chance to observe several different aquatic biota elements that have been untouched.
Although there are a few stands renting equipment for snorkeling and diving, it's probably best for visitors to come prepared with their own equipment. The gear locals have on hand to rent out to tourists is limited.
You may also do a beach camping trip on Gili Labak for a more memorable experience. The serene atmosphere makes it ideal and peaceful. It's comfortable and relaxing and the site is clean and quiet. No one is likely to approach you to try to sell stuff, and travellers can rest assured they won't be disturbed under the stars. It would be wise to bring your camera, as the surrounding panorama makes for excellent photo opportunities.
Though there are not many food stalls on Gili Labak, tourists can still partake in local dishes such as campor, nasi romi and rujak Madura. These treats are known as Sumenep's specialty and are worth a try.
Here's a little tip for those of you who are coming from Surabaya: It's best to depart around midnight to avoid the traffic. This way, you'll reach Sumenep in a much shorter amount of time. Once you arrive, you can go straightly to Kalianget Port to cross over to Gili Labak. It will take an additional two to three hours via speed boat from the port to the island.
Also, because the waves from Kalianget to Gili Labak are fairly strong during the rainy season, it's best to avoid taking a trip at that time. This is especially true for those who easily get seasick. However, when you come during the dry season, you'll get a chance to see the reef clearly with calm and gentle waves.
Because Gili Labak is not well developed for economic activities, inns and hotels are also rarely found near the area. Hotel Dubai Sumenep is said to be one of the recommended places to stay over, as mentioned by Paket Wisata Jawa.
The hotel provides a high standard of service and amenities to suit travellers' needs. It's located near the main city and with its convenient location, the hotel also offers easy driving access to other must-see spots on Madura Island.
Image credits: EastJava, Setapak Kecil