Indonesia and its more than 17,500 islands is sometimes called the 'Emerald of the Equator' because the archipelago looks like a bunch of emeralds strung together when viewed from space.
Down here on Earth, that nickname is also appropriate, as it represents a growing hotbed of economic and industrial potential. The country has more than 250 million people and a growing economy driven by consumption.
Indonesia was a member of the Organization of the Petroleum Exporting Countries for several decades. But now the country is struggling to attract foreign investors to keep up with its domestic energy consumption. This is exacerbated by the country's complex regulatory environment, coupled with grossly inadequate infrastructure.
As a coastline that stretches more than 5,000 km across Southeast Asia and Oceania, Indonesia has always been perceived as strategic in regard to clean energy plays. It has also presented geographic challenges in answering energy demands from Java and Sumatra, with most of the supply coming from eastern provinces. Additionally, Indonesia is seeing a surge of urbanization and increasing energy demands from other regions in the country.
34-year-old Dutch national Simon Landsheer saw opportunities in Indonesia's energy space many years ago, after coming to Jakarta regularly for business. Landsheer was intrigued by the number of potential energy plays in an archipelago full of natural resources and volatile electricity costs back then. He was bothered by the thought that while the country did not lack solar power capabilities (with most of the islands sitting close to the equator and having maximum sun intensity year-round), solar energy seemed limited to "the rich and famous," due to the complexities that came with its implementation.
Taking a pragmatic business approach, Landsheer immediately knew he needed to do something to solve the problem. "With many international examples and standards that I could base my ideas on, I knew that blending the top-notch local resources with international expertise and applying the results in local models would boost the potential of the industry," Landsheer tells Indonesia Expat.
Before his key role in Indonesia's energy sector, Landsheer jump-started the telecoms business Silverstreet from its humble beginnings in the Netherlands to becoming one of today's multimillion-dollar global businesses. Spearheading the company for nearly a decade, Landsheer helped grow Silverstreet to set up offices in six countries, and accommodate customers in more than 80 nations worldwide. Profits of global telecoms firm were then used to invest startups, which were either bootstrapped by Silverstreet's own team or by others whom the business trusted.
Landsheer realized how the focus of the telco business and much of his own time-shifted to running the investments. To eliminate the 'telco' image and broaden his entrepreneurial horizon, Landsheer was urged to consolidate the entire Silverstreet business under one corporate umbrella for better cohesion—thus, the birth of Impiro.
Largely founded on its CEO's "management of love" formula, Impiro aims to "identify real growth opportunities, develop companies, and add value while altogether enjoying the journey and experience with the people they work with throughout the process." Today, Impiro's base of expertise spans across diversified industries such as renewable energy, food and beverage, telecommunications, retail, and more. Impiro's industry experience and investments include Silverstreet, Tranglo, Locavore, Bali Bike Rental, Silverspas, and others.
Impiro's investment in Contained Energy happened by chance when Landsheer decided to get solar panels from the energy company for his personal villa in Bali. The global entrepreneur knew something was amiss when his electricity costs jumped from Rp.3 million (US$229) to Rp.6 million (US$459) over the span of one month. Surprisingly, his domestic solar panel project was not working as smoothly as he thought, prompting him to talk with the company director.
"The company was having cash flow problems, and as an investor, I wanted to help out. After a year, I knew that the company required a major change in their strategy when even the initial investment I made did not see much progress," explains Landsheer.
The Dutch national never imagined that that fateful meeting would be the start of his journey to becoming an integral part of Contained Energy Indonesia. Landsheer would become an advocate for renewable energy in the archipelago.
Today, Contained Energy is one of the biggest providers of sustainable, renewable energy and clean water solutions across Indonesia and Asia Pacific. Co-founded by two Dutch engineers Pieter de Vries and John van Zwienen in 2004, Contained Energy aims to tee up alternative energy solutions for residential clients, commercial projects, the government and community ventures. It provides design, installation, and management systems for its energy infrastructure with equipment, services and support.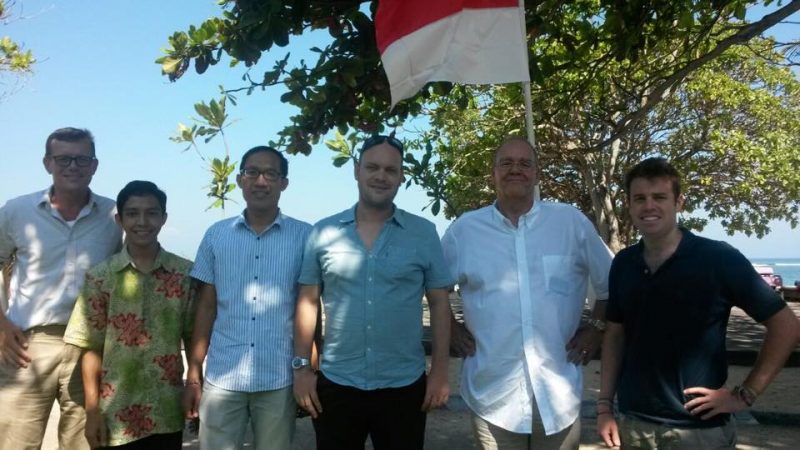 Contained Energy has been in the clean and renewable energy industry for nearly two decades. The company is trying to stay focused on engineering, procurement, and construction while trying to make solar energy cheaper and more accessible for businesses that can't make large upfront investments.
"To stay in the business, one should get a full understanding of the local market. While I welcome other foreign investors and look forward to partnering with them, I am always upfront about the challenges and complexities that doing business in Indonesia comes with," says Contained Energy's investor.
He is enthusiastic about the future of his undertaking, despite a great number of foreign players eyeing similar projects.
Indonesia is teeming with global businesses that are also mindful about renewable energy. Landsheer explains how it's going to be a long shot for his competitors, however, as government incentives have long remained opaque and uncertain.
In the foreseeable future, Landsheer believes Contained Energy will provide solar energy without up-front investment. Customers will one day only pay for what they consume each month. The now multimillion-dollar firm helps Indonesian businesses with sustainable, clean, and renewable energy. Soon, it will make a play for the consumer market. However, Landsheer says this can happen only after Contained Energy achieves a reasonable market share in the commercial space, a challenge he admits will likely take a few years.
Landsheer says, "My personal mission is to bring the solar industry [industry in Indonesia] as a whole, and Contained Energy as a business, to very mature global standards. Contained Energy's established track record, credible reputation, and innovative approach […] will be major components for businesses to thrive and altogether help boost the country's energy sector."