With the alarming rash of home robberies and even killings during home invasions over the past year, it has become critical to secure your home. Bill Dalton shows Bali residents how it's done.
There was the shocking murder of 51-year-old American Paul Robb Latourell, stabbed to death in his home; a much-loved British woman, Anne Marie Drozdz, found dead in her villa in a quiet upscale neighbourhood of Ubud; and the murder of British national Robert Kevin Ellis, discovered with his throat cut and feet tied in a ditch 20km from Denpasar, murdered by five staff members.
The level of fear has become so high, Facebook pages rallying law enforcement and the expat community such as "We Love Bali Safe", "Bali Crime Reports" and "Kuta Crime" are sprouting up in an effort to confront the very real dangers. We ourselves have been robbed three times at our villa in Tabanan, so the issue of protecting your home is a subject with which I have intimate first-hand knowledge.
General Security Measures
Before you buy or lease a house, apartment or unit in a housing complex, ask the neighbours and local police about the security situation in the neighbourhood.
Major Balinese religious holidays as well as Lebaran, Christmas and New Year are particularly vulnerable times when home thefts spike. Don't leave your premises unoccupied or unguarded during these crucial periods. Villagers and neighbours do not need to know that you're going on vacation or even if you're going on a trip for a few days. While you're away, someone should always be staying in your place of domicile 24/7. If you have household staff, they should carry on with their usual household duties – gardening, cleaning, leaving the TV on and lights burning at night – all indicating that you are still at home. These measures should not only apply to densely populated, high-theft areas like Umalas, Petitenget and Penestanan but also to residences located anywhere in Bali.
Physical Security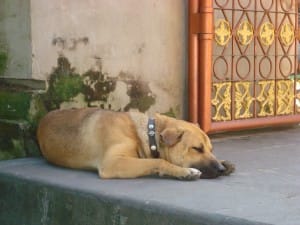 Installing grills or iron bars (trali) on your windows and sticking ugly shards of broken glass on top of your perimeter walls are good ideas. Or plant spiny, prickly plants like salak, pandan, bunga kertas and high cactus along walls. Gates, walls, doors, windows should be fitted with sturdy high-quality locks. Use bright external lights to light up your courtyard and walls.
A very effective form of protection is to hire a competent and trustworthy day and/or night watchman (satpam), preferably one that belongs to your own banjar or city kampung. Nothing can replace a loyal dog that will bark uncontrollably anytime a stranger appears in your yard or knocks at the door or gate. Don't let your dog accept food from anyone other than family members – not even friends.
Door and window intrusion alarms and high-wattage sensor lamps can be purchased at hardware superstores Ace, Depot Bangunan and Mitra 10. State-of-the-art electronic alarm systems, CCTV surveillance cameras, video perimeter and entry detection systems are all available from a number of specialised companies. These rather expensive network security packages for residential and commercial properties can be tailor-made to fit the client's needs.
Household Staff
To help prevent crimes from happening, expat residents must be extremely careful about whom they hire for staff.
Many burglaries result from "inside" jobs. You must develop sound and trusting relationships with your staff. Before hiring, meet their family and parents and visit their home or rooming house (kos) to verify that he or she actually lives there. Ask around about their personal histories. Have they been in trouble with the police? Are they inveterate gamblers? Are they facing difficult times? Think twice about hiring anyone who isn't originally from Bali because it's difficult to thoroughly check his or her background. The same thing goes for employing residential security guards. Check on their backgrounds. Make photocopies of each staff member's national identity card (KTP) and store it out of the house.
Telephone Security
Your phone is a gateway to your house, so you need to secure it. Ask people to always telephone first before visiting your house unannounced. Teach staff how to reply to curious callers: "He is not here at the moment. May I have your name and number so he can return your call?" Staff should never give out any information as to your whereabouts, how long you'll be away or reveal any personal information. Your staff also shouldn't admit unauthorized visitors, even expats (foreigners also steal!), or you may only allow certain trusted people into your home while you're not there.
Community Security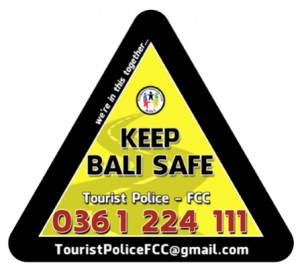 It's imperative that you socialize with locals and even more importantly with members of the village council or banjar. Maintain good relationships with your neighbours and participate in the social goings on of your community. Attend weddings (pawiwahan), toothfilings (potong gigi), a child's first cutting of hair (nelu bulanin) and funerals (ngaben). Join in preparations for ceremonies (ngayah) and community projects (kerja bakti). In lieu of labour, you may pay a fee, send a staff member in your place or provide snacks for the village work crew. For your own protection, get involved.
Register at your country's consulate. Tape all-important mobile numbers in large type on your wall or fridge and enter them into your contacts in your mobile: desa (hamlet) or city kampung headman (kepala dusun), head of the banjar (klian adat), closest neighbours, village security (kepala pecalang), BIMAS (village police), village chief (perbekel or lurah), nearby POLSEK (head of police sector) and day and night watchmen (satpam) charged with guarding your neighbourhood or apartment block. By dialling the 110 "Panic Button," you'll be put into contact with a police Central Command Centre.
Establish good relationships with your local klian adat or village head, kepala pecalang and village police. Make a point of meeting the local POLSEK or POLRES police chief, give him your mobile number and get his mobile number. Get to know the guards in your housing complex personally and obtain their mobile phone numbers so they can alert you in case one of your staff is unhappy or if they see a break-in progress.
If you're awake while a home intrusion is in progress, it's better to scream loudly than try to stop an intruder. If they come in the back, run out the front; if they come in the front, run out the back. If you're asleep, play dead and pretend that you're sleeping like a baby. What does it matter if thieves make off with your smartphone, necklace or even passport? Those can all be replaced, but your life cannot.