The first Clean Up Jakarta Day took place on the morning of Sunday November 10th 2013. Over 1,000 volunteers at 16 locations around Jakarta showed up at the crack of dawn to get their hands dirty, picking up rubbish and separating into recyclable and non-recyclable bags from 7-9am, showing that the spirit of teamwork (gotong royong) is still very much alive.
"Over 900 sacks were filled in the space of two hours," says Angela Richardson, Founder and Chief Coordinator of Clean Up Jakarta Day. The recyclable waste was picked up that morning and sent to Jakarta Green Project by Santa Fe Relocators, for further sorting, raising funds for street children charity, KDM. The remaining non-recyclable rubbish was picked up on the day by Dinas Kebersihan Lingkungan DKI Jakarta and taken to the appropriate rubbish tips. "In total, between five and six tonnes of rubbish were collected in the space of two hours," Richardson continued. " This shows us, and raises awareness of the severity of the problem which Jakarta faces."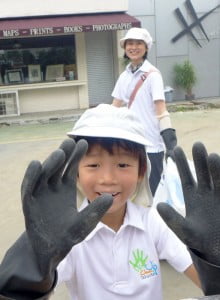 Supported by Governor Jokowi's Aksi Jakarta Bersih movement, with Ambassadors, Slank, supporting and also volunteering on the day, this was an event like no other seen before in Jakarta. Kaka Satriajdi, lead singer of Slank, was enthusiastic about the event and encourages people to clean up after themselves. "Clean Up Jakarta Day meets Aksi Jakarta Bersih; if want to be the capital city, you better clean up!"
Volunteers were of all ages and nationalities, local and expatriate, sharing the same vision; making Jakarta a cleaner and better place to live. "I thought I was the only one volunteering by myself, but it turns out many people were," says Lyana Margareth, who volunteered to clean up Sudirman and works as a banker in Jakarta. "It gives me hope that the community is now taking action to improve life in Jakarta." Another volunteer, Ratna Sivitri, expressed an eye-opening experience. "I never thought I would get so many mixed feelings inside from doing so little."
Each of the 16 sites were headed up by a Team Leader, being the point of contact to Clean Up Jakarta Day, responsible for recruiting and managing volunteers, and ensuring rubbish collected was left at designated pick up points to be collected by Santa Fe Relocators and Dinas Kebersihan Lingkungan DKI Jakarta. Maureen Simatupang, Team Leader for Kemang Raya Site 1 explained, "Clean Up Jakarta Day is an important collective activity because it's also a learning experience that our behaviour and habits impact others; good and bad."
Several schools were involved during the city-wide clean up, including Jakarta International School who cleaned up the Pondok Indah area, a park in Kebayoran Baru, as well as an area of Bintaro Sektor 9. Global Sevilla International School cleaned up the area around their school in Pulomas, East Jakarta, and Sinarmas World Academy International School cleaned up Desa Situgadung and Jl. Raya Serpong, including local schools in their activities as well. Mentari International School were also involved, cleaning up Jl. Haji Jian in Kebayoran Baru, and Australian International School cleaned up Jl. Pejaten Barat. Teachers and students of Global Sevilla International School also volunteered to pick up rubbish at Jl. Jenderal Sudirman.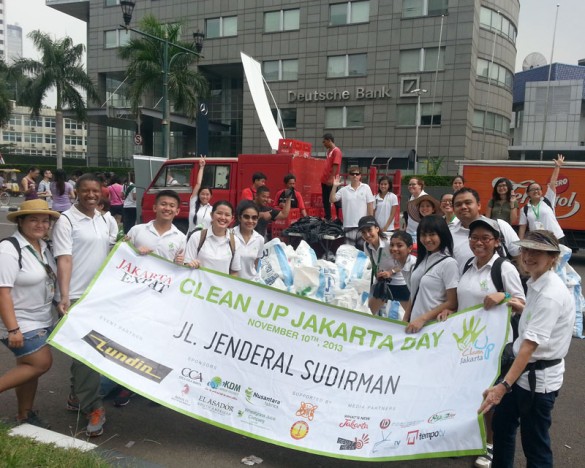 Businesses also got stuck in, with PT Adaro Indonesia leading the way with their own site at Gelora Bung Karno Stadium, where around 70 staff members and volunteers worked hard to clear a large pedestrian area filled with rubbish. Lundin Oil and Gas BV staff, Coca Cola Amatil staff, and Bank Andara volunteers volunteered at Jl. Jenderal Sudirman, showing that they all want Jakarta to be a beautiful city to live in. Other teams included organizations like the Catholic Fellowship Jakarta and the British Embassy Jakarta, clearing up Jl. Benhil Raya and Jl. M.H. Thamrin.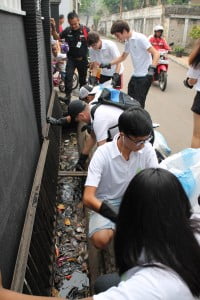 Volunteers, dressed in Clean Up Jakarta Day polo shirts made of 100% recycled PET bottles, sponsored by PT Nusantara Fabrics, and armed with industrial rubber gloves, worked hard to clear their sites of rubbish, filling up hundreds of reused sugar sacks donated by Coca Cola Amatil with some very dirty things. Rubbish collected gave an insight into what Jakartans consume on a daily basis. Candy wrappers, polystyrene lunch packages, plastic wrappers off of plastic drinking bottles, single-serve water cups, and polystyrene instant noodles packaging were of the main culprits to litter the streets. Some of the more rare and unusual finds included tires, fish bones, shoes and sandals, bags, and even lingerie.
Clean Up Jakarta Day was organized by Jakarta Expat and thanks Lundin Oil and Gas BV for their support as Event Partner. Clean Up Jakarta Day thanks all its volunteers and supporters for their hard work in taking a very big step in the right direction towards making Jakarta a beautiful city to live in. Keep an eye out for announcements on next year's clean up event.