Drug abuse and drug smuggling are not new in Indonesia. Narcotics are often mentioned as the biggest problem in the world's largest archipelago and the National Anti Narcotics Agency even listed several reasons why it is difficult to eradicate narcotics in Indonesia.
On April 3, 2017, a German citizen (identified only by the initials CG) was detained by customs officers after arriving at Soekarno-Hatta International Airport in Jakarta. Officers noticed something was off when CG's baggage went through screening. They found 2.65 kilograms of methamphetamine in one of his bags.
"According to information received by officers, CG admitted that he carried 2.65 kilograms of meth under the order of a Nigerian suspect identified only by the initial A. This Nigerian suspect ordered CG to stay in West Jakarta because he would order someone to meet him there," explained head of Soekarno-Hatta International airport customs office Erwin Situmorang.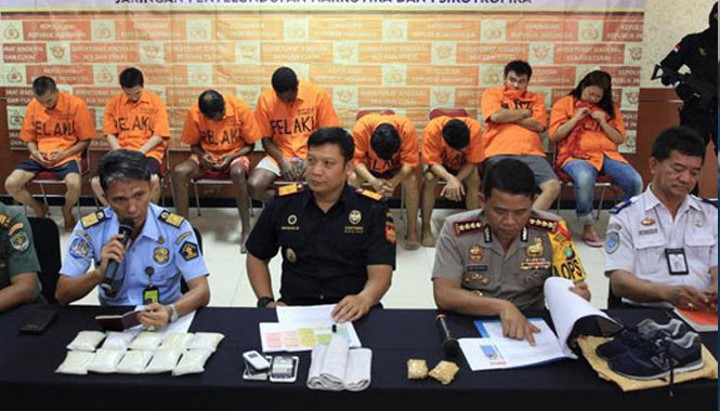 Customs officers are partnering with local police to investigate the matter further. Local police took CG to the hotel in West Jakarta and arrested a Nigerian (identified only by the initials IH), who was supposed to take the meth from CG. The man claimed that he was ordered to do so by A.
However, the case did not end after police arrested IH. After further investigation, they also arrested a local citizen (with the initials RS) on April 4, 2017. Similar to previous suspects, RS also admitted that she was following orders from someone in Nigeria via Facebook. RS and another unnamed local suspect were to distribute the meth in 100-gram packages each.
These packages were to be sold in West Jakarta and according to one of the suspects, there are more people involved in the business. Martua Raja Silitonga, commissary police and head unit of resort police in Soekarno-Hatta international Airport mentioned that a felon from Salemba prison (with the initial R) is allegedly overseeing the syndicate's activities from behind bars. Additionally, he mentioned that R planned to also sell the meth to his spouse's sibling.
So far, police have identified 14 people involved, nine of whom are still suspects, while five of whom were convicted in the past and are currently serving prison sentences.
"This case is unique, as normally drug couriers come from Malaysia or Hong Kong, while CG came from Doha," said Situmorang to reporters on April 12, 2017.
Additionally, these suspects are to face law number 35 of 2009 regarding narcotics, with possible death sentences and a Rp.10 billion (US$750,000) fine.
Image credits: Kompas, Publika