Facebook friends may have saved a pair of travellers' lives after their scooter skidded off a roadway in Ubud, Bali and plunged down a 100-metre deep ravine thousands of kilometres from home.
Michael Lythcott was travelling with his friend, Stacey Eno, in Bali last month when he lost control of his scooter in the early morning hours, sending the pair over an embankment and into a ravine.
The Boston native explained in Facebook video they were riding up a hill when another vehicle passed them.
"When it went by, I realised there was a curve coming up, so I just put the brakes on," Lythcott said in the video record from his hospital bed. "The brakes didn't respond, we kept going forward and hit some gravel. At the point we couldn't stop…we kept moving forward and went over the edge."
Lythcott explained to Australia's 9News, when he finally regained consciousness, he realized they were both badly injured and alone in the dark.
"My back felt half broken," he told the news network. "I couldn't move and barely could pull myself up when I found a thick vine in the dark. Every move, I kept slipping."
Lythcott said his local mobile phone was lost somewhere as a result of the crash, but realized his still had his U.S. phone with him.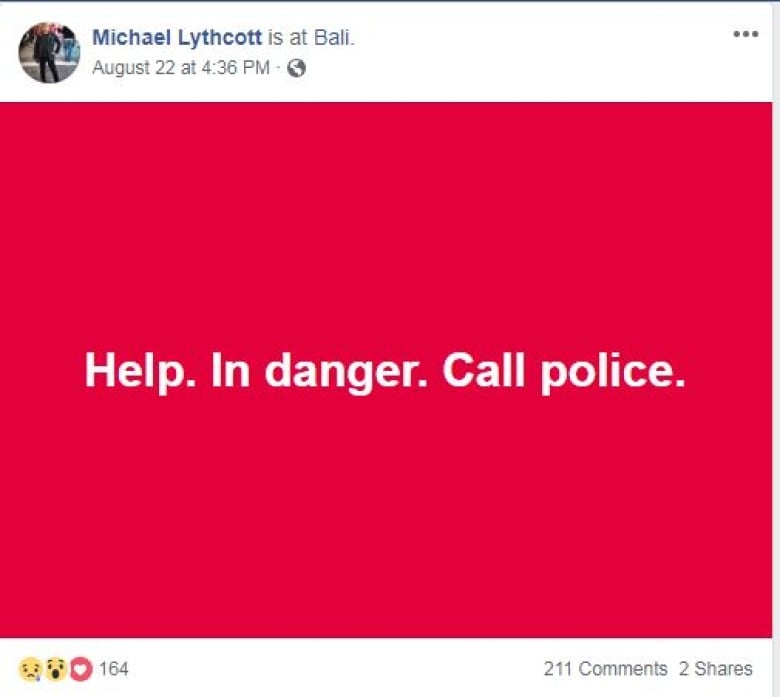 "Help. In danger. Call police," Lythcott posted on Facebook.
Facebook friend Aimee Sparks told CNN she saw Lythcott's SOS immediately.
"I saw Mikey's post just a minute or two after it went up," Sparks said. "I work remotely and tend to have Facebook open while I work. I saw it and of course was startled and a bit surprised… I worried that he had been drugged or kidnapped or something."
The Facebook thread shows friends from Canada, Europe and the U.S. working together to try to locate Lythcott and to get help.
"I have a pin drop of Michael's location," Sparks wrote on the Facebook thread from a cabin in Pennsylvania. "If anyone is near him and can call please contact me."
Lythcott's friends worked together sharing screenshots of possible locations, while others tracked local numbers for emergency services and U.S. consulates.
Their efforts paid off as rescuers got in touch with Lythcott.
"I got a call from a guy named Joe from the [consulate] who said help was coming, but to help him find me," Lythcott told 9News. "I told him there was a hotel near my GPS pin, that I'd be just before that hotel, then my battery died."
As morning broke, a rescue team reached the injured pair and rushed them to hospital.
Lythcott suffered a fractured skull, collapsed lung, internal bleeding and a broken wrist. Eno fractured both cheekbones, her nose and left wrist as a result of the crash.
Eno told 9News she was thankful for their friends for springing into action.
"Yes, without technology and friends we would have not survived," she said. "Without the people we met along our adventures we would be much deeper in trouble."
Source: Global News
Photos: Michael Lythcott, Stacey Eno Facebook