Meet Tony Eltherington, Expat Indonesian surfing legend and Captain of the Raja Elang; the surf charter bringing humanitarian aid to the Indonesian archipelago.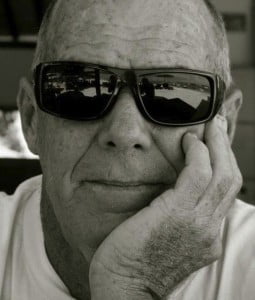 Tony Eltherington is a navigator, expert fisherman, and world class surfer, ranking third after Gerry Lopez and Wayne Lynch in the 'earliers' over fifty class. Navigating the family sailboat at six years of age, and on a 10-foot Balsa surfboard at seven, Tony entered his first contest at the age of twelve, and by nineteen won the Queensland state title for the second year in a row. That night he came to Bali and a life long love of Indonesia was born. For years he sailed and surfed Australia's Barrier reef, Vanuatu, New Caledonia, New Guinea and other areas beyond, solo. He went on to do aid work after the 2004 tsunami. Last year he bought the Raja Elang, a 65-foot surf charter boat that also works in association with a hospital plane to form non-profit Maritime/Aviation humanitarian aid operations throughout the Indonesian Archipelago. This Aussie-Indo surf legend recently led the miracle rescue of a South African man, Brett Archibald. I caught up with Tony in a shipyard.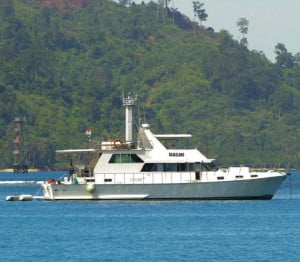 Tony, tell me about the Raja Elang.
The Raja is an Aussie-designed and built, 20 metre-long, 5. 5 beam Ocean Cruiser with twin Detroit diesels, 550mp V12s. She sleeps guests in two double and nine single air-conditioned accommodations. We're doing the annual overhaul right now. That's why I'm here in this lovely shipyard. The welders almost burnt the boat down, but it's okay now.
How did this amazing sea rescue you led recently come about?
We were docking and one of my crew comes and tells me about a guy falling off the side of the Naga Laut and I said, "There's a man out there dying, let's go!" We jumped in the Binda Luat, Johnny McGroder's dinghy, with the twin 175s, with the doctors and a few guys from Western Australia, and hammered it out into 35-40 knot winds. It was horrendous! There was white water everywhere, trying to go sideways against this weather. I didn't like what we were doing in this tin tub so we went back to the boat. I couldn't sleep; I was pacing all night. We deployed at 4am, calculating where to go. We had a boat five miles parallel to us, keeping in contact with the boats following by phone, texts, and HF radios full blast. We wanted to get all the boats coordinated to run parallel with a mile in between. Then I suddenly needed a second and went up top to have a ciggie and something happened. I had just lost one of my best friends, my ex-fleet manager, and I reckon he helped me. We had just buried him that day. I lay the boat 18 degrees further north thinking, "That guys got to be in this sector." I went to the crew upstairs and gave them the binoculars. In a flash my deckie says, "Cap! There he is!" My heart fell through my ass mate.
What happened when you finally got to him?
We pulled up to him and threw life rings and surfboards; all my guests were these top guys from Western Australia and they dove over, grabbed him, hugged him, and brought him up. We downloaded him with the doctors, that whole process.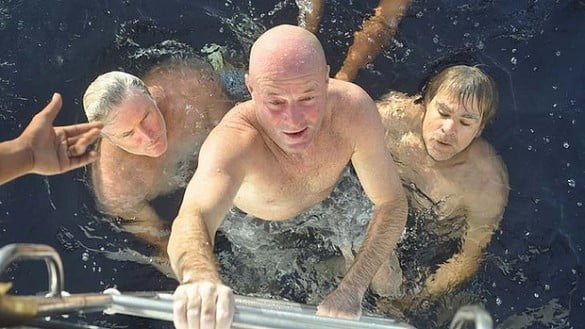 What condition was he in?
Brett was in the water for 27 hours. He reckoned he was going to die eight times but he didn't. There were sharks circling and seagulls trying to land on his baldy head, trying to pluck his eyes out. He says they saved him because he kept thinking, "I'm not getting my eyes plucked out!" He said he had been chronically ill before he fell in, throwing up, and eventually fainting, falling overboard. He said he didn't remember going over, but he remembers waking to water in his face and he wasn't on the boat anymore.
What made you keep going out for him? Wasn't he presumed dead?
When I got this text message: Brett Archibald, 51, cyclist, fit, father of two. Well, being a father of two, the guys going to have a lot more strength and he was a fit fella, too. I knew there was hope that he would still be kicking. I've got three kids and three grandkids, so I know how he would've been feeling. He could've been one of us. We're Aussies, we're tough. We don't give up. I had no intention of giving up at all.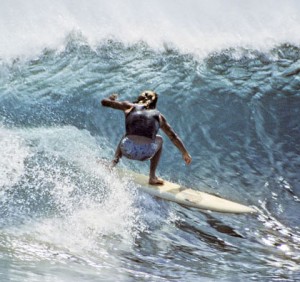 Are you still working on the non-profit Maritime Aviation Humanitarian Aid using the Raja Elang?
Yeah, with the ship, we are able to reach otherwise inaccessible places where air and ground transport are impossible. We really want to work with hospital planes from Australia. Eventually I see a full clinic on board with eye doctors, surgeons, etc. The more support we get, the more we are able to accomplish.
Besides saving lives, you also captain surf charters on the Raja Elang. You are known for finding some of the best breaks around, like being one of the first to surf Padang Padang among other spots. Where are you going to next?
We are going to Panaitan Island in South Sumatra, Java, the Mentawai islands, then back to Padang.
Are you still shaping your wicked boards? Your wave perfect, streamlined shapes, thin and narrow are another world from the 70's longboards.
Forget the seventies! Forget those old balsa boards! It's now, another millennium and we want to move faster, better, with innovate streamlined rockets that can manoeuvre perfect waves.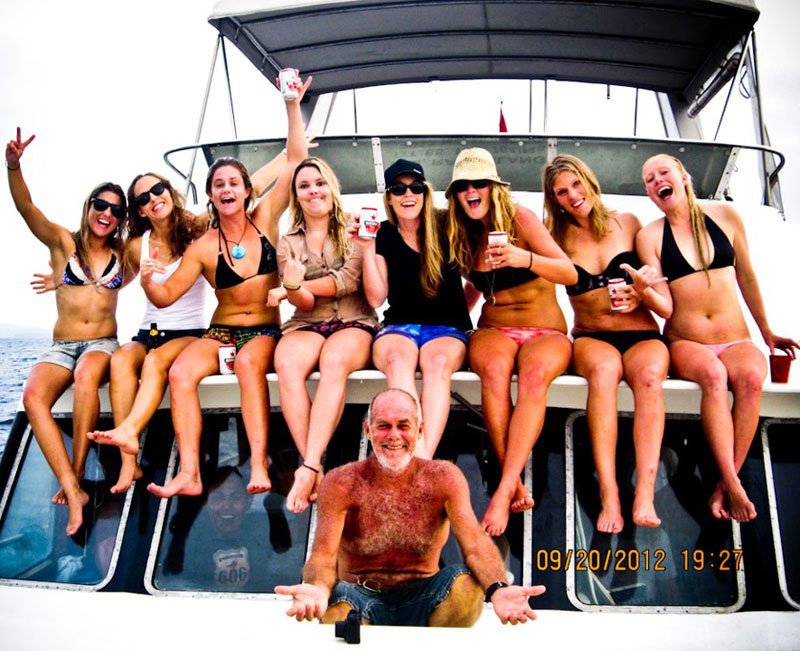 Super surfer, rocket shaper, eagle navigator, you must have the most memorable surf charters available!
12 nights, 13 days onboard Raja Elang includes airport transfer to and from boat, harbour fees and taxes, Breakfast, Lunch and Dinner by onboard Chef. All snacks, bintangs, and soft drinks are included, with full use of fishing and snorkelling gear. Epic adventures and memories!
Tony Eltherington Surf Charters
tonyeltheringtonsurfcharters.com
[email protected]