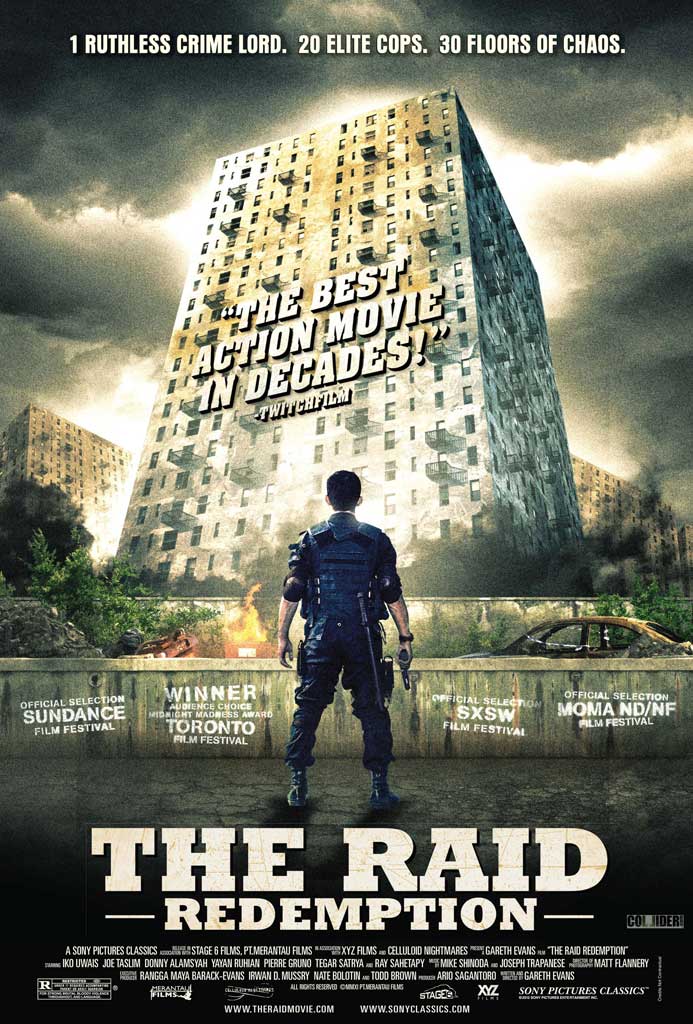 The Raid: Redemption is an Indonesian film like no other. It's a wildly exciting adrenaline rush of a punch fest that recently reached number 11 at the U.S. box office, a phenomenal achievement for an Indonesian film. It has electrified Indonesian audiences and injected new energy into the national film scene, standing head and shoulders above a recent slew of well made, internationally acclaimed releases. Sony Classics has snapped up the rights and an American remake is already in the works.
So what is the secret of The Raid's remarkable success?
At first glance, the plot of The Raid seems too straightforward to sustain a full-length film. A SWAT team lead by Jaka (Joe Taslim) must storm a run-down multi-storey apartment block to arrest evil crime lord Tama (Ray Sahetapy). Things take a turn for the worse when Tama offers the apartment's badass residents hefty rewards for killing his pursuers. They are happy to oblige. Now the vastly outnumbered SWAT team must fight its way out to survive. Much mayhem ensues.
What's special about the Raid is how excitingly and compellingly this simple story is told. From the moment the fighting begins, about five minutes into the film, the combat is frenetic and relentless, with action scenes that put most Western films of the genre to shame for their sheer speed, brutality and inventiveness. The gritty look and the handheld camerawork put you right in the thick of the action, as if you're standing shoulder-to-shoulder with the SWAT team, wincing at every blow. At times it's an almost exhausting ride, not for the squeamish or faint of heart. In the soon-to-be classic corridor scene, SWAT hero Rama, played by Iko Uwais, takes on an army of attackers using only his bare hands. The fight choreography is simply jaw-dropping as he punches, kicks, stamps and gouges his way through the massed assailants. The intensity, creativity and physicality of the combat – and its general lack of reliance on computer generated imagery – has prompted several American reviewers to complain that Indonesia is now better at doing action films than America, the genre's pioneer.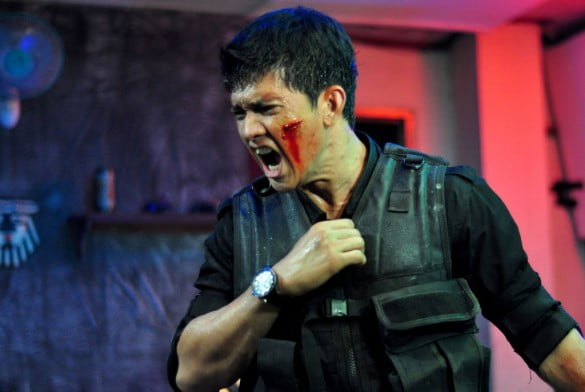 It's likely that The Raid: Redemption will propel Iko Uwais to some level of international stardom – there has even been talk of him being "the new Bruce Lee".  He was a highly skilled but unknown martial artist before Gareth Evans, The Raid's Welsh writer/director/editor discovered him. At the time Evans was making a documentary on silat, Indonesia's brand of martial arts, but he was so impressed by the dramatic potential of his silat skills that he cast him in Merantau, his first major feature film. Under Evans's excellent direction, and in his second major movie, Iko Uwais delivers an engaging performance as an actor. As a fighter he positively shines.
Iko is not the only stand-out performer in the Raid. His real life silat teacher, Yayan Ruhian, is terrifying as a Mad Dog, a villain who likes to kill people with his bare hands because it's more fun. At times when he's fighting he seems more like a supernatural monster than a mere mortal, with lifeless black eyes and straggly hair falling like curtains over his face. He choreographed all the fight scenes with Iko Uwais and will soon be doing the same for the American remake.
Ray Sahetapy also deserves a special mention. His Tama is a uniquely vicious and chilling Indonesian villain, who speaks with a quiet voice and carries a big hammer. The understated sliminess and uncomfortable humour he brings to the role are reminiscent of the best of Tarantino.
Aside from Evans and cinematographer Matt Flannery, everyone involved in the production of the Raid is Indonesian, including all the actors, the funders, the producers and the entire special effects team. The Raid: Redemption is a truly Indonesian film that has pushed this nation's action films into exciting new territory.
See it when you can — if you dare.
* * * * *
Five stars out of five!
Rated R for strong brutal bloody violence throughout, and language.