How a conversation in a pub, with a backdrop of Christmas carols, led to orphaned girls taking up the rough-old-game of rugby.
We have all heard those clichés about rugby. The hooligan's game played by gentlemen – a teammate shows his value by getting stuck-in on the pitch and getting legless off it. There is a male camaraderie to rugby that you don't find in other sports, a 'mateship' built upon tall tales of getting inebriated in sleazy parts of town and getting chained naked to a lamppost at 4am.
The bawdy songs and the tour gossip are legendary and legion with perhaps a tinge of Hans Christian Anderson added for good measure, but the image rugby likes to present is one of a bunch of chums having a good time—as chums usually do—with lots of raucous, good-natured, chummy banter.
There is also a primordial Jurassic Park element to the game in its terminology. Scrums and rucks are par for the course, while hookers, five eighths and flankers have their own defined role on the pitch; hard though it may seem to a novice. And while American footballers need shoulder pads, helmets and high-fives to try and look tough, rugby players only need a bit of strategically placed Tupperware, a gap-toothed smile and a gum shield to face down opponents.
Enter a group of orphan girls, waifs from disadvantaged backgrounds, gathered by the indefatigable Mike Hilliard—the gentleman behind Mama Sayang Foundation in West Java—and given a new home and new skills.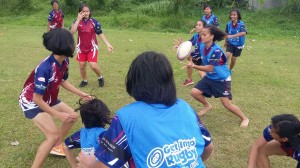 Now, on one particular Christmas it so happened that Mike had taken his girls to a reputable drinking establishment to perform some Christmas carols. As often happens, he fell into talking with one of the regulars, a Stephen Barber, and Mike was opining how it was time his girls had something else to do with their time. The boys under his care played cricket and Australian Rules Football – maybe it was time for the girls to get busy.
Stephen Barber was interested. Heavily involved in the development of rugby in Indonesia, Barber immediately suggested the girls take up the game and it says much of the environment we inhabit that Mike didn't even bat an eyelid. Orphan girls play rugger? Why not?
The plan formulated over a couple of cold beers, amid a fuzzy feeling of festive good cheer, sounding even better in the cold light of day and within a few weeks training had begun.
"In early 2013, David Nye helped me coach the girls, and his father's company Britmindo organised training clothes, boots and backpacks for the Mama Sayang Foundation girls. This was certainly a great way to get things underway. Jakarta Intercultural School (formerly JIS) also gave us access to fields to train on and this was very much appreciated by all involved, including the girls," Barber takes up the story.
"For the most part, since the programme kicked off I have coached the girls on my own, receiving some assistance from David, Peter Klestov and in recent times Aaron Meadows," Barber continued.
Within months, the team, which also featured some foreign girls as well as other Indonesian players, was ready to take on the world, heading to Bali to compete against their peers from around the region in a seven-a-side tournament. The girls played against teams from Malaysia, Australia and others from Indonesia. While they were not world-beaters, their spirited efforts did not go unnoticed by those in attendance and one of the MS girls, Dharma, was voted MVP of that tournament.
With many of the girls having come from troubled homes and carrying their own disturbing life experiences, Barber was keen to explain how quickly they had adapted to the game.
Many of the girls from the MS Orphanage come from very tough backgrounds, including those of neglect and in some cases abuse.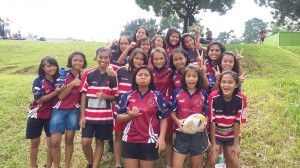 Unlike them I was lucky to grow up in a family of care and love, so I believe that I—like Mike and Jev, who have daily care and responsibility for these young ladies—through rugby, can teach them what it feels like to be a part of family that cares about each of them as individuals and collectively as a group.
"I have observed over the past couple of years how Rugby has changed them through the core values of the game, such as camaraderie, teamwork, respect and solidarity. As we all know, rugby is a rough sport, but one thing that sticks in my mind is how these girls don't mind a bit of rough and tumble. After all this mirrors where life has taken them so far and how each of them is determined to make things better for themselves and their friends," explained Barber.
It is not just the orphans from Mama Sayang who are benefiting from rugby's tender side. Like Barber, Scott Biggs is actively involved in promoting the game in Indonesia through his role at the Jakarta Komodos. At the start of the current season, the Komodos decided to engage more with the local community near their Jagorawi Golf Club base and sponsor a number of local lads to take up the game.
"One of our coaches, Agus Djamhoer, agreed to take the role as their coach. We now have 16 local lads from the kampung (Karangaan area) train as part of our regular junior rugby training every Saturday morning at 9am," recalls Biggs.
Bapak Daud, the local RT (Rukun Tetangga) who arranged for the boys (all under 12 years) to join Komodos, is fast becoming a personality in his own right. Get down to Jagorawi early enough on a Saturday morning and you can see the gentleman marking the pitches or shifting the goal posts. The club have been so impressed by his zeal and involvement they gave him a Komodo shirt, which he wears with pride.
There are big plans for the youngsters. "The 'big picture' is to grow and develop these boys' rugby skill levels and then have them ultimately join us as part of the regular team on one of our Junior Rugby tours to Singapore or KL, as well as trying to establish some local younger age group tournaments. Jakarta Komodos Junior Rugby Program will look at these during the next season, 2015-2016. Passports etc. always cause issues, but it would be great for these lads to tour and see rugby being played elsewhere in Southeast Asia," said Biggs, looking to the future.
—
Factfile