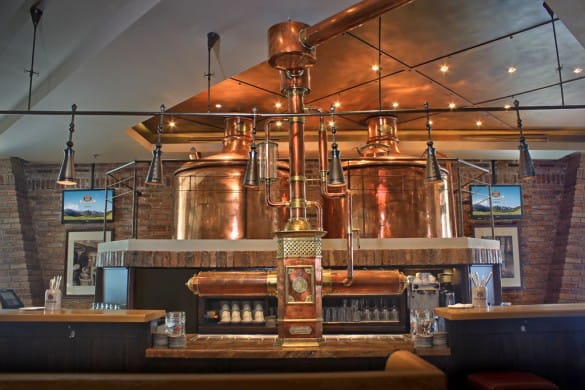 The German state of Bavaria is not only known for its delicious Apfelstrudel and its namesake cream for dessert, it is also a land of beer and various exciting meat-based dishes. Jakarta does have a few selections of German restaurants, but one that offers quite an authentic Bavarian dining experience, including an extensive introduction on its beer culture, is Paulaner Bräuhaus.
Paulaner Bräuhaus is a large chain establishment, with branches all over the world. The Jakarta branch opened in 2009, and has recently undergone an extensive renovation and finally reopened in November 2013. The place is managed by Kempinski hotel, where it was previously housed; now it is located in the prestigious Grand Indonesia mall. One of the reasons for the renovation is size expansion; now, the third-floor joint boasts a large space, with a 400-person maximum occupancy and an outdoor patio.
Around lunchtime, Paulaner is frequented by higher-level executives – be it local or expatriates – from many neighbouring offices and hotels. As it is located at the very heart of Jakarta, Paulaner is convenient and very accessible for a long lunch over a few cold brews. On the weekends, the place turns to a very family-friendly space, especially for a Sunday lunch soirée with the kids.
The German food experience in Jakarta could at times still be considered a very narrow construct in the eyes of local Indonesians; many still adopt the stigma that German restaurants offer nothing but beer and just run-of-the-mill sausages. My visit to Paulaner Bräuhaus proved otherwise. Not only do the patrons range from expatriates to local Indonesians, the cooking quality and variety of food is commendable. I came into the restaurant with the notion that it would be a full-on sausage fest but I'm glad to find a diverse list of options, including chicken, fish and even vegetarian choices. For drinks, beer is served with a high regard.
Paulaner Bräuhaus takes their beer very seriously. With carefully picked wheat, hops, yeast and a bit of water, Paulaner brew their own beer. The in-house brewery is located within the premises. The delivery system to the tap uses anti-corrosive pipes placed around the restaurant. The freshly brewed draught beer is unfiltered and without preservatives. While inquiring about the beer philosophy and process, I came to find that Paulaner offers an on-site brewery tour. The brewmaster takes a group of people down to the brewery and demonstrates his 'magic' in creating fine quality ale, lager, etc.; a nice excursion for the curious drinkers.
Beer at Paulaner comes in your choice of sizes, from a sampler glass to large pints. Being not much of a beer drinker, the Radler – a popular Munich beer-based mix – was an instant favourite. Comprised of beer and carbonated lemonade, the Radler is sweet but still maintains the bitterness of a typical beer. Among the aromatic and flavoured beers, the strawberry and lychee beer are also noteworthy. The pink-coloured strawberry beer is very refreshing with a hint of fruity aroma; altogether entertaining to the palate. Although the lychee beer isn't my favourite among them, I appreciated the light body and crispy fizz it has. A sampler glass for the Radler proved insufficient; we ordered more. A sampler tray is offered at Rp.90K, which includes three speciality home brews.
The aforementioned brews might be tailored to the more feminine clientele, or those who are not big beer drinkers. Paulaner's selection of home-brewed beers did not stop there, obviously; the options range from light to dark beer and cater to an array of customer's preferences. Paulaner's definitive Munich Hell lager (Rp.80K for the 0.3L glass) is full-bodied, crisp and straight-forward. The fizz is brisk and just right in the body of the lager. The Dunkel beer (Rp.80K for the 0.3L glass) is dark, malty yet possesses a sweet and earthy undertone; it seems to go well as an after-meal drink.
Their food is no slouch, either. The owner and hotel management insist on freshness of beer and food, hence the in-house brewery and fresh produce used for the food. The Paulaner platter (Rp.275K) is a signature dish, consisting of Debrecener and Nuremberger sausages, Vienna sausages, pork knuckles, smoked pork chop, meatloaf, mashed potato and sauerkraut, all of which are homemade at Paulaner's kitchen. The sauerkraut is a great counterpart – it provides a tangy flavour – to the rest of the meaty constituents. It's quite the protein platter.
My partner and I also dined on the 'hunter-style' chicken (Rp.125K), accompanied by creamy mushroom gravy and pan-fried potato with onions. This dish is rich and heavy, better to be enjoyed at lunch. I wanted to give an unusual order a try, so, at a German restaurant, I opted for the roasted salmon filet (Rp.165K), convinced that if Paulaner does a non-pork dish justice, it could pull almost anything off. And it did! The salmon was tender and the caper-infused gravy added a nice tangy zest. One thing worth an honorary mention is the mashed potato; the use of just the right spices and dairy products resulted in a smooth, savoury, melt-in-your-mouth mashed potato. For dessert, a scrumptious deconstructed pancake, the 'Emperor's pancake' (Rp.55K), delighted the palate with its caramel flavours, strawberry sauce and cinnamon-infused apple compote; a must-try! Portions at Paulaner are quite large and sharing is encouraged, especially for the Paulaner platter. All pork-containing dishes are clearly labelled in the menu.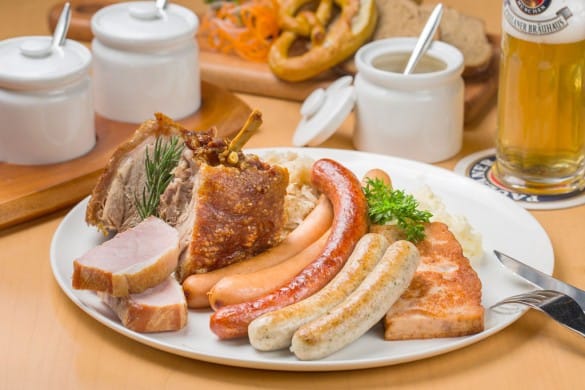 Thanks to the addition of glass windows on one corner of the dining space that opens up at night, guests can witness the night lights of Sudirman while sipping on some cold ones. This section of the restaurant is smoke-friendly while a portion of the opposite end of the place is non-smoking. Located right next to Paulaner is Kempi Deli (opening soon), which will be a new addition to the lunch scene of the neighbourhood. This particular corner of the mall will be very busy soon; it's best to make reservations for a big table at Paulaner.
Guests are happy to find a range of promotional deals here, such as their happy hour, where your second beer is on the house (Monday – Friday at 4-7 pm), as well as the economical Power Lunch – Rp.145K++ bringing to the table an appetizer, a bowl of soup, one main course and a dessert (Monday – Thursday at 11 am-2pm).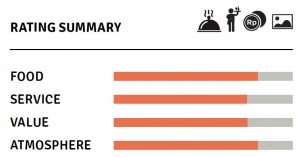 The Bavarian-clad staff are very quick and friendly. When guests come at 8.30-11 pm (every day except Mondays) when live music is on offer, 'one more beer' is the magic mantra. There's no need for pretentiousness here, just good food, good beer and a good time.
Paulaner Bräuhaus
Grand Indonesia Shopping Mall
2nd floor of East Mall
Jl. M. H. Thamrin No. 1
Ph: +62 21 2358 3871
Email: [email protected]
Hours: 11.30am – 12am