How can I even begin to sum up my experience as a student and intern living in Jakarta?
For starters, it's no Bali holiday. I wasn't lounging around in villas, drinking cocktails, and getting daily massages. Instead, I found myself eating one-dollar nasi goreng from the warung down the road, stuck in staggering amounts of traffic, or soaking wet after getting caught in the late-afternoon thunderstorms.
Jakarta can be messy. It can be smelly, they don't call it "The Big Durian" for nothing. It can be loud, busy, and confronting. Yet, I've fallen in love with the city in its entirety, from the obvious flaws to the hidden gems and secret wonders.
There have been countless cultural differences that I had to reconcile myself with. Toilet paper is apparently not a thing here, and road rules are simply non-existent! Scheduled meetings run on jam karet (rubber time), and being a bule (foreigner) has made me a constant novelty for local people. I'm looking forward to returning home just so I can walk down the street without a paparazzi train in tow!
Getting my body to adjust to the radical change in diet has been fun, albeit interesting at times.  One of my favourite games is playing Russian Roulette with the local Padang cuisine. It either ends with me on the toilet, doubled over with stomach cramps, or good to go for another round of delicious food. Eating copious amounts of fried food, especially tempeh and tofu, hasn't been good for my skin, although it has done wonders for my tastebuds. The excess sugar has also shown itself in my skin and on my waistline; it'll probably cause me withdrawal symptoms when I return home.
Indonesians are some of the most hospitable people I have met. On a day at the National Monument, where I must've been looking very lost and slightly bothered after being bombarded with requests for selfies and photos, an Indonesian girl approached me and offered to help me find my way out of the melee. Next thing I knew, we were having lunch together in the Old Town, where she also graciously showed me round. Between the small amounts of English she knew, and the scraps of Indonesian I'd picked up, our conversations somehow flowed.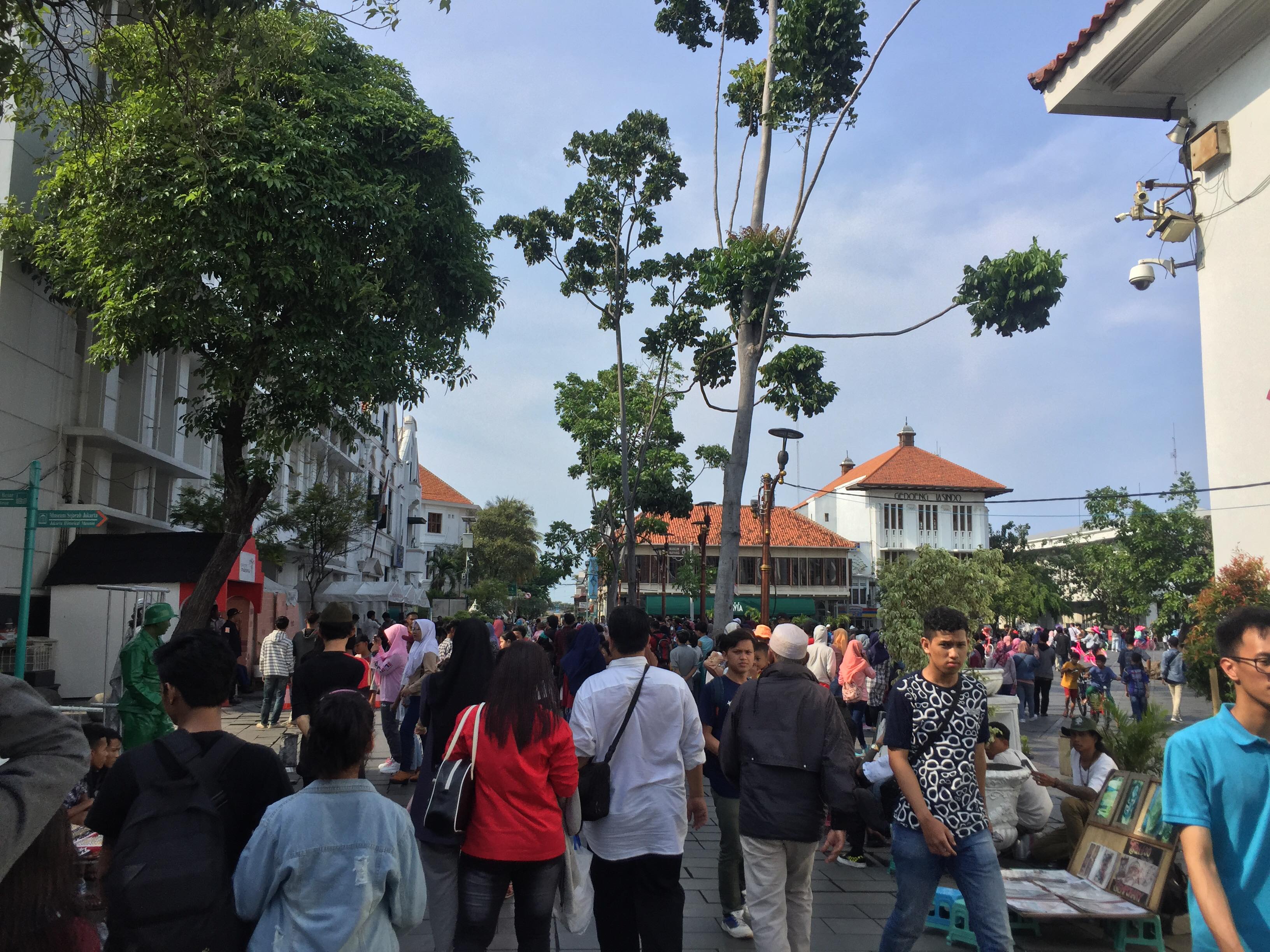 Interning abroad has presented me with a host of learning experiences on the professional front. Working remotely sounds like good fun, until you realise that you have to be your own biggest motivator. Making friends with the local barista helped, they now know my name and daily coffee order (soy latte extra hot please). No one is peering over your shoulder watching you work, and certainly, no one is forcing you to wake up before midday. It's both a blessing and a curse.
Being thrown into writing on topics way out of my depth was challenging, and there were certainly days I felt like I had no idea what was going on at all! Does an intern ever feel they do, though? Upon reflection with my fellow interns who work at other organisations, apparently, we don't. We're all making it up as we go along.
The media events are something I quickly got used to and they made my fellow interns from other organisations very envious. On my very first day, I found myself at the Henshin restaurant, on the 68th floor, eating an exotic mix of Japanese Peruvian fusion cuisine. Who knew that was a thing? The free tote bag and shirt I received from a book launch is now my fashion staple, and the delicious cakes and free booze have left an impact on my waistline. I can't believe this is considered as work!
The first few weeks of my time here were rocky. I messaged and FaceTimed my family a lot, longing for some familiarity. This was especially true when I've been curled up in the fetal position in bed with a fever and pounding headache, praying that I haven't got dengue. I think having to be your own caretaker when you're sick is when you know you've reached adulthood.
Suddenly, I woke up one day and realised that I now feel at home here, and my life in Australia began to feel like a distant dream. The sound of the call to prayer at the mosque was once strange to me, yet now it's a comforting sound to hear each morning and night. Zipping in and out of traffic on the back of a GoJek bike feels as natural as if I'd been doing it my whole life, even if I can still picture my mum shaking her head with worry in the back of my mind.
I'm not ready to leave, and maybe I wouldn't if my visa didn't run out in a few days. The longer I'm here, the more I feel there is so much more to learn about this incredibly diverse and culturally rich country.
It's a bittersweet goodbye to the past six weeks, and to all those, I've met throughout my time here. Jakarta, you have my heart and you'll be seeing me again sometime in the future, I promise.