You were robbed of your childhood if you were never taken to a Hard Rock Cafe for potato skins, wings and ribs, with an epic soundtrack of the best rock n' roll of all time in the background.
Burned into my memory like a nipple-slip on stage, I distinctly remember the Hard Rock Cafe visits of my youth. In London or Singapore, my prepubescent-self would drool over Slash's guitar, Clapton's inspirational maxims or Madonna's knickers adorning the walls, and dream of the day that I too, would one day be a rock star. I worshipped the waiters, with their jazzy braces covered in badges from all the Hard Rock Cafes around the world I glibly assumed they had frequented – or at least worked in.
Far from the Spandex-covered goddess of song I conjured in my imagination, I now find myself a somewhat portly white-collar bule with a taste for all the bad things in life, which pretty much makes me the target customer for the Hard Rock Cafe Jakarta.
Opened just over a year ago in Pacific Place, the Jakarta outpost of this iconic global chain does a terrific job of convincing you, you could be anywhere in the world. It is identical to any Hard Rock joint I've ever been to, from the gold gilt frames housing the precious memorabilia to the video screens on the walls showing the best of rock n' roll. Even the staff here are jubilantly boisterous in that grunge-y teenage kind of way—lots of winks and grins—as they gleefully serve mega pitchers of cocktails to grateful revellers. There's a big stage inside where they host live bands most nights of the week. The bar opens out in both directions, so it is able to serve the terraced seating outdoors. Despite the heat, this area draws a loyal crowd from the offices nearby for happy hours most evenings.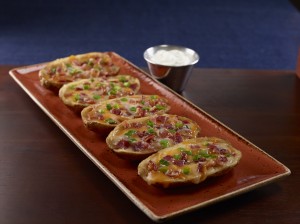 The restaurant was almost full at lunchtime on the day we visited – proving the chain's popular brand of Americana is a winning formula even on these far shores. Although beer, margaritas and Long Island Iced Teas are the bread-and-butter of beverages here, we opted for a more daytime-friendly Strawberry Basil Lemonade, which was full of fruit, ice and fresh herbs, if a little sweet. A refreshing start.
A tip. Save that slinky, clingy, body-con number for another night. When you come here, dress for the occasion and emulate the leisure-suit wearers of America. Bedeck yourself in your loosest, comfiest attire. Otherwise how on earth will you fit in all the devilishly, sinfully, heart-attack-inducing delicacies this place has to offer?
Their nachos are an obvious choice for starters; but too massive even for two to share. So, we started with potato skins – a real cowboy classic. They tasted exactly like the skins of my childhood—smoky American cheese, (turkey) bacon, spring onions and sour cream. The portion is good too with five skins for Rp.135,000.
The 'Legendary' burgers are of course another winner from the mains menu. But we decided to go the whole hog (if you'll pardon the pun) and sample some of their Smokehouse barbecue. The grilled Bar-B-Que Beef Short Ribs are the priciest thing on the menu at Rp.360,000 (because, as you'd expect, they import the beef), but if succulent meat slathered in sweet, sticky, smoky sauce is your thing then these are probably the closest you'll get to that Tennessee-backyard-cookout flavour in Jakarta. The meat was very soft, and with three large racks of ribs plus fries, coleslaw and 'cowboy beans', you won't go hungry on this.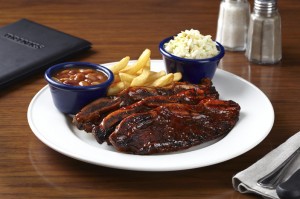 We, however, had more to fit in: a new menu item. The Classic Club Sandwich, which although a little lacking in the mayonnaise department, was stuffed like a prize turkey with thin-sliced grilled chicken, bacon, tomato and lettuce. Again with chips and coleslaw and clocking in at Rp.109,000, this is a slightly less heart-hazardous lunch option that will still fill your boots.
Finally, we just had to try their most popular dessert, the Hot Fudge Chocolate Brownie. This came with both ice cream and whipped cream, for good measure. This did exactly what it said on the tin—replete with chocolate sprinkles, walnuts and even a cherry on top—you couldn't fail to be stupefied into satisfaction by this mammoth pile of sugar. Give this to children at your peril. No wonder I was rarely allowed desserts here as a kid.
Kitchen Manager/Chef Dani Hudoyo is rightly pleased with his local team's efforts in reproducing the standard of food you'd expect from this American chain. They dish out a specific type of food that serves more as fuel than as gastronomy, but boy, when you're in the mood for it—usually on a Friday night as a buffer for lashings of beer—they can deliver. The bustling crowd there that day (heavily peppered with expats in batik making a pretence at a 'business lunch') seemed to agree, waddling off the premises patting their food babies, humming one of the legendary licks they'd heard over lunch and—like children—secretly plotting their ascents to stardom.
—
Hard Rock Café
Pacific Place Ground Floor #G-05, SCBD LOT 3-5, Jl Jend Sudirman Kav 54-55, Jakarta 10350
Phone: +62 (0) 21 57973055