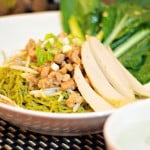 Cali Deli is a Vietnamese chain of deli-restaurants that gained its inspiration from a restaurant in California and established itself in Jakarta 7 years ago. Although Pho would come to mind for most people when discussing Vietnamese food, Cali Deli specialises in Vietnamese sandwiches with an Indonesian twist (they do of course offer broth soups and various appetisers).
Mrs. Ching Ching Sumampaow found that the Vietnamese sandwich she had in California lack lustre and upon her return to Jakarta decided to open up the first Cali Deli combining Indonesia's love of flavour with the Vietnamese sandwich. Madame Ching is also available in selected venues offering Chinese cuisine.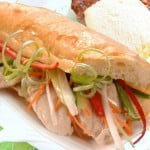 Novee Cheung, Advisor of Cali Deli & Madame Ching, explains that taste is just as important as nutrition. Fresh products are used with a favourable balance between carbohydrates, proteins and fats with a good amount of vegetables for taste and health. They prepare everything from scratch including their crunchy baguettes.  Vegetarians fear not! They do have a Veggie sandwich with absolutely no meat.
I had the Turkey sandwich and the Spring rolls for lunch. The Turkey sandwich was good and filling. Turkey is a lean meat that is low in fat and high in protein, one of the healthiest meats available to eat, though lean meats are prone to dryness from the lack of fat. The turkey slices in the sandwich were cooked well and stayed moist.  My personal taste finds that most sandwiches have a too high ratio in meat to vegetables. When you order a sandwich with meat as the selling point, it is the main ingredient and vegetables are more decorative.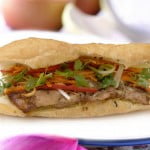 Cali Deli uses the vegetables they put in the sandwich as a sidekick to the meats, it's a well balanced pairing of flavours and textures. I cannot vouch for authenticity as I've yet to sample a traditional Vietnamese sandwich, but trying Cali Deli has put Vietnam higher up on my bucket list of future culinary adventures. The Spring rolls were good, though I made the mistake of eating it after my sandwich which anyone who has tried to cook with rice paper knows that it dries up quickly without a wet clothe to cover.
Cali Deli has Indonesian inspired sandwiches that merge the local love affair with flavour and Vietnam's zest for fresh and herbaceous seasonings.  Indonesian style Vietnamese sandwiches include Chicken Satay and Beef Satay. The most popular sandwiches are Turkey, Chicken Lemongrass and Cali Love (black pepper beef). Madame Ching recommends their Beef Rice Noodle Soup, Fresh Spring rolls and Dry Green Noodles.
Cali Deli
Cali Deli Menteng
Jl. Surabaya no.22, Menteng
Phone: 021-98011061/62
Madame Ching
Madame Ching Menteng
Jl. Surabaya no.24
Phone: 021- 3155145
Madame Ching SCBD
Jakarta Stock Exchange
Ground floor
Phone: 021-5154844
Madame Ching Senayan        
FX Mall F1
Jl. Jend. Sudirman
Phone: 021-25554129
Cali Deli and Madame Ching
Sampoerna Strategic
Jl. Jend.  Sudirman kav 45-46
lt.mezazine
Phone: 021-57903272
Codefin Kuningan
Jl .HR Rasuna Said kav B-3
Phone: 021-57933734
Promande Building Lot 16
Jl. Warung Buncit Raya no.98 Pejaten
Phone: 021-7991546
Grand Indonesia
West Mall foodhall, basement
Jl. MH Thamrin no.1
Phone: 021-23580156
Jasons Senopati
Jl. Senopati Raya no.8
Phone: 021- 29332861/ 98277299
Jasons Ampera
Jl. Ampera Raya no.22
Phone: 021- 78835147