Deep in darkest SCBD, like its namesake, a restaurant group grows in the city's cupboard, sprouting offshoots of its particular brand of culinary creativity. Annali Hayward visited Potato Head to sample their 'Farm To Table' offering: can locally-sourced, socially- and ecologically-conscious fare be had in the Big Durian? And more importantly, does it taste good?
Say 'Potato Head' to a group of expats in Indonesia and the responses fall into two camps. There are those who think you have lost your marbles and started babbling about classic children's toys. Leave them in their ignorant bliss, and join the other tribe: those who know you are referring to one of the hippest – albeit curiously named – restaurant groups in the archipelago.
The Potato Head 'Family', as they like to be known, has five establishments and counting. Potato Head was the first, followed by Potato Head Garage (the club round the corner), and the famed Potato Head Beach Club in Bali. Three Buns, a casual burger joint, opened in Senopati earlier this year, and there's Potato Head Folk in Singapore. Numerous projects are in the works – no couch potatoes in this family!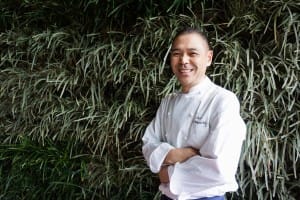 Chef Haruhisa Noguchi, from Japan, joined Potato Head in 2013, four years after its opening. With him he brought a passion for locally- and ethically-sourced food, having worked briefly under Jean-Georges Vongerichten, an originator of the movement in New York. The idea is to use as many local ingredients as possible, making things in-house and sourcing from responsible, sustainable providers. Noguchi-san estimates 75 percent of his menu fits this description. It's a tough job – he battles the same import, quality and logistical difficulties as all chefs in Jakarta, with the additional challenge of using as many organic, non-GMO products as he can. All this before he even cooks anything.
It was a delight, therefore, to find the starters were a vegetarian's dream – and for a committed carnivore such as myself; just as good. The Chargrilled Vegetable Salad (Rp.95,000) was a beautiful bounty of colourful baby veggies, cooked to perfection, finished on the grill and drenched in a tangy 'Balinese' tamarind dressing. The courgettes and beetroot were particularly soft, and it was refreshing to find a healthy salad that was also moreish.
Rosalie Goat's Cheese Salad (Rp.110,000) was a smaller portion, with three crostini atop an unusual salad: mesclun adorned with homemade granola, chargrilled starfruit and a lemony dressing. It crossed my mind that I might like to have more than three bites of cheesy goodness, but strangely enough this salad, though it sounds odd on paper, tasted so good I forgot all about that. The starfruit contrasted really well with the cheese and the honeyed dried fruit, and as a whole the dish is also very nutritious.
The icing on the cake is that the cheese is made in Bintaro, with goat's milk from West Java – and it would fool any fromage fiend into thinking it was France's finest.
Knocking the spots off the salad in the nutrition stakes was the main course pasta, Kale and Tomato Spaghetti (Rp.120,000). Kale, most beloved of hipster, yoga-pants-wearing vegetables, can be vile in the wrong hands. Noguchi-san's is a light touch – it wasn't overcooked (blech) or undercooked (worse), and crucially it complemented the home-made ricotta cheese and tomato-garlic sauce perfectly. This was another dish where the absence of meat is inconsequential. The crowning glory was the hint of chilli flakes in the sauce: subtle, but so necessary.
For meaty mains, look no further than Pan-Fried Duck Breast (Rp.260,000) from Banten. Here it became obvious that not only is this a carefully considered, well-constructed menu, but a kitchen that can pull it off. The meat was tender and the skin was neatly scored, basted with sesame seeds and chilli flakes, giving this French classic a welcome Asian twist. Underneath were some wilted red leaves, roasted vegetables, and a sweet red wine sauce. Again, this doesn't sound like it should work, but it did.
To highlight their successful weekend offering, Noguchi-san sent out a brunch dish: Greek yoghurt rice pudding with a mango-passion fruit sauce, topped with local cashews. On the side were some interesting superfoods: cardamom- and star anise-spiced red quinoa, and coconut water chia seeds. This was healthiness on a plate, and a great alternative to waffles on a Saturday.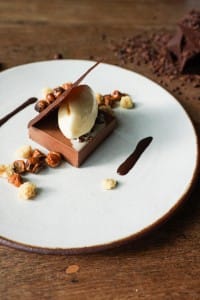 For dessert, the decadent Chocolate Ganache (Rp.95,000) uses the finest cocoa from Tabanan, Bali. It was great to see the kitchen being brave with the bitterness of the chocolate, allowing it to really highlight the quality of the source. Sweetness came via the vanilla ice cream served on top.
Chief mixologist Julian knocked up a 'Sweet Merah', a funky, unusual cocktail of beetroot, Balinese arak and triple sec – it was refreshing and inventive, and no doubt more of this creativity will come out of Potato Head's bars in future. Wines by the glass are not bad, and the coffee is very good.
Potato Head already has a fan base amongst SCBD's office crowd, and the new 'Farm to Table' menu seems to be expanding on that: the whimsical, industrial-chic space was packed with happy diners chowing down. Clearly, they're part of the group who have discovered this is legitimately Jakarta's foremost 'Farm to Table' offering: local, responsible, green – but also, delicious.
Potato Head
Pacific Place Mall G51A, SCBD, Jl. Jend. Sudirman, Kav. 52- 53, Jakarta Selatan, Indonesia 12190
+62 (0) 21 5797 3322 www.pttfamily.com