A Hong Kong jury has been shown a shocking video of a British banker recounting rape, torture and murder of two Indonesian women he picked up at a bar in 2014. On Monday, October 24, 2016, Rurik Jutting pled not guilty. 
Cambridge University graduate Rurik Jutting is on trial in Hong Kong for the murder of two Indonesian women. In a video he shot on his mobile, Jutting is shown without a shirt in his apartment. He says to the camera: "My name is Rurik Jutting. About five minutes ago I just killed, murdered, this woman here." On Monday, October 24, 2016, Jutting pled not guilty. 
He points the phone downwards to film the body of 23-year-old Sumarti Ningsih, who is lying face down on Jutting's bathroom floor. Jutting's hand visibly shakes later in the video. He continues, "It's Monday night. I've held her captive since early Saturday, I've raped her repeatedly, I tortured her, tortured her badly." He adds details about his activities snorting cocaine and visiting prostitutes in Hong Kong and the Philippines.
In court, 31-year-old Jutting watches the video he made from a confined dock. He occasionally glances down at the written transcript. In addition to Ningsih, Jutting also stands trial for the murder of 26-year-old Indonesian woman Seneng Mujiasih.
The crimes took place back in 2014. Both bodies were discovered in his residence close to the Asian financial centre's Wan Chai red-light district. The case shocked the city of Hong Kong, which boasts a reputation for safety and little crime. That said, it's also known for outrageous inequality for migrant workers.
Hong Kong is a former British colony with a sizable corporate expat elite. At the same time, there are more than 300,000 foreign in-house workers, nearly all of whom are women and girls from Indonesia or the Philippines.
Earlier in the trial, the prosecution played roughly 20 minutes of video clips in which Jutting tortures Ningsih. The footage was not made available to the media, but the audio can be heard. In what is surely a disturbing video clip, Jutting can be heard saying: "If you scream I will punish you. Understand?" Sounds of punching and violence follow.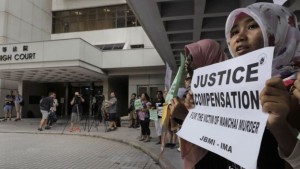 Jutting worked in the office of Bank of America-Merrill Lynch in structured equity finance and trading. As reported by AP, on Monday he pleaded not guilty to two murder charges, with prosecutors rejecting his attempt to plead guilty to the lesser charge of manslaughter.
Jutting claims to have hallucinated after taking cocaine. Prosecutor John Reading said in his opening statement that Ningsih, who was in Hong Kong as a tourist, accompanied Jutting to his home when the banker offered her money. After the murder, Jutting put her body into a suitcase to decompose and left it on the balcony.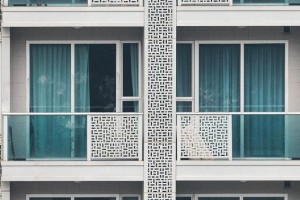 Mujiasih was in Hong Kong as a maid, but also worked at the bar that Jutting visited. She too followed him home after he propositioned her for sex in exchange for money. Shortly after Jutting claimed he hallucinated from cocaine, he called the police on himself. Police found Mujiasih's body, followed by the suitcase containing Ningsih's remains. Jutting was immediately taken into custody.   
In subsequent interviews and depositions, Jutting told police what happened as well as discussing his drug use, Reading explained. He added that traces of cocaine were found in more than 24 small plastic bags in the apartment.
If convicted, Jutting will face life in prison.
Featured and post image via Mirror