Indonesia's sudden uproar of anti-LGBT sentiment could be a tactic used by the government to divert public attention away from the nation's real problems.   
Indonesia, the country with the world's largest Muslim population, is experiencing an intense public debate about lesbian, gay, bisexual, and transgender (LGBT) issues. The conversation is permeating business, politics, and the media in Jakarta, with public figures making audacious claims and bold accusations towards the archipelago's LGBT groups.
The issue entered the media spotlight in late January after Higher Education Minister Muhammad Nasir warned LGBT organizations to stay off university campuses, accusing them of undermining the country's "standards of values and morals".
The minister's statement was promptly followed up with public support from one senior official after another. High-ranking government members began going on record, expressing disgust and loathing of homosexuality in Indonesia.
Yuddy Chrisnandi, the man in charge of state administrative reforms, said people who identify themselves as LGBT in Indonesia should be prohibited from becoming civil servants. The nation's hard-line Defence Minister Ryamizard Ryacudu recently said the influence of the gay community was "a threat". He added that fighting such a threat was similar to "a kind of modern warfare".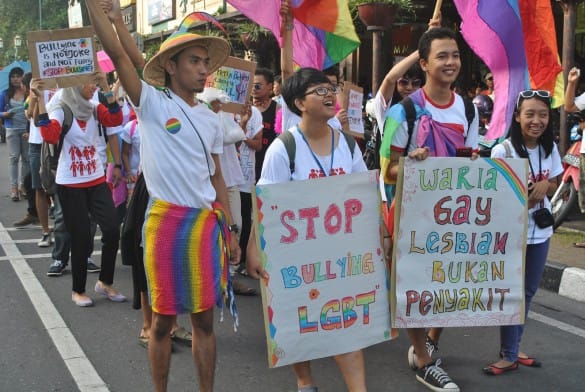 The government shut down a slew of websites, and ordered TV programmes depicting the lives of gay people off the air. It also demanded all instant messaging apps remove same-sex emoticons, like men holding hands and the rainbow flag, symbolic of gay pride. Those that did not comply would likely face a ban in the country.
Debates surrounding LGBT issues are not new in the archipelago. In 2013, Canadian gay rights activist and liberal Muslim Irshad Manji faced outcry from other hard-line groups during her visit to Indonesia. In South Jakarta, at the launch of her book Allah, Liberty and Love: The Courage to Reconcile Faith and Freedom, dozens of locals showed up to stage a protest. Protesters said they rejected the author because she openly identified herself as a lesbian. They claimed her belief that Islam should accept homosexuality was "unacceptable".
That incident, however, did not trigger harsh statements about the LGBT community from the government. So why only now are Indonesian policy makers vehemently condemning the LGBT community in public?
"First, it might be because of the lack of information within the government," says a local gay rights activist who goes by the name Hartoyo. "Second, it might be because there is a perception that pro-LGBT support is growing stronger in Indonesia. People understand it more, and it is perceived by some as a threat."
Hartoyo tells Indonesia Expat there is also the possibility that LGBT issues are being used by the government merely as a scapegoat to divert public attention.
"The government might have other interests, such as using the LGBT issue as a diversion from other [more pressing] issues, or perhaps it's looking to gain political support from certain parties," says Hartoyo, who is the founder of One Voice, a group advocating for the rights of gay and bisexual men in Indonesia.
"The state must have known that what we are doing is to strengthen democracy, make Indonesia a more just state, and uphold human rights because they have the state intelligence agency [BIN]," says Hartoyo. "But they also know that the public cannot accept LGBT communities yet." The government likely sees this as an opportunity to shift the public's focus towards LGBT issues instead of allowing it to remain on other pressing problems, he adds.
While some civil servants clearly have no qualms bashing homosexuals, bisexuals, and transgender individuals in the media, other officials who support LGBT rights might find it more difficult to voice their opinions.
Hartoyo says, "I am sure that the government [in general] is on our side, but it's hard for them to speak out because if they do, then it could create chaos internally. Those who use the LGBT issues as a scapegoat are waiting for the president to make a comment."
Hartoyo thinks President Jokowi is among those who support equal rights for the LGBT community. "I believe Jokowi agrees with what we're doing, but he is facing a dilemma because he doesn't have strong political power like former Indonesian president Abdurrahman Wahid [who was a strong advocate of pluralism]. Therefore, it's hard for him to make a comment [on LGBT issues]," explains Hartoyo. "If the government truly believes that we are evil and spreading propaganda, then surely I wouldn't still be alive right now."
Although it sounds like a borderline conspiracy theory, it is conceivable that LGBT issues are indeed being used as a tool by the government to distract the public from important issues like corruption scandals, Jakarta's slowing economy, or the nation's vulnerability to Islamic radicalization and terrorism. Regardless, Hartoyo says he is glad the controversy at least brings LGBT issues to the forefront of the public's attention.
"I like the fact that this issue is acknowledged as an important issue so much that it can be used as a scapegoat. The important thing is that the debate is happening," suggests Hartoyo, adding that he believes Indonesian society will gradually move towards LGBT acceptance.
National Commission of Human Rights Commissioner Nur Khoiron, meanwhile, says the recent hostility towards the LGBT community has turned Indonesia's fight for equal rights into an uphill battle.
"It's clear that the fight in the future will get more difficult. We have to work even harder and it all depends on how the state [can become] more aware," Khoiron tells Indonesia Expat. "This awareness can only come if they know that LGBT people should be protected, and this is the mandate from the constitution. If the state apparatus has the right understanding of the constitution, then this situation can be fixed."
According to the commission's research in 2015, people in Indonesia who identify themselves as part of the LGBT community have increased difficulty receiving fair treatment when it comes to the work environment, healthcare, and legal services. It also found that the media played a large role in helping the public understand LGBT issues further.
Yuyun Wahyuningrum, senior advisor on ASEAN and Human Rights at the Human Rights Working Groups, says the government and society at large should look at the LGBT community in a more positive light if Indonesia wants to be taken seriously by other nations.
"I want Indonesia to be a country which respects an individual based on his or her contribution to society, not on his or her sexual orientation. The government has no business in managing someone's sexual orientation. But if someone is sick and he or she is not being treated, then it's the government's business," says Wahyuningrum. She also urges locals to take a look at positive contributions the LGBT community has made to Indonesian society.
"I am very disappointed with the public's response [and the idea that] homosexuality is a contagious disease," says Wahyuningrum. "The WHO has long stated that homosexuality is not a disease and is not contagious. I've had a lesbian friend for more than 20 years, but does it mean that I am turning into a lesbian? Of course not."