While education quality remains a problem in Indonesia, the government just made it easier for foreign students to enrol in local universities.
In January, the Indonesian government eased international student visa requirements to entice foreign university students to attend college in Indonesia. As a result, overseas students can now apply online for a student visa and stay permit. Indonesia's immigration office also recently announced plans to let foreigners extend their temporary stay permits (ITAS) online. The plan is scheduled to take effect sometime in the first quarter of 2016, and extensions can only be granted to those who already hold temporary stay permit visas (VITAS).
The move represents a big step forward for Indonesia's education system, and a seemingly warm invitation to international students. Just one year ago, Akhmaloka, former Head of the Bandung Institute of Technology (ITB); and Muhammad Anis, Head of University of Indonesia (UI) lamented on Okezone about how difficult it was for international students to come to Indonesia.
Akhmaloka said that previously, international students who came to Indonesia using tourist visas had to go back and forth to renew their stay permits. On top of that, these students had to pay illegal facilitation fees throughout the process. Anis added that international students who must apply for a KITAS could end up paying more tuition in Indonesia than they would in their own countries.
In terms of bureaucracy, however, it would seem progress is taking place. With regard to student visas, the government says it will monitor the new policy and make further improvements going forward.
"Student exchange programmes won't be the only things getting positive impacts from the existence of student visas. Joint research activities between Indonesian universities and partner universities overseas will also get the benefits," says Technology, Research, and Higher Education Minister Muhammad Nasir on the Ministry's official website.
The Minister claims there are currently 5,700 foreign students in Indonesia. That number is small when compared to the number of international students in neighbouring countries Singapore and Malaysia. According to UNESCO data from 2014, the two countries have more than 52,000 and 63,000 international university students respectively.
Does Indonesia have what it takes to attract more international students?
Indonesian universities may consider themselves legitimized on the international stage. UI, ITB, and Gadjah Mada University (UGM) are among Asia's top 150 universities according to QS World University Rankings 2015/16.
Indonesian higher education students regularly participate in international competitions. In 2015, UGM students championed the ASME Innovation Showcase in India (an international engineering contest), while a student from Padjadjaran University also grabbed first place at an international business pitching competition in Vietnam.
Global management consulting firm McKinsey says Indonesia is poised to become the world's seventh biggest economy by 2030. PricewaterhouseCoopers pegs Indonesia to become one of the top five countries in terms of GDP over the next several years. In a 2015 study, Nielsen placed the archipelago as the second most optimistic country in the world in terms of its economic outlook.
However, last year Indonesia's economy began to slow. Growth dipped below 5 percent for the first three quarters of 2015, a significant drop from the 6 percent annual GDP increase of recent years. In response, the government took action to bolster the nation's economy. This included making it easier for foreign companies to invest in Indonesia by revising the Negative Investments List. The government has not commented on the issue directly, but pulling in more tuition fees from foreign university students is likely another mechanism to aid the local economy.
Quality of education remains a problem in Indonesia. According to a recent report from the Boston Consulting Group, Indonesian companies will struggle to fill half of their entry-level positions with fully qualified candidates by the end of the decade due to low upper secondary and tertiary enrolment rates combined with substandard education quality.
This is also shown by the 2015 edition of the Universitas 21 ranking of national higher education systems, which placed Indonesia at the 48th spot out of 50 countries. Indonesia ranked particularly poorly in terms of investment, research output, and employability of graduates.
A sharp difference in cultural values also comes into play, as foreign students consider coming to Indonesia. Despite relative freedom of speech, the nation with the largest Muslim population is still highly sensitive towards issues related to people who identify themselves as lesbians, gays, bisexuals, and transgender (LGBT).
Police and even universities have disbanded events and gatherings involving LGBT societies, even if attendees are engaged in academic discussion.
By and large, universities in western countries accept and even formalize LGBT clubs on campus, provided that they engage in public discourse about the issue to educate the public.
What do expat students need to know about Indonesia's higher education system?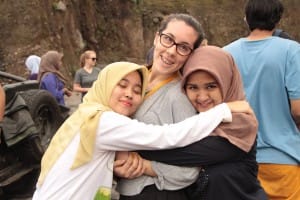 The nation has five official types of educational body categories: universities, institutes, colleges, academies, and polytechnics. There are currently 4,402 higher education institutions in Indonesia, offering four diploma levels (D1 until D4), a bachelor's degree (S1), a master's degree (S2), and a doctoral degree (S3).
Degrees vary depending on the number of credits taken by the student. For example, D1 is equivalent to an associate's degree, and requires students to finish one year of studies. Usually, it takes about four years to finish a full-time undergraduate degree in Indonesia, while a master's degree takes about two years.
Local students are required to pass entrance exams to attend public and private universities. However, depending on the institution, international students could be accepted without such tests. They may only need to submit an English proficiency score, a secondary school certificate of graduation, and an SAT score.
Some local universities are already prepared to accept international students. UI, ITB, and Binus provide international programmes with English as the course delivery language.
However, these international class sequences cost nearly four times the price of local programmes, according to online expat guide JustLanded. A semester at a public university could cost around US$157, while at a private university the price could jump to US$1,000. Private institutes usually charge development fees and equipment fees to students.
Students can find various scholarships to help with tuition fees and living costs. US students can apply for Fulbright scholarships. The Indonesian government also has scholarships for international students. One of them is the Darmasiswa Scholarship, which covers tuition fees and living costs for international students who wish to study Bahasa Indonesia as well as the country's arts, music, and crafts. Each year, the programme gives away hundreds of scholarships and places students at 54 different universities across the nation. The study period is between six months and one year. It is important to note, however, that the Darmasiswa Scholarship is a non-degree programme.
Outside of studying full-time, there are other ways international students can come to Indonesia. Part-time student exchange programmes exist between partnering universities, and credits are transferable. Foreign students may also join external organizations like AIESEC. The group allows students to volunteer and intern in Indonesia for set periods of time. AIESEC itself is present in more than 15 universities in Indonesia.
Tips from local students
Elizabeth Charlotte Widjojo, a local university student who recently returned to Jakarta after studying for one semester in Taiwan, shares her thoughts on the main differences between studying overseas and in Indonesia. "The tasks in Taiwan were geared more towards practise than theory. Most of our assignments revolved around field research and video projects," she tells Indonesia Expat.
According to Widjojo, lecturers in Taiwan often asked students to observe what's happening in the real world and make reports. She participated in a few study trips, going to the offices and exhibitions of various companies. By comparison, Widjojo's assignments in Indonesia were geared towards academic writing, critical review, argumentative essays, and paperwork, which required her to analyze research.
Adi Putra Lim echoes Widjojo's sentiment. Lim spent a year studying in Malaysia. Afterwards, he finished his undergraduate degree in Indonesia. "When it comes to teaching methodology, I felt the lecturers in Malaysia really emphasized student comprehension, while in Indonesia, we were taught to memorize the study materials," he explains.
Lim says that students in Malaysia can see the formula during maths or physics tests. The exams tested students' comprehension of how to use the formula to answer advanced equations or case studies; while in Indonesia, students had to memorize the formula. Most often, Lim felt like students in Indonesia were expected to answer theoretical questions using textbook answers.
"I think foreign students who come to Indonesia and study our curriculum could go into a bit of culture shock," Lim says. "They have to memorize many things [to pass exams]." He adds that one thing many international students will also see when studying in Indonesia is the fact that locals are naturally very friendly people, especially towards expats. "Indonesians respect foreigners more, it's the culture [here]," says Lim.