Within one day of arriving in Ketambe Village in Gunung Leuser National Park, I had spotted three gibbons, five Thomas' leaf monkeys, and three Sumatran orangutans.
You have to get up early to catch the wildlife; by 5.30am my forest lodge was a hive of activity. People were packing water and snacks, strapping on their camera equipment, lacing up their leg gaiters, and hurriedly heading out the door for their morning trek.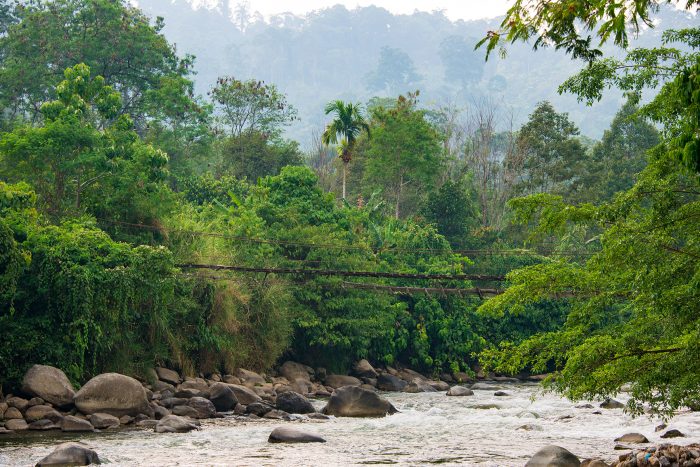 Gunung Leuser National Park in Aceh and North Sumatra provinces, offers a wonderful wilderness experience. The park is actually on the border of both Aceh and North Sumatra provinces. Most people head to Bukit Lawang on the Sumatran side for trekking, as it's well-established; however, it attracts hundreds of tourists. Ketambe in Aceh is a more authentic wilderness escape. For some reason, Ketambe has remained under the tourist radar and let's hope it stays that way.
Several trails start right from your forest lodge, and within five minutes you are in dense forest. I followed my guide's advice. We walked in silence, obeying the rules of trekking, "follow the leader" and "when the guide stops, you stop." Next instruction – "stand dead still, wait and listen."
The guide followed a trail of fruit droppings, dispersed here and there on the forest floor. This meant a bit of bushwhacking, but I was up for that. Soon enough, the guide signalled for me to stop. He pointed up, and there it was – a huge orangutan sitting in the canopy of the rainforest, towering 30 metres above me. He pointed out not just one, but three orangutans.
It was a moment that simply took my breath away. I don't know why; maybe it's the gentleness of these big, hairy primates, or the haunting thought that our DNA is so similar to theirs. They have the capability of showing deep emotion on their faces and in their actions. For me, that's a tangible sign of our similarity. Certainly, when you see your first orangutan in the wild, it's a very powerful experience.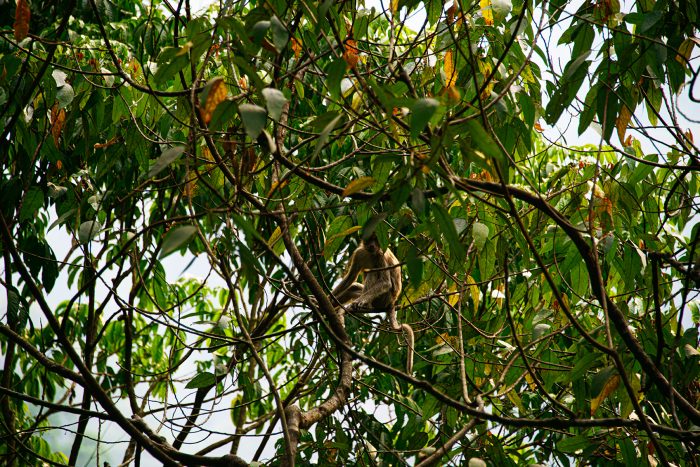 It takes a trained eye to spot orangutans. Unless they are on the move, they are masters of camouflage. They sit very high in the treetops where they will make a new nest every night.
Within minutes of spotting the three orangutans, a family of gibbons came into view. Their high-pitched, lyrical calls were beautiful. Their call is actually a song which gathers pace and lasts for about 20 minutes. Next, my guide pointed to the east and there, gliding through a narrow gap in the trees, was a magnificent, lone hornbill cruising gracefully on a steamy jungle air-stream. The hornbill continued on its path as its wings brushed foliage on either side.
I headed back to the lodge for lunch and eagerly swapped stories with other travellers. Two Germans had seen seven orangutans on their morning trek and were going back for more.
After lunch, I was up for some rafting and so clambered into the back of an old, weathered truck, along with a folded raft, a bunch of oars, and two guides. We headed off to explore more wildlife – this time at the river.
Travelling down the river gave me a great insight into village life that I was able to observe intermittently along the river's edge. As our raft passed villages, people waved and cheered. The children would scramble and fall over each other to try and keep pace with the raft. They would then provide some entertainment by jumping off rocks, impersonating animal calls, and generally clowning about. Great river entertainment!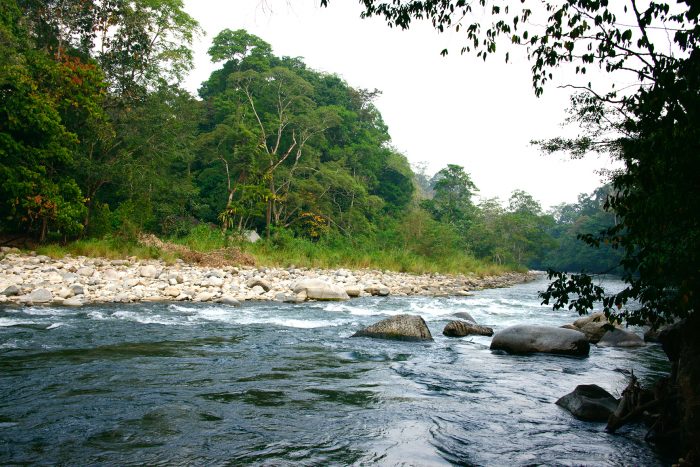 The trip combined a series of swift-paced rapids with lots of slow, relaxed stretches on a gentler river current. When the cool, clear river slowed down to a meander, we tucked the oars inside the raft, soaked in the serenity and silence of the wide-open river and simply floated.
Towering trees provided shade. Now and again we spotted giant black beehives dangling from the high treetops – wild honey on tap if only you could reach it. I was assured by my guide that the locals know how to scale the tall trees to death-defying heights and gather the honey, which they do at around 3am when the bees are sleepy, and there is less risk of being stung.
I asked the guide about tigers, and he explained, "I have worked in the park for seven years and have only seen one tiger. We were on a seven-day trek, and I spotted the tiger at the riverbank. I was very lucky. Also, we have herds of wild elephants here in the park. If you go on a seven-day hike or longer, you might chance a sighting, but it is very rare. Mostly, we only come back with tales of elephant track sightings."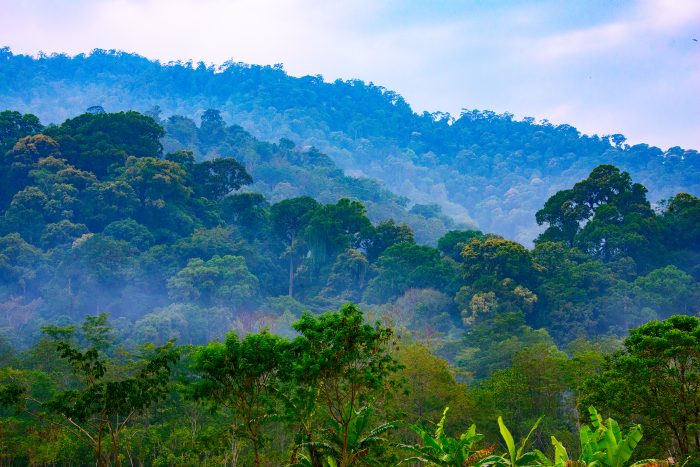 The "big five" are in the park – elephants, tigers, orangutans, rhinoceros, clouded leopards, and the smaller sized sun bear. At around 85-95 percent, your chances of seeing orangutans are by far the best. Along with exotic wildlife, and the world's largest flower, the Rafflesia, there are over 10,000 plant species.
It's a nature-lovers' dream and, if you stay in Ketambe on the Aceh side of the park, you can have a very close encounter with nature and walk the forest trails with very few other tourists. By visiting, you also help to support a fantastic, low-impact eco-tourism program and preserve what is indeed one of the many unique and beautiful wild places in Indonesia.
By Road:
Medan, Sumatra to Ketambe, Aceh – 230 km (7 to 8-hour drive)
By Air:
Susi Air operates 2-3 x a week from Banda Aceh to Kutacane (Alas Leuser Airport). You continue by road to Ketambe (30 minutes). Note: Susi Air bookings can only be made by a travel agent or tour guide, and are usually paid in cash.
Accommodation:
Friendship Guest House
Tel: +6285296883624 (Pak Ahmed)
Email: [email protected]
Website: www.ketambe.com
Trekking tours:
www.jungletrekkingketambe.com
Trekking (1-7 days) and rafting can be organised by Pak Ahmed
The Gunung Leuser National Park was established in 1980 and in 2004 gained Tropical Rainforest World Heritage Listing.