On Sunday, October 18 2015, Clean Up Jakarta Day was back for its third time to carry out its mission of raising awareness for a cleaner Jakarta.
Approximately 10,000 volunteers from different nationalities and institutions gathered in the early hours of Sunday morning to take charge of the city by picking up rubbish, raising awareness about littering and educating volunteers about the importance of recycling through the spirit of gotong royong.
This year, clean-up activities took place at 37 sites all over Jakarta, including Taman Fatahillah, Gelora Bung Karno, Jl. Jenderal Sudirman, Bundaran Hotel Indonesia, Jl. M.H. Thamrin, Jl. Kemang Raya, Jl. Bendungan Hilir, Akbar Mosque Kemayoran, Pantai Indah Kapuk Raya and many other sites in Jakarta, including two in Tangerang.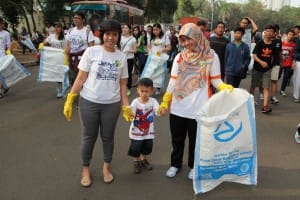 Volunteers, referred to as 'Clean-Up Heroes', gathered at 6.30am at their respective sites for a briefing given by their team leaders. At Gelora Bung Karno, Mr. Edwin Soeryadjaya, renowned businessman and entrepreneur, said a few words to set the eager volunteers in motion. Other influential figures who volunteered included business mogul Mr. Sandiaga Uno and the US Ambassador to Indonesia, Mr. Robert Blake.
Volunteers were each given education kits to study before joining the clean-up, educating about recyclable and non-recyclable garbage, as they had to separate their rubbish as they cleaned. They were also equipped with gloves to protect their hands, reused sugar sacks for collecting rubbish, and their very own Clean Up Jakarta pins. Dressed in white, the 'heroes' marched down their designated streets for a two-hour cleaning spree, at the same time encouraging locals to join in and spreading the message of keeping the city clean.
An annual event, Clean Up Jakarta Day serves as a platform for individuals, businesses and communities to join together on one special day to inspire change. Businesses that joined in cleaning up included The Body Shop Indonesia, Jones Lang LaSalle Indonesia, PT Brother International, ATI Business Group, Coca Cola Amatil, PT Adaro Energy and Mitsubishi Corp, to name a few.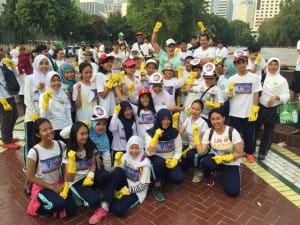 Many schools also got their students and teachers involved in the action. Madina Islamic School, Mentari School, Jakarta Intercultural School, Anglo Chinese School, Gandhi Memorial School, SMP Hang Tuah, Labschool Cibubur, Global Jaya and Global Sevilla School had their own clean-up sites. Students from Atma Jaya University also got involved by cleaning up at three separate locations in South Jakarta. Communities cleaning up on the day included Diet Kantong Plastik (Plastic Bag Diet), Indorelawan, Soka Gakkai, Waste4Change and many more.
With such a varied group of volunteers behind the movement, Clean Up Jakarta spreads the message that it's everyone's job to keep the city clean. By involving the community, Clean Up Jakarta Day hopes to make people understand how serious the problem of littering is, especially when oftentimes residents rely on street sweepers and trash pickers (pemulung).
Participating for her third year in a row, Shopha Patil was eager to show her support for local communities joining this year. Compared to previous years, she noticed that more locals are now joining in the event. "Today I'm seeing a lot of Indonesian friends involved in this, so that helps spread the awareness in the local community."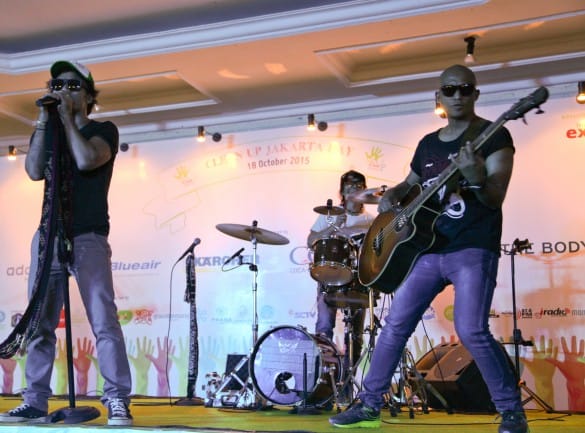 After completing the clean-up activities, a Post Event was held at Wisma Menpora near the Gelora Bung Karno complex. Here, volunteers, team leaders and supporters of the event had the chance to share their experiences and reflect on possible ways of solving the problem of trash. Around 600 attendees enjoyed brunch, fun games with prizes and entertainment from Abang None and legendary rock band, Slank. Winners of five Team Award categories were announced, including Most Influential Team, The Weirdest Item Found, Most Extreme Makeover, Best Dressed, and The Largest Team.
Speaking at the Post Event was Founder of Clean Up Jakarta Day, Angela Richardson, who stressed the pivotal role everyone holds in making a change: "Change belongs to you and me – only we can make a difference, so let's start by separating our waste at home, contributing towards less waste ending up in landfills."
Clean Up Jakarta Day had the strong support of the city's sanitation department, Dinas Kebersihan DKI Jakarta, who were responsible for picking up recyclable and non-recyclable waste from all sites in Jakarta. Bapak Isnawa Adji, head of the department, thanked volunteers for participating. "We would like to thank everyone who supported this event, so that together we can keep the city clean," he said.
TV Anchor Marisa Anita and actor Mike Lewis joined in as brand ambassadors for their second time. Both ambassadors helped to clean up at Gelora Bung Karno stadium, a site that had been heavily littered by football supporters of the President's Cup. Anita spoke to television crews about the items in her sack and how they were fit for recycling. "I have plastic bottles, cans and straws in my sack here. We want people to understand that these items are of value and should be recycled, not left as litter."
Clean Up Jakarta Day was brought to you by Indonesia Expat. We would like to thank The Body Shop Indonesia, Kärcher, PT Adaro Energy, Coca Cola Amatil, Grant Thornton, Blue Air and all the supporters and media partners for helping us to realise this event.
For more information, please visit www.cleanupjakartaday.org or email to [email protected]