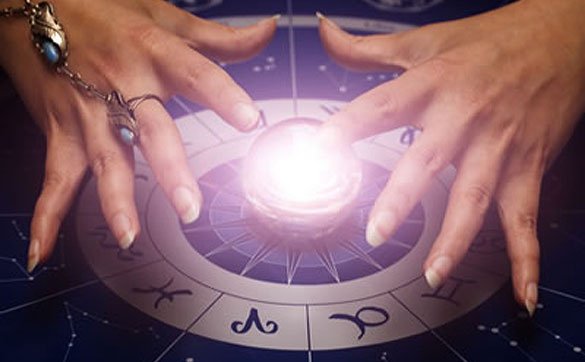 Astrology, fortune tellers and horoscopes are part of our daily lives. Computers and mobile phones opened new doors for the so-called mediums, fortune tellers, psychics and others. But at the end of the day it is all about whether or not you believe in it.
The introduction of the computer has helped astrology as well. Most people will relate to one type of astrology, let's say Western, but they also would like to know what their Chinese zodiac predictions are. It is very complicated to figure that out without the help from some guru or the computer. Now you can just go to a website and type in your day, month and year of birth and there you have it.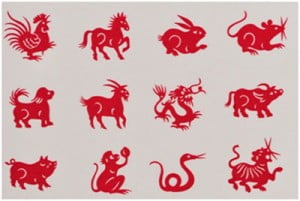 Chinese astrology
Chinese astrology is said to be the oldest horoscope system in the world. The foundation of Chinese astrology is Yin and Yang, the 12 animals and the five elements. The consideration of Yin and Yang is a very great influence upon this subject, Yin being passive, female and receptive while Yang is aggressive, male and exploratory. Chinese Astrology is concerned with nature and its traits, the signs progress year by year whereas Western Astrology cycles monthly. Chinese astrology and the order of the 12 animals that define it is said to have been derived from a legend about the Buddha. According to ancient scripts, Buddha realized that the Chinese nation needed reorganization.
So on the occasion of the Chinese New Year, Buddha called upon the entire animal kingdom for a meeting. But only 12 animals (the rat, buffalo, tiger, rabbit, dragon, snake, horse, goat, monkey, rooster, dog and boar) showed up for this meeting. Buddha then honoured them in the order of their arrival by endowing upon them each with a year of their own.
Astrology on your phone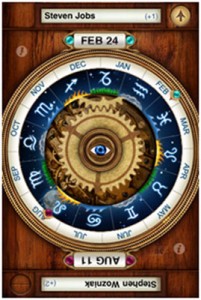 Friend Scopes
Astrology.com, the makers of iScopes, iTarot and iChing bring you FriendScopes – an exciting and unique way to "gear into" you and your friends' astrological compatibility! FriendScopes is a daily astrological forecast for two people, featuring a beautiful brass chronometer interface. It combines your birth information with the current location of the Moon to rate your "elemental harmony" and offers insights on how to make the best of the day with (or without) each other. Simply dial up your birth dates using the innovative two-way steampunk-inspired clock face, or select from a list of your address book contacts or Facebook friends; then tap the "Centre Eye" to unlock and reveal your reading!
Download at the iTunesStore
Available for iPhone
Price: Rp.19,000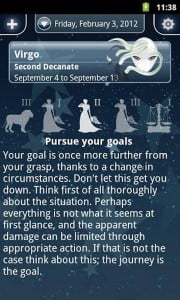 My Horoscope
Available on the Google play store, My Horoscope is free and is a fun and convenient way of being able to check your daily horoscope on the go. Voted by users as being "surprisingly accurate", this app breaks down each sign into their three decanates and users are able to share to various social networking sites like Facebook and Twitter. My Horoscope is also available in different languages.
Download at https://play.google.com
Available for Android
Price: Free
TimePassages is a very easy to use astrology application that allows you to quickly create accurate birth charts by using intuitive tools. To get started, simply specify the date, time and location of birth. TimePassages will automatically generate the chart, with in-depth interpretations for each element.
Download at the  iTunes Store or http://mac.softpedia.com
Available for iPhone
Price: Rp.289,000 or a Lite version is available for free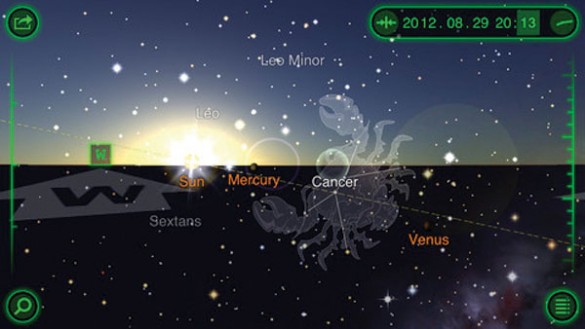 Star Walk
Star Walk is an award-winning Education app that allows users to easily locate and identify over 20,000 objects in the night sky. The 360-degree, touch control star map displays constellations, stars, planets, satellites, and galaxies currently overhead from anywhere on Earth. Highly praised and the winner of a 2010 Apple Design Award, the latest update allows users to enjoy unprecedented eye candy and interactivity of the star map, achieved with the new camera and high resolution of the new device. Just launch the app and point your iPhone at the sky and you'll see the stars, planets and constellations in their proper place from your location. As you move your device, the star map updates in real time.
Download at iTunes Store
Available for iPhone
Price: Rp.29,000