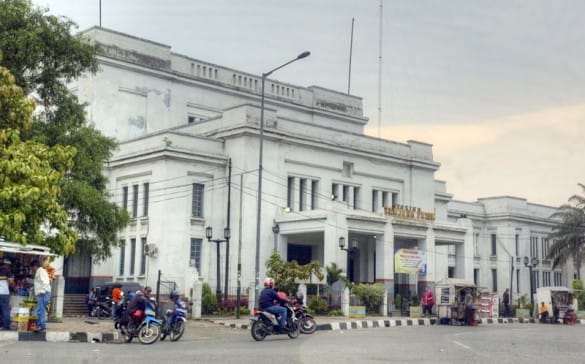 You can find some wonderful things in the most unlikely of places. In this particular case a trek – well actually a very lengthy cycle ride – into one of Jakarta's dodgiest districts, Tanjung Priok, a rough and ready port area, which very few expats get to visit. I'd only ever been here a few times before, to catch Pelni ships to far-flung places in the archipelago, and it was during my first trip to Priok about 20 years ago that someone slashed open my rucksack from behind, but luckily for me, didn't manage to steal anything of value – probably put off by the stench given off by unwashed t-shirts! Besides, anything of value – which wasn't much – was safely kept in my money belt strapped tightly around my waist.
Not far from the gigantic port, which was established by the Dutch after the traditional Sunda Kelapa port revealed its limitations, are a motley collection of bars and dangdut joints. Parched as a castaway on a remote Indonesian island, I felt like popping in for a much needed Guinness, but the charmingly-named Monalisa wasn't yet open for custom, alas.
"Later on," the security guys told me. But if Priok is rough during the day, I can't imagine what the bar would be like at night. Well, actually I can. Just Google 'Chacha Romeo', a 58-year-old dangdut singer who likes to get it on with six supporting female singers and you'll get some idea.
Besides the area's dodgy bars, drunken sailors and multitudes of street hoodlums, Tanjung Priok is also known for its riots. It was back in the dark days of the Suharto era that bloody riots kicked off on 12 September 1984 after a Suharto stooge infuriated Muslims by entering a mosque without taking his shoes off in an attempt to remove some brochures and banners critical of the government. During the riots, nine members of a Chinese Muslim family headed by Tan Kioe Liem perished in their pharmacy, which was burned to the ground while scores and possibly hundreds of rioters were shot dead.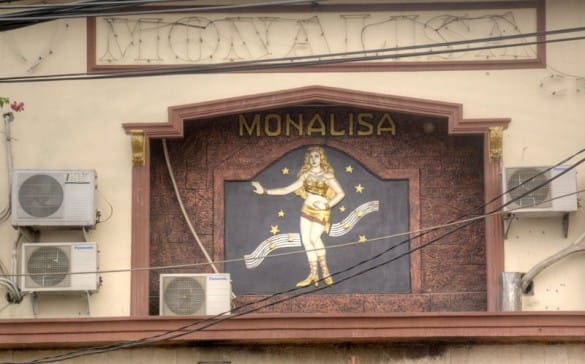 More recently, in April 2010, protestors went on the rampage in response to government plans to bulldoze illegal buildings, including gates to a sacred tomb complex which apparently did not have permits. Three public security offices (Satpol PP) were battered to death and hundreds of protestors and security officers were injured.
So, what is the wonderful thing I mentioned at the beginning of this article? Well, right in the heart of Priok stands the magnificent Tanjung Priok train station, built by the Dutch back in 1914 and one of the oldest stations in Indonesia, which is designated a heritage building by the city's government.
This is the station which would have allowed travellers who had arrived by ship at the nearby port to continue their journey by train, taking them to faraway places such as Malang and Surabaya in East Java, which, at that time, would have entailed a journey through Java's dense jungle, then so full of tigers that they were described by villagers as "the plague". How times change!
From inside, the sheer scale of the train station building is truly impressive and it features what must be one of the largest roofs on any building in the whole of Indonesia. Unfortunately for me, however, an overzealous little man in a uniform which looked about six sizes too small for him objected to me taking any photos in the station. I would have to have a permit, he said, obtained from another historic railway station called Stasiun Kota – about seven or eight kilometres away. What he really meant, of course, was that he was after a bung – and there was no way he was going to get that from me!
Despite its designation as a heritage building, the condition of the station is a bit of a concern to be honest and many of the doors and windows are boarded up. Will this remarkable building from a bygone age just be left to rot like many of the old buildings in Jakarta's historic Dutch quarters of Kota? Well, possibly not. Its fate, as recently touched on by the Director General of Transportation, might be to be converted into either apartments or a luxury shopping mall. And you know what? That doesn't surprise me at all!
Country: Indonesia
Province: DKI Jakarta
How to get there: Train or car (or by boat from other Indonesian ports!)
What to do: See the historic railway station and check out some of Indonesia's dodgiest bars
What to bring: As little as possible but a lot of common sense