The Safe Childhoods Foundation considers every childhood to be precious.
Their dedicated team provides healthcare and aid packages to those living in absolute poverty across Indonesia. They bring schools directly into the slums for the purpose of teaching kids literacy; maths and life skills and they operate trade and lend schemes to help families break free of the poverty trap. The Foundation is also supporting victims of child trafficking, organ harvesting and paedophilia.
According to research, human trafficking is the world's third most profitable illicit market, worth around 32 billion USD each year. In Indonesia, an estimated 100,000 children are trafficked each year. Some are held as child prostitutes for domestic markets, whilst others are destined for the sex tourism industry or sent to 'buyer' countries, which include Japan, Malaysia and Saudi Arabia. There are very few refuges where victims can receive appropriate therapeutic support.
The majority of children in the world today are living in poverty and must, therefore, cope with a difficult existence; one which requires them to work, care for siblings and tend to the sick. Severe poverty drives people to take desperate measures, in order to meet their most basic needs. The Safe Childhoods Foundation (a registered charity) was founded in 2008 and is committed to the belief that every child is equal and precious. Significant steps can be made to improve the quality of life, especially when children are found in abusive situations.
"When it comes to children, there is simply no argument to be had. All children require safety and love," states Founder and Director Natalia Perry. "Safe Childhoods' aim is to protect vulnerable children from abuse and neglect by providing loving and nurturing care, long term opportunities, and practical solutions across Indonesia without encouraging aid-dependency."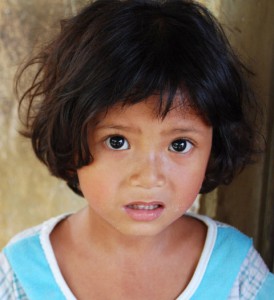 MAKING CHOICES OF THEIR OWN
One example of this approach is Sacred Childhoods' Slum School in Denpasar. From mid-afternoon until the early hours of the morning, children are found begging or selling leather bracelets around Kuta. Many of the same children now attend the Safe Childhoods Slum School, which offers free education as well as medical and social support. They see a world of possibilities and are better equipped to step out of the cycle of begging and make choices of their own.
Educating the children is only one part of the challenge. When the school first opened, the children's parents couldn't appreciate the value of literacy, as they themselves were illiterate. The promise of an alternative income source got the parents' attention. The Foundations Sewing Project was created and 28 parents are now making garments and beaded jewellery. They learned basic literacy and maths, and understand how far these new skills can take their children. To support the Sewing Project you can find products in the new charity shop on Jalan Goutama in Ubud (opposite Bar Luna); half of the proceeds go to Safe Childhoods with the hope these children can one day stop begging altogether.
REFUGE FOR CHILDREN
Safe Childhoods is currently building Southeast Asia's first Safe-Eco-Village for children rescued from the sex industry, trafficking networks and organ traders to house children and offer them 24-hour protection, therapy, and medical care as part of the Protection and After Care arm. The very special refuge will protect and support some of Indonesia's most traumatised children, helping them to recover and preserving their testimonies so that offenders can be held to account. The Sanctuary will help children to regain a sense of psychological and spiritual balance, so they can integrate back into society. The team will make every effort to reunite the child with his/her family offering support in the best possible way.
Last month the Safe Childhoods team visited the Sanctuary to see the newly erected Gandok, which will serve as the open living room at the Safe village. A small ceremony took place to honour the special moment. Safe Childhoods anticipate having Phase One of the Sanctuary completed by the end of this year.
TACKLING CHILD TRAFFICKING
Natalia and her team have recently turned their attention to the more sinister crimes within Bali and across Indonesia where networks of people are making money out of children's innocence. To address these concerns, Sacred Childhoods launched Project COCAC: Combatting Organised Crimes Against Children, which focuses on combatting child trafficking for the purpose of sexual exploitation or organ removal, and combatting the sexual abuse of children.
Human trafficking involves the recruitment, transportation, transfer, harbouring, or receipt of a person for the purpose of exploitation. According to UN statistics, human trafficking is the world's third most profitable illicit market, worth an estimated 32 billion USD per year in 2007. A trafficker in the organized network will approach families and offer older children jobs. Some families believe their child will be well taken care of and earn enough money to send back home.
The sad reality is, once taken from their families, most are forced to become child prostitutes or sold as 'child brides'. The children are quickly broken down psychologically and suffer regular beatings, torture, and live in squalid conditions with little or no health care. Torture, AIDS and other life-threatening diseases kill them before their debt is settled. With numerous brothels in Bali hosting tourists and expats, Safe Childhoods is concerned for children's safety.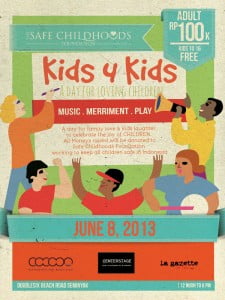 A BETTER FUTURE
Safe Childhoods works closely with local and international Law Enforcement Agencies, Ministries, NGOs, Private Sector, and media to support long-term change using four different approaches; Education and Employment; Awareness and Prevention; Information and Advocacy; and Protection with Aftercare.
Natalia and her team give presentations throughout Bali to raise awareness on a number of important issues. The fundraising event 'Kids 4 Kids' will be held in conjunction with Centre Stage and La Gazette at Cocoon, Seminyak on Saturday 8th of June. This family-friendly day features a range of musicians, artists and children's performances. All ticket sales will be donated to Safe Childhoods.
A highly confidential service is offered by the Safe Childhoods for those who wish to report suspects. If you see any suspicious behaviour, please contact:

Phone: +62 82145907821
Website: www.safechildhoods.org