April 2015 marks the 14th anniversary of the Jakarta Comedy Club and I am pleased to announce that on April 30th we will present two fantastic comedians who first appeared here together almost exactly 14 years ago. Nick Wilty and Gordon Southern will once again grace our stage, this time for the annual Jokers' Ball (now in its fifth year – if you would like to book your seat please go to www.jakartacomedyclub.com).
It wasn't easy synchronizing their schedules for this reunion because they are both now very popular on the international festival circuit and Nick is now also a promoter in the UK with his own club in Whitstable in Kent, so I had to bite my finger nails for a few days before I finally received an email from Gordon saying "I hear we're putting the band back together!" As it turned out Gordon actually re-routed his flight home to the UK from the Melbourne Comedy Festival so that he could be with us for a few days, and Nick cancelled multiple shows in the UK so that he could also be here for the reunion. I will be forever in their debt!
This reunion nearly didn't happen though. When Nick and Gordon first came here 14 years ago the Jakarta Comedy Club was co-sponsored by The Villas in Bali which was managed by my great friend Chris Green. In those early days the acts were paid in part with some free nights in The Villas after the Jakarta events, so Nick, Gordon and I headed to Bali after that first Jakarta show for a short holiday.
After we arrived in our villa it was decided almost immediately that we would rent motorbikes and have a ride around Bali. Nick is a seasoned motorcyclist so he rented a Honda Tiger, same for me, but Gordon had never ridden a motorbike before in his life so he rented a small automatic scooter. Andy Barski, another old friend of mine who lives in Bali, acted as guide on his Tiger and we took off in convoy to see the sights.
The convoy followed Andy through Denpasar for a while until we came to a road that had been closed for a religious ceremony. Andy confidently signalled that everyone should turn around and skilfully swung his Tiger round 180 degrees. Nick followed, then me, and then there was the loud screaming sound of a small engine at full revs. I looked in my mirror just in time to see the underside of Gordon's scooter heading upwards, followed by a glimpse of Gordon heading upwards while hanging on to the handlebars for dear life.
Gordon crashed to the ground, still holding the throttle wide open, and the scooter crashed to the ground beside him with the engine revving at full speed and the back wheel spinning furiously.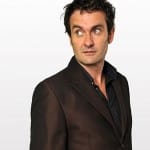 Somehow, while turning the handlebars in an effort to turn round, Gordon had managed to open the throttle all the way and it had wedged in the fully open position, causing the novice motorcyclist to pop a most impressive wheelie in the middle of the crowded street to the great amusement of the locals. In fact, they were so
impressed that they laughed hysterically and whistled and clapped loudly while Gordon picked himself up, turned to face them, pulled himself to attention and gave them an elaborate bow. Not a great start to his motorcycling experience but he wasn't hurt and the scooter didn't sustain any extra scratches or dents that the owner might notice, so no harm done. He could have broken his neck and we wouldn't be having this reunion now!
This anniversary reminds me how lucky I am to be involved in this wonderful business and I thank all the people who have supported us over the years. I don't know if we'll be here 14 years from now, but if we are it will be because of all of you. Thank you!