President Joko Widodo (Jokowi) has designated the Kura-Kura Bali area as the newest Special Economic Zone (SEZ), focussing on business activities within the scope of tourism and creative industries.
The goal is to accelerate job creation and regional development in Denpasar City, Bali. This stipulation is contained in Government Regulation number 23 of 2023 concerning the Kura-Kura Bali Special Economic Zone, which was signed by Jokowi on 5th April 2023.
"With this government regulation, the Kura-Kura Bali Special Economic Zone is established," reads article 1 of the government regulation.
The Kura-Kura Bali SEZ is located in the South Denpasar District, Denpasar, with an area of 498 hectares. This SEZ is bordered by Serangan Village, South Denpasar District, Denpasar City and the Badung Strait to the north, east, south and west.
In the government regulation, it is explained that tourism is a business activity that includes activities to support the organisation of entertainment and recreation, meetings, incentive trips and exhibitions, as well as related activities.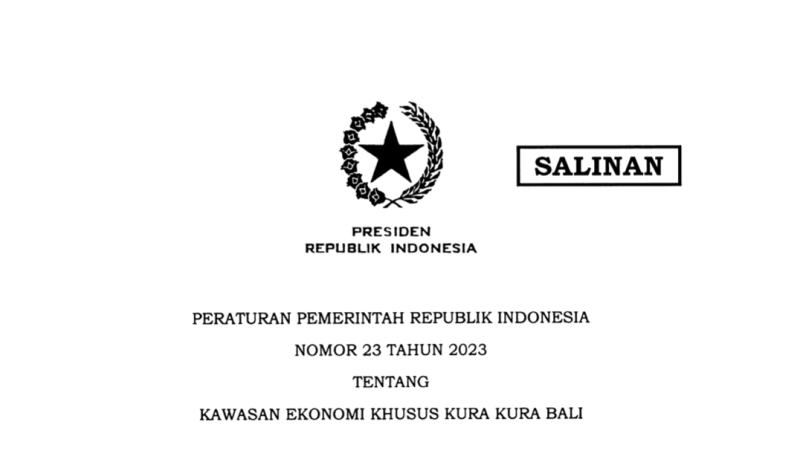 Meanwhile, the creative industry is business activities to increase the added value resulting from the exploitation of intellectual property in the form of individual creativity, expertise, and talent into a commercial product. Examples of its businesses include the multimedia content industry, communication technology, arts and crafts, and fashion.
For business entities wishing to enter and do business in the region, the government will provide a maximum period of 30 years after the government regulation comes into effect. Business entities are also inclusive of those wishing to manage or invest capital in this SEZ.
"The business entity referred to in article 5 paragraph 1 carries out the development of the Kura-Kura Bali Special Economic Zone until it is ready to operate, no later than 36 months after this government regulation comes into force," states article 6 paragraph 1.
The Coordinating Minister for the Economy, Airlangga Hartarto, once said that the development of the Kura-Kura Bali SEZ requires an investment of Rp104 trillion for the next 30 years.
New jobs will be created, with as many as 35,000 direct workers and 64,000 indirect workers benefiting. The area will save foreign exchange of US$31.8 billion or the equivalent of Rp481.64 trillion, assuming an exchange rate of Rp15,146 per USD.