Shoddy drainage systems and heavy rainfall on August 27 made Kemang look like the third-class cabin on the Titanic. Cars and property were submerged. Some were destroyed.   
A torrent of rain poured down in South Jakarta on Saturday, August 27. No thanks to an underdeveloped drainage system, Jakarta's upscale Kemang district became hopelessly flooded in a matter of hours. Many key roadways were blocked off due to rising water levels, and several motorcycles and luxury cars were completely submerged. Some were destroyed.
The affected vehicles were parked in different areas, including the front of Pop Hotel, Kem Chicks supermarket, Mansion Apartment, and Tamani Restaurant situated along Antasari Raya in South Jakarta. Local media reported the water level was estimated to be 30 to 70 centimetres deep in different areas. This is approximately the stomach height of an average adult.
The following Sunday, the water had not yet fully drained when more rainfall came around 2.15 pm. The city's disaster response team jumped in and helped pump out water from inside basements and buildings.
The Blame Game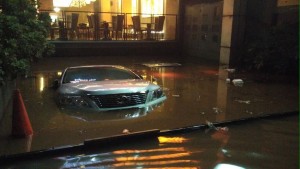 Jakarta governor 'Ahok' said the flood submerged areas of Kemang due to a porous wall behind someone's house, which is adjacent to the rising Krukut River. "It's not the perforation of Krukut River's support system, but it's the perforated wall behind a citizen's home," he told Kompas. Ahok also added that the area should not have been used for residential or business purposes, as it is vulnerable to flooding, reports Liputan6.
The governor also said the flood was the fault of commercial buildings located near the riverbank. According to him, several businesses violated the terms of their licence, although he did not elaborate on what exactly they did. Ahok claims the Kemang area is essentially a basin, which means it serves as a natural inlet for water. He added:
"Kemang is shaped like a bowl. The walls of vacant homes were broken down. We are also investigating how a hotel could be built adjacent to the Krukut River."
One temporary solution the city's waterworks department is planning involves a device called a bronjong, which is essentially a box made of wire webbing that is filled with rocks. The city wants to place several of these boxes along the riverbank while it works to prevent future erosion.
The flood drained in a matter of days. Sutopo Puwo Nugroho, spokesperson for Indonesia's National Disaster Management Agency, still warns locals to be on the lookout for possible future flood hazards. According to him, the La Nina weather phenomenon may create more rainfall. "During the upcoming rainy season, rainfall might increase drastically. Because of this, the potential for flooding in Jakarta may also increase. Heavy rainfall is predicted from November until March in Jakarta," he said as quoted by BBC Indonesia.
Nirwono Joga, a city planning analyst from the University of Trisakti, recently spoke to the media about some key actions governor Ahok should take if floods are to be prevented in Kemang. Joga advises building an artificial lake, upgrading to a better drainpipe system and banning locals from building homes along the Krukut riverbank. Expats thinking of moving to Kemang would do well to get an apartment that's not on the ground floor.
Featured image via TMCPoldaMetro