The anonymous Instagram account @moscow_cabang_bali has received more than 100 complaints about foreigners working illegally in Bali.
Separately, one Russian has been arrested by immigration authorities for working without the right permissions.
The anonymous account has amassed more than 10,900 followers. On Wednesday 1st March 2023, the account's admin explained to detikBali that the account had been formed on 10th February 2023. 
"Since the first day this account was created, there have been many reports. At first, it was just for fun because we often get Russian-language advertisements. Finally, I decided to document it sarcastically," said the admin via direct message on Wednesday.
The admin said they felt they could not facilitate reports to the authorities, however, having a way to express frustration has been valuable. They went on to say that they doubt authorities are aware of the foreigners working illegally in Bali. 
"When foreigners work illegally, they even put up billboards, Instagram ads, advertise poker, and openly create heretical sects, but nothing touches them at all," he explained.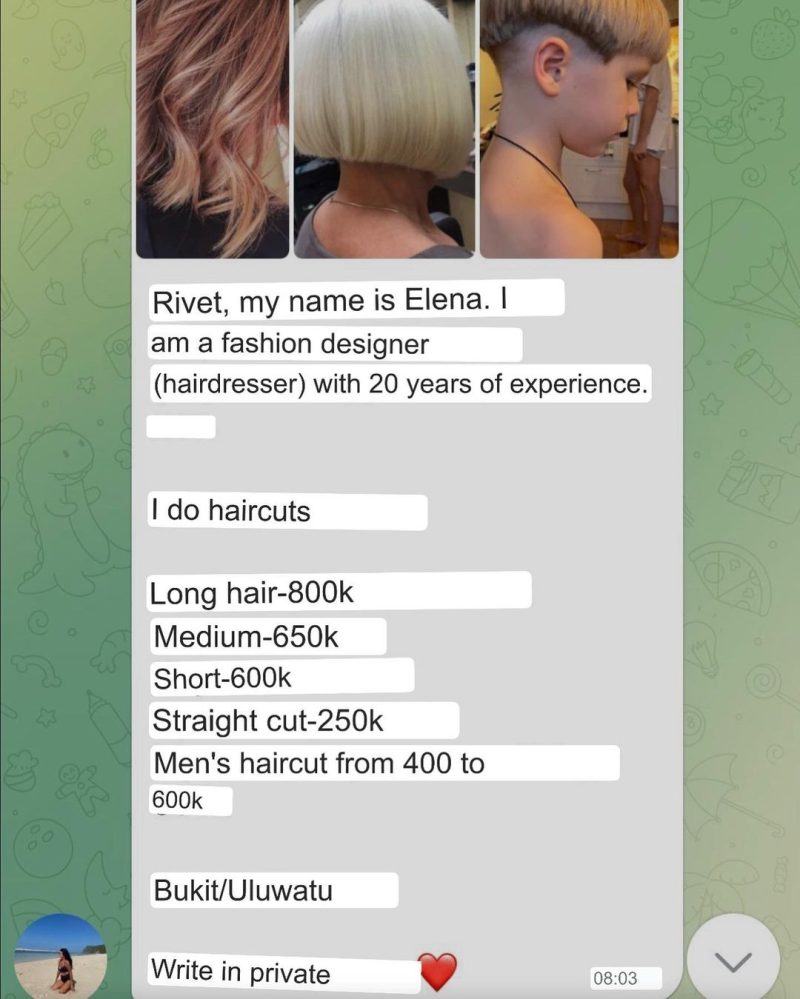 The average incoming report to the account's DMs comes in the form of evidence of foreign advertisements on Instagram. There is also evidence that a local resident lent their name to a foreigner to allow them to open a business in Bali.
"They complain that there are foreigners in their jobs. Mostly in the fields of photography, tattooing, to motorbike rental," they said. 
The Immigration Class I Special TPI Denpasar has also recently arrested a 28-year-old Russian citizen, with the initials SZ, for abusing his investor visa by carrying out activities as a photographer.
"SZ has been active as a photographer in Bali and advertised his photography services through social media," said Tedy Riandi, the Head of the Immigration Office Class I Special for TPI Denpasar, in a written statement on Tuesday 28th February. 
SZ entered Indonesia through Ngurah Rai International Airport, Bali, on 27th April 2022 using the investor limited stay permit (C314) with a validity period of 23rd January 2023 to 20th January 2025.
He was arrested by a team from the Immigration Intelligence and Enforcement Section last Wednesday, 22nd February, at around 1pm local Bali time at his residence around Bangli Regency.
The All Indonesian Workers' Union (SPSI) in Bali has stated that foreign tourists working illegally are "a form of colonialism in the modern era". The Chairman, I Wayan Madra, said on Tuesday that the presence of illegal foreign workers would backfire on local residents "as this is an occupation without the use of weapons".
From the government's point of view, Deputy Governor of Bali Tjokorda Oka Artha Ardhana Putra has emphasised that he was against foreign tourists who work illegally in Bali and abuse holiday visas. The Bali Provincial Government is continuing to work closely with immigration and the Manpower Office to prevent illegal foreign workers.
Moreover, Tourism and Creative Economy Minister Sandiaga Uno highlighted that he would not give foreign tourists the freedom to work "because it doesn't refer to their permission to enter Indonesia," on Thursday 23rd February.