It is well known that BritCham is one of the three "Britishes" that lead and support brand Britain – the British Embassy and British Council being the other two. For BritCham, the role is facilitating trade and investment and it relies on close collaboration with the other two. An Embassy role is clear. The British Council role is less clear to some and Paul Smith clarifies and asserts that the arts and culture it embraces should not be regarded as just a wrap-around for trade.
Paul, perhaps we could begin by asking you to clear up any misperceptions there may be regarding exactly what the role and priorities are of the British Council in Indonesia.
We're the official cultural representative of the British people overseas. We've been in 110 countries for 85 years and in Indonesia for 70. We promote educational opportunities and cultural relations and our programs work to create better understanding between peoples to generate the trust for them to want to collaborate together over the long term. We're a people to people organisation rather than government to government which is why we're official but parallel to the Embassy and why we call our work cultural relations rather than public diplomacy.
What are the British Council's top two projects from now and over the next six months?
We have loads of projects across education at all levels, science and research, the arts and creative industries, civil society and youth engagement, inclusion and diversity, sports for development and skills for employability particularly business English. How to pick just two? Well our great three-year campaign UK/ID will end this December in Indonesia. This program has built more than 150 new partnerships between artistic and creative groups in the two countries to really strengthen bilateral creative industry and enterprise. In the UK the initiative will extend a little longer until Indonesia is the guest of honour in March 2019 at the great London Book Fair. We're particularly proud of how UK/ID has majored in encouraging the arts & disability, stimulating the first ever Arts & Disability Festival – Bebas Batas – at the time of the Para Games. Another project we are particularly proud of is Premier Skills where coaches, referees and trainers from Indonesia's favourite Premier League (ie the UK one) train and mentor young soccer professionals and kids across Indonesia and also stimulate community development programs.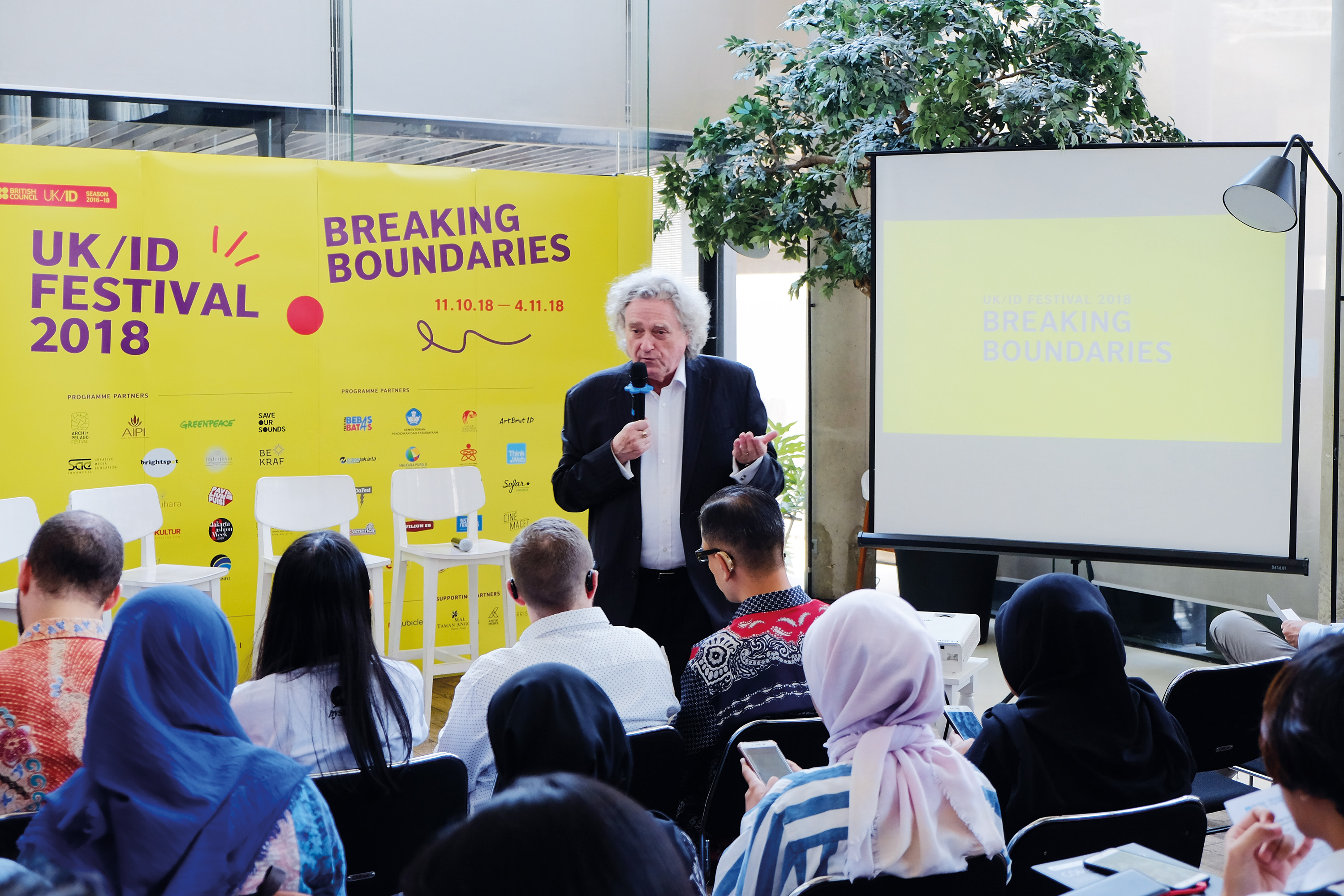 The British Council has just introduced a web-based and free-to-use English language learning tool named English for Indonesia. Is this operating in other parts of the world and why is Indonesia a beneficiary of this initiative?
Our new English for Indonesia progam will enable every Indonesian who chooses, right across the archipelago, to freely learn and improve their English by accessing the very best (ie British Council) English learning materials online and rapps and MOOCs. English for Indonesia will also be available by Indonesian radio (RRI), TV (TVRI) and in newspapers (Kompas). It's one of our great worldwide offers and it's inclusive as it is free to everyone. It's popular around the world, and some 100 million people use these services in China alone, but we're particularly keen to promote the portfolio of opportunities in Indonesia as so many individuals and organisations ask us daily for help with English as a critical 21st century skill. British Council research is becoming more widely known that, in countries where English is not the first language, working people who have good English are likely to earn, on average, 40 percent more than those who don't.
As you mention, culture and creativity feature significantly in the British Council agenda. To what extent do you sense that Indonesia projects its cultural wealth and creative talent?
I'll be honest. Indonesia should be much more culturally appreciated around the world – certainly in the UK – than it currently is. That's why we've been focusing on creating new artistic relationships between our two countries rather than simply showcasing UK talent here. There has been an increase in the number of Indonesian contemporary artistic events we've been able to help develop in the UK including a major site-specific art installation program in Liverpool recently, with four young contemporary Indonesian artists, and so much will peak at the London Book Fair in March which is so strongly supported by Bekraf and the Ministry of Education and Culture as well as the British Council.
How would you describe the connection between cultural promotion and bilateral trade benefits?
Cultural promotion is the "trade" of ideas and creative challenges. For me the arts should never be the wrap around, the sugar coating, to make trade more enticing. Culture should be self-promoting and people should "buy" it, or buy into it, because they love and value the experiences that music, dance, theatre, literature, film, visual arts, design give them, the changes they effect in them, the new perspectives they provide, and the values they enshrine. And great cultural initiative – "product" if you must – derives from difference and from diversity and, for me, Indonesia is the most culturally diverse country in the world.
In terms of the higher education agenda, the government is opening up the sector to foreign investment. Why do you think this move has come now and what early impact do you see in terms of British educators influencing positive structural change in education?
Indonesia is on a fantastic journey from the world's 16th economy towards the top five. One thing more than anything else – any macro or micro economic strategy or new regulatory system – will make that journey successful. That's the education, the skilling of the people of Indonesia to generate the workplaces, the enterprise, the products, the services, the achievable ambition. That means that universities, vocational colleges, and schools at all levels have to skill themselves to skill their students. Learning must be pure and inspiring but also linked to employment ambitions and the needs of communities, cities and provinces to achieve socioeconomic success. Again, let's be frank, Indonesia does not yet have an education system which is comparable in quality and effectiveness even to those of some other SEA nations. With the right investment and with support from foreign universities and institutions who are willing Indonesia to improve their international standing, that ambition is achievable. But it needs genuine commitment to reform and improvement and the rightful use of investment to strength international capability and reputation.
It appears that more young Indonesians are choosing the UK for further education in recent years. Trying to set aside your own Britishness, what would you say is driving this appetite and trend?
I could give you dozens of statistics to show how the UK HE system leads the world in so many areas. But I'll stick to one fact. Indonesia has about 4,400 universities whereas the UK has just over 150. What that means, given Britain's outstanding international HE reputation, is that every one of those universities must be a world leader and truly international in outreach and capability – strong in all areas. At present UK higher education is more economical than our competitors, our universities are more staffed with international faculty and our research and teaching is more directly geared to enabling students to grow in academic and vocational learning to help route them into their futures. I have not met an Indonesian who has returned from a period of study in the UK who has not told me that it has been the most enlightening and uplifting experience of their life.
You have led the British Council in different parts of the world, including Nigeria, Bangladesh, Afghanistan, Burma, India, Egypt and the USA. Which country have you enjoyed working and living in most? (If not Indonesia), where does Indonesia rank in your experiences?
There's nowhere I'd rather be than Indonesia at the moment. I love this journey it's taking, its sometimes-wobbly Pancasila values and its rich diversity. Indonesians are also the nicest people I've lived amongst – and I mean that. But India is special for me too. It was where I first worked, as a university literature lecturer from 1978 – 80 (yes, I'm that old!) My wife is from India (though she of course is extremely young) so my kids are of both nations.
Paul Smith is currently the Country Director for the British Council in Indonesia. Paul's previous roles have taken him to India, Nigeria, Bangladesh, Chile, Germany, Burma, New Zealand, Egypt, Afghanistan, the USA (and even, occasionally, the UK!) Paul is also a non-executive Board member of BritCham.