The Indonesian Ministry of Manpower recently caused panic and demoralization among companies hiring expats. All of this was following the drastic change of rules laid out in the Ministerial Regulation, PP no. 16 of 2015 from 29 June 2015.
A brand new regulation, enforced immediately and without proper pre-announcements. The most widely felt implication was the 'ten to one' rule, stating that companies must hire ten Indonesian counterparts for every expatriate employee. As painful was the new situation that every single visitor to the company, besides the normal business visa, needed to have a work permit. Very disturbing was that all non-resident directors and commissioners needed a work permit, even if they didn't plan to come to Indonesia.
The expat community was flabbergasted and couldn't accept this new ruling, which was quite the opposite of the policy of the Government under President Joko Widodo, to make Indonesia more attractive for foreign investors. As befits an expat in a foreign country, the complaints were made quietly and without any rumour. Remarkably fast, the Indonesian Government listened to these sounds of silence and came up with a quick revision of PP no. 16 of 2015.
Breaking news
In accordance with Ministerial Regulation PP no. 35 of 2015 released by the Indonesian Ministry of Manpower on 23 October 2015, the following main changes have been enacted:
For foreign visitors on a business trip, the company does not need to process a work permit anymore, so no RPTKA and no IMTA. The business visa is back in power
Non-resident commissioners (BOC) and directors (BOD) of the company do not need a work permit, so no RPTKA and no IMTA
Only one Indonesian counterpart is needed per expat employee. This means a cancellation of the 1:10 ratio of foreign to local employees;
Conversion from Dollar to Rupiah has been deleted for DPKK payment, so the payment can still be done in USD currency
Foreign workers do not need to speak Bahasa Indonesia, despite recent articles in many newspapers saying differently
However, a temporary IMTA and RPTKA are required for some types of temporary work like conducting audits, producing a commercial movie that has received a permit from the relevant agencies and work related to machinery installation, electrical, after-sales services, or products which are under business exploration stage.
To be complete and in an attempt to take away the fear from many companies, below is a general overview of the documents needed for a normal company and the requirements needed by the expatriate to be sure he/she can work legally in Indonesia.
The COMPANY needs a Foreign Workers Employment Plan (RPTKA)
These are the common requirements or documents needed to obtain a normal RPTKA for a job position that is open for expats:
A letter mentioning the reasons to hire expats and for which specific position
RPTKA application form
The companies Deed of Establishment, Ministerial Approval and adjustments
Company (paid up) capital must be at least Rp.1,000,000,000
The standard company papers: LOD, NPWP, TDP and SIUP (or IUT for a PT PMA)
Company Organization chart
A letter of recommendation from a technical Ministry (e.g. Education, Transportation, Oil 7 Gas, Mining) (Not needed for a normal trading or consultancy company)
One Indonesian counterpart employee (not needed for directors and commissioners)
An education and training plan for the Indonesian counterpart
The WLK, a yearly report stating the numbers of expats and local employees
Be advised that
Positions like HR Managers, agriculture workers, fabric workers, bus drivers, tour guides and jobs alike are not allowed for expats. More technical, financial, commercial and research and development positions are usually granted
Positions for directors and commissioners are almost always accepted
A service company will get only six months where a construction business or an international school will get a one or two year valid RPTKA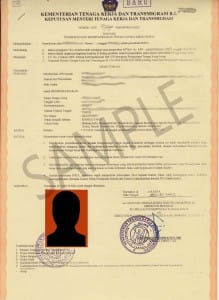 Once the RPTKA is granted the next giant step must be made:
The EXPAT needs a Work Permit or IMTA
To obtain an IMTA, the expat must submit the following requirements and documents:
An education relevant to the position he/she wants to hold
A certificate of competence or work experience of at least five years relevant to the position
A statement to transfer his/her knowledge to the Indonesian counterpart
A copy of the employment agreement of the Indonesian colleague
A Taxpayer Identification card (NPWP) (if working longer than six months)
An insurance policy issued by an insurance company incorporated in Indonesia
A National Social Security policy (if working longer than six months)
The receipt of DKP-TKA payment (a kind of tax of US$1,200 a year)
The RPTKA approval (see above)
A copy of the passport, showing he/she is 25 years or older and not older than 55 (for oil and gas) and 60 (for teachers)
Two colour photographs in 4×6 size
A letter of recommendation from a technical Ministry (if applicable)
Directors and the commissioners don't need to fulfil requirements 1 till 4
Be advised that
Only if these documents are complete and submitted, the IMTA application will (almost automatically) be approved
What can be said or concluded is that indeed a lot of documents are needed but the process is clear and transparent.
If the company and the expat have all the right documents, they can try to do the whole process for the RPTKA and IMTA themselves following all the steps mentioned on the website of the Ministry of Manpower http://naker.go.id
If this doesn't work, go to a formalities agent.
Considering the ever-changing requirements due to varying policies, this article means no guarantees for the near future.