The Coral Triangle has been likened to an underwater Amazon rainforest for its density and diversity of species. Stretching from the Philippines to Malaysia to Indonesia, it comprises an area half the size of the United States. 75 percent of coral species harbour nearly 40 percent of the world's reef fish species. A shortlist of its 2,000 varieties includes sharks, rays, whales and turtles, plus crocodile, cuttle and stonefish, nudibranchs, shrimps and crabs, as well as pygmy seahorses. Within the Coral Triangle, in southeast Sulawesi, Wakatobi Resort shelters not only its clientele with five-star amenities, but its 20 kilometres of pristine reef beyond the silvery sand beach. This is diving and snorkelling nirvana.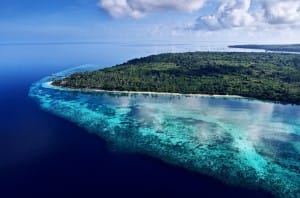 The resort's unassuming presence blends into the landscape. Rather than overpower with a high-rise hotel, which would be out of character for the region, Wakatobi guests relish traditionally-styled, beachfront accommodations. Open-air areas create an ambiance of 'barefoot elegance', where guests can relax, savour local flavours and interact with local people in an honest and intimate manner. There are cookery classes, village visits and light lectures for entertainment and education. And, of course, there are the extraordinary reefs. Wakatobi founder Lorenz Mäder believed guests would appreciate such a first class experience and respect efforts to preserve this world class environment.
At the resort's inception in 1994, Mäder held meetings with area fishermen and villagers to create a pilot programme, providing monetary compensation in exchange for an agreement to cease fishing activities in designated areas of coral reef. Overfishing and brutal fishing practices spoil habitats, so an agreement benefitted all concerned. Lease payments on the reefs would be generated from resort revenue.
Today, the Collaborative Reef Conservation Programme (CRCP) maintains a network of mooring buoys, standard harbours and reef cleaning as necessary. Healthy reefs maintain robust with wide-ranging fish populations, which are less susceptible to abuse such as pollution. Working together with village elders and leaders, the resort, within Wakatobi National Marine Park, is one of the world's largest privately-funded aquatic protected areas. In 2012, the park was designated as an UNESCO World Biosphere Reserve, recognized as one of the most bio-diverse marine ecosystems on Earth.
Wakatobi provides direct payments to 17 villages, plus electricity and water, funding for schools and educational materials, while generating more than 100 jobs and further economic benefits. In this way, villagers became proactive partners within no-take fishing zones, while affording Wakatobi a reliable local workforce. There is no formal enforcement within the community because members recognize the fiscal value preserving marine life, spurring watchdog self-preservation to guard against encroaching outsiders.
"It took years of steady support and communication to establish solid trust and motivate the majority of the local population," Mäder said. "Today, compliance with the rules in the sanctuaries is 95 to 99 percent, depending on how close the reef section is to the resort and patrol posts." Further, Wakatobi requires a preliminary skills assessment of all divers, regardless of experience and competence, to gauge proper buoyancy control and encourage zero-impact diving practices. This philosophy emphasizes vital reef preservation amongst guests and residents. "We carefully explain to our guests what we are doing, regarding conservation, without being too serious for a holiday setting."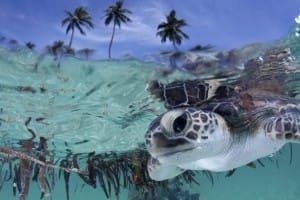 Since 2013, Wakatobi has hosted a turtle hatchery. The primary caretaker, Pak Sayafrin, began as a dive assistant nearly nine years ago, and now also works as a supply manager. The programme first identifies and monitors nests during the hatching phase. Then, the hatchlings are transferred to the nursery for three or more months. This greatly increases their chance of survival for release into the wild. The goal of the programme is to raise area turtle populations and introduce new generations of animals for migration to wider regions of the Indo-Pacific. With declining populations elsewhere, Wakatobi hatchlings find a thriving environment.
The aims of the resort are low impact. Ecologically responsible practices include the reduction, separation and recycling of waste products and the biological treatment of wastewater. Guests are kindly reminded that every drop of water for use on the island is valuable.
The business model leverages the aesthetic value and enjoyment guests derive from their time on the reefs into tangible material value for the local community. As a result, all parties become partners in protection.
"We don't know a more effective and cost efficient model for reef conservation in this environment," Mäder said. Keeping the marine environment intact as the foundation of business and for the pleasure of visitors is an integral part of the sustainable dive operation.
The positive effects of the CRCP have garnered international attention. In 2005, Scuba Diving Magazine recognized Wakatobi's programme as the 'Best Environmental Initiative by a Resort'. Since then, numerous citations have included a First Choice Responsible Tourism Award, World's Leading Green Resort, Indonesia's Leading Resort and Asia's Leading Diving Resort. Notably, Ocean Realm Society named Wakatobi as the Number One Eco-Resort. "Overall, the protected reefs are in better shape than before the sanctuaries were established," Mäder reported. "Most locals understand the benefit of reef resource management, which includes more income for the fisheries."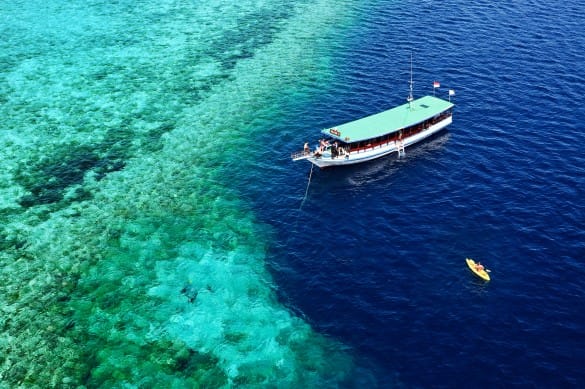 A pristine, sunlit reef is the joy of any diver. There is no unsuitable period or season for diving in Wakatobi. It is one of the most arid regions in the country with sunshine most days and humidity as low as 65 to 75 percent. Generally, air temperatures range between 26 to 30 degrees Celsius or 79 to 86 degrees Fahrenheit. The water temperature is ideal for coral growth with no bleaching, and underwater visibility averages 35 metres or 100 feet. Human beings protect what they value, and Wakatobi proactively protects the reefs surrounding its shores. The good news is that both numbers and diversity of fish populations are at flourishing historic levels. Best, guests can be assured they will remain this way.
For more information, visit www.wakatobi.com