I stood poised at the top of the Kintamani volcanic rim with my trusty two-wheeled mountain bike ready to take on the thirty-five kilometre downhill ride, from the top of the volcano down to Ubud. The sweeping views overlooking Mt Batur with its shimmering crater lake cradled at its base, gave me all the motivation I needed to embrace this exciting challenge.
I followed my cycling guide at a steady pace and weaved my way through small villages sharing the scenic quiet roads with the villagers. Along the way the rural scenes made my heart smile. I passed by duck farmers with their long bamboo poles pointing the way with a white flag on top, their gang of ducks trailing behind. I cycled through village after village of rich green rice fields framed by groups of industrious women, threshing rice by hand and sifting the grains with giant bamboo baskets. I hardly passed through any towns, which made me feel connected to traditional village life and the serenity and slow pace of rural Bali life.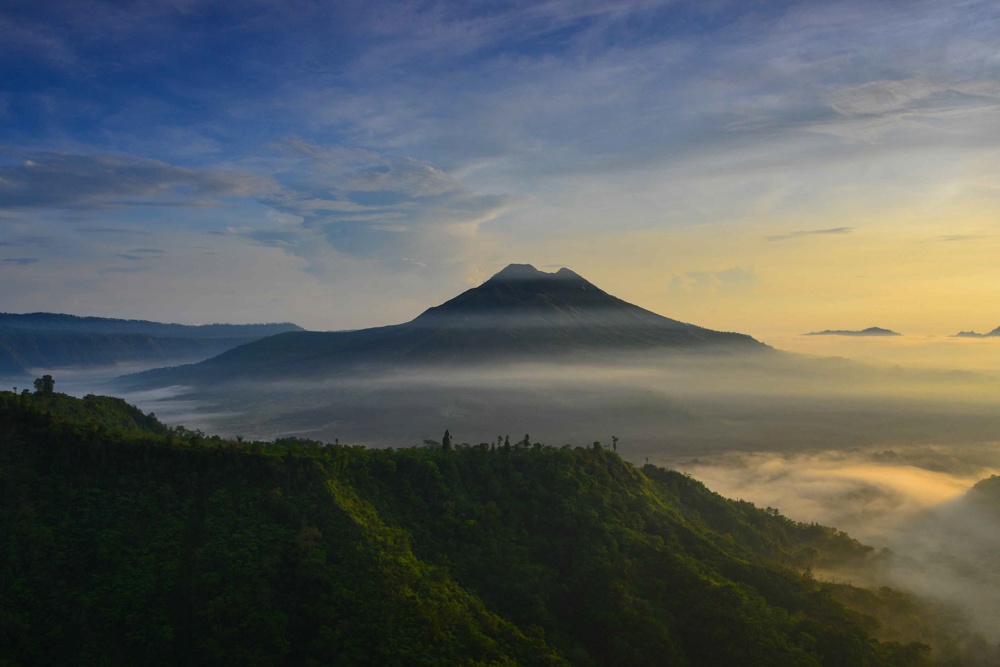 Beautiful women dressed in bright ceremonial finery with lace white tops and brightly coloured sashes making their way to the temple passed by me.  They walked in procession, single file, carrying tall fruit towers on their heads, which made for extraordinary photo opportunities. By travelling at 10 km per hour, I felt like I was making intimate contact with what I could see, feel and hear. The temple bells calling in the distance and small quaint lanes made me feel like I was discovering the authentic Bali, and open to impromptu moments that came along.
I stopped in a small village and talked with a young Balinese man named Kadek, who was clanging away on some ancient looking cymbals. "It's called a gamelan," Kadek explained, "It's very complex and is made up of a sophisticated ensemble set of instruments. These gongs and drums have been played at our temple ceremonies for many centuries. They date back to the very beginning of Bali."
Kadek explained that the gamelan is played at weddings, funerals and rites of passage as well as other ceremonies. gamelan is mastered by memory, by heart. Kadek invited me to come back the next day to join in his family temple birthday celebration. Not only would I hear the gamelan played, but I could also meet the shadow puppet master and watch the Wayan Kulit, the ancient Indonesian art of shadow play.
"No need to bring anything, we have prepared plenty of food, and we welcome guests.  In fact, it is our great honour to share our customs with a foreign guest." He quickly gave me his Facebook name, added me in his phone and I made a promise to return.
I found that everywhere I went in Bali, from the hotel concierge to the local fruit seller at the market, the conversations which I engaged in always seemed to come back to culture and tradition. Balinese traditional life is what you experience outside of the main tourist areas of Kuta, Nusa Dua and Seminyak. From what I experienced, Bali life is very ritualistic and steeped in Hindu religious practices. For me, every day seemed to be another history lesson, which would slowly unravel in a natural way. Bali is, in all essence, a living culture.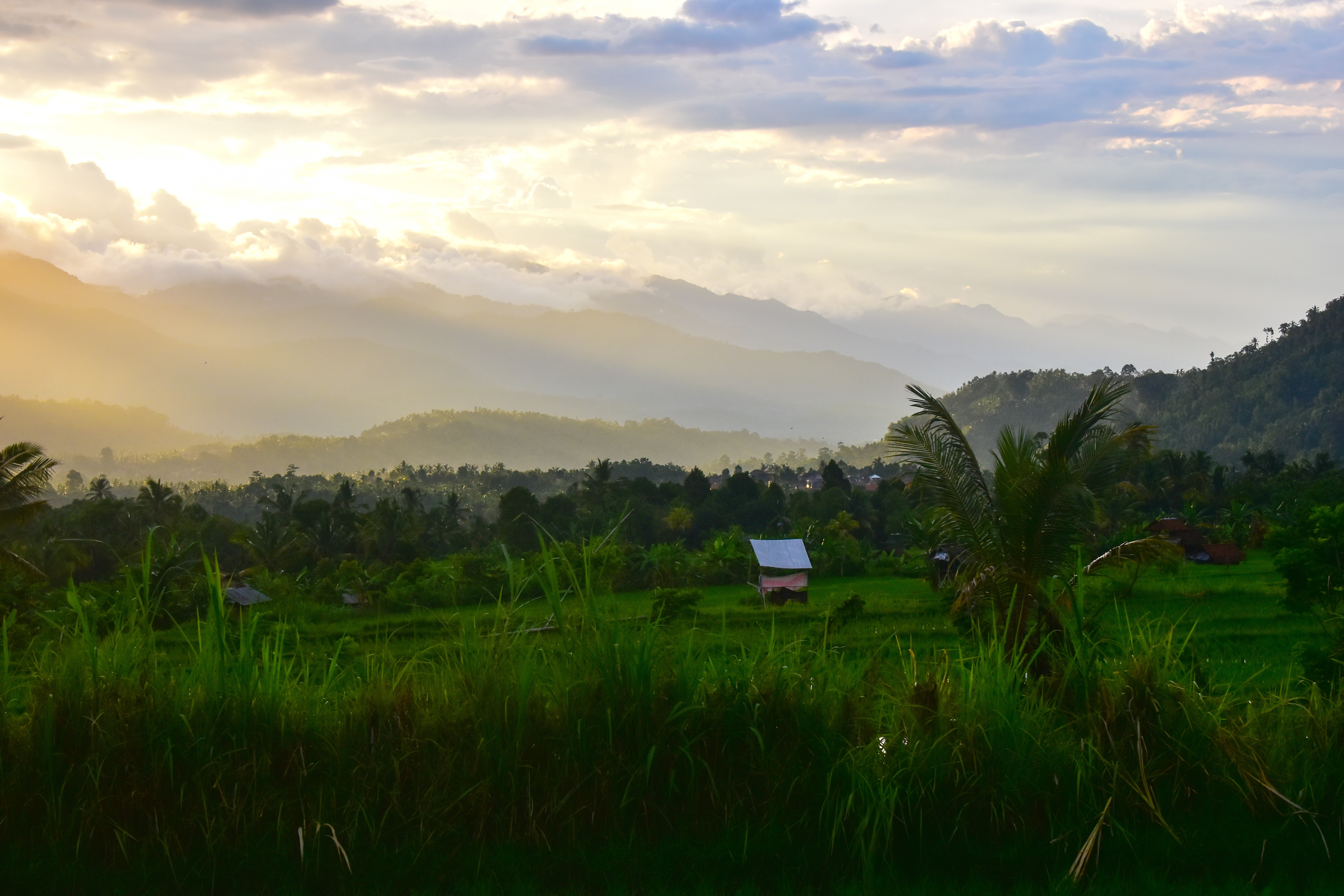 The island has over 20,000 temples and shrines. For such a small island (153 km x 112 km), one is bound to run into a ceremony of some description. All you need to attend a ceremony is a sarong, a long sash and a top that covers your shoulders. Men wear an udeng – the Balinese male headdress. If you choose to travel around Bali with a car and a driver, these are pretty much a given item, tucked away neatly in the back of the car, at the ready for an impromptu moment.  
When you catch sight of a line of women walking down the road, with offerings on their heads, all you need to do is join the procession at the back, and you will likely end up at a temple where you can join in the celebrations and experience the culture.
As a foreigner you are welcome to join a temple prayer session. If you are lucky, and the timing is right, you can catch temple dancing and plays being acted out. These ceremonies often go late into the night, many past midnight.  
My cycle tour finished with lunch, including a traditional Balinese salad with green beans and sprout (urab), tempe with delicate spices, tantalizing spicy shredded steamed chicken, satay on bamboo skewers with peanut sauce, and steamed vegetables cooked in coconut. This was served on a pile of steaming organic red rice.  Our beverage was my favourite, fresh young coconut water served in the shell, a natural energy drink and electrolyte replacement. We all hailed a coconut water 'cheers' to celebrate our accomplishment of completing the ride.
My next mission was yoga. It seems on every street corner in Ubud, a  yoga studio is offering the latest trendy classes like power yoga, flying yoga, warrior yoga, pranayama and kundalini tantra yoga. I found myself walking towards 'The Sari Organic Pathway,' which is well signposted from the centre of town, wending my way to the Yoga House, a yurt shaped building situated in the rice fields.
Sheila, the owner, offers classes five days a week and refers to them as yoga for everyone. Indeed, it was. This easy-flow yoga class catered for everyone's anatomy and ability, and because we started our class with a short self-introduction, Sheila knew our levels and adjusted for this.
Our small group of yogis was comprised of people from Japan, Sweden, Germany, Australia, New Zealand and the Netherlands. As I eased into my gentle flow yoga class, my view was framed by three stunning volcanic peaks fanning out from the yoga platform and the terraced lush rice fields spread before me like a living green carpet. By being amongst nature, in the outdoors in this idyllic setting I felt deeply connected to the mind, body, spirit essence of the moment.
As I practiced my yoga poses, I was accompanied by the soft rhythmic sounds of the jungle that surrounds Ubud, which seemed to keep time with the mantras we recited throughout the class.
In the late afternoon I headed off for another jungle experience and as the sun set across the rice fields of Pejeng Kangin Village, on the outskirts of Ubud, I was welcomed into the home of Putu, who is an Ubud Village Plate host. This is a new concept in dining, connecting travellers who share lunch or dinner at the home of a local family. A beautiful cultural connection over food.  
On arrival I had a tour through Putu's orchard and met her two enormous pigs and lone brown cow. Dinner was a succulent affair with sizzling chicken sate on bamboo sticks and steamed tuna baked in banana leaves, accompanied with a pile of fresh organic vegetables from Putu's garden and finished off with traditional black rice pudding and fresh coconut cream.  
I spent the next morning walking in the shadows of Gunung Kawi, an ancient temple complex 20 minutes North of Ubud amongst seven-meter high temple tombs known as the Queens Tombs. My amiable guide, Wayan was excellent company, and took me to a meditation cave. He waited outside. He gave me just the right amount of information about the temple history and then gave me plenty of space to feel alone to soak in the mystic vibe of the temple complex.  
I found Balinese people to be very gentle and intuitive with every encounter I had.  Whether that be by chance meeting with a gamelan player or spending time in an ancient meditation cave. The famed island of the Gods breathes with an even rhythm and welcomes the curiosity of a stranger to explore a very pure and authentic Bali.
Things to do/see
Ubud Village Plate – Have dinner with a Balinese family in their home. A link to a cultural cuisine experience with a local family and you, the traveller allows you to experience Balinese culture and hospitality in a home setting. You can have lunch or dinner, add a cooking class or the market tour extension.
Guide and Driver:  Ketut Santosa
San Bali Transport
Email:  [email protected]
Facebook: Brader Santosa